What's the secret to Kaufman Lynn's success?
Bringing EXPERTISE to the table
Not too much has changed at Kaufman Lynn Construction (Kaufman Lynn) since its founding in 1989. "We've grown organically to become a large construction company within the region, and beyond," reflects Mike Kaufman, Founder and CEO of the company. "We achieved gross revenues of $400,000 in our first ever year; in 2022, that same figure is over $500 million. To have achieved that in just over 33 years is quite unique."
Operating in Florida and North Carolina, today, Kaufman Lynn is a full-service commercial construction company. The company's work encompasses multi-family housing, senior living, hospitality, government and public safety construction, education, healthcare, self-storage and parking garages.
"We typically divide our work between the public and private sectors," explains Chris Long, President at Kaufman Lynn. "The latter is a pretty broad gambit, consisting of condominiums, for-rent apartments, workforce housing apartments, retail, hospitality, and hotels. Our public work projects range from five-million-dollar fire stations, parks, and EOC buildings for a number of municipalities, up to 140-million-dollar major projects. In all, we have around 35 active project cycles at any given time."
The last few years haven't been without their challenges, however. The arrival of the Covid-19 pandemic in early 2020 caused significant disruption to industries worldwide, with many operations brought to a standstill. Kaufman Lynn was by no means exempt from these difficulties, but the period did have its benefits."We've always prided ourselves on being very nimble to react to different conditions in the market," Chris reflects. "The pandemic was a task beyond any other that we had faced. Two-thirds of our people are boots-on-the-ground, working out of job site trailers, and because we were deemed an essential business, they kept working throughout the period. Thankfully, we were able to come up with a strategy to prevent all the associates from mixing, limiting the risk in the event that one associate tested positive. We split up our project teams, conducted meetings outside, and did everything we could to protect our people. Fortunately, we didn't lose anyone to the virus."
Interestingly, Kaufman Lynn boasts the largest pre-construction department in Florida. According to Chris, this fact gives his clients "the best of both worlds," by allowing the company to hit the ground running when it comes to project construction. But it's not the only differentiator for the company. On that subject, Chris points to nothing other than the company's culture.
"Simply put, we work harder at perfecting our clients' projects than any other contractor," he confirms. "We take pains to understand what's important to the client. It's in our DNA, that's how we're wired." It's a view that Mike echoes: "Our Vice President of Pre-Construction, Chris Christy, is a true south Florida professional," he states. "There's none better at managing a project through from pre-construction to the beginning of the job itself. It's thanks to him that we're a leader in that department."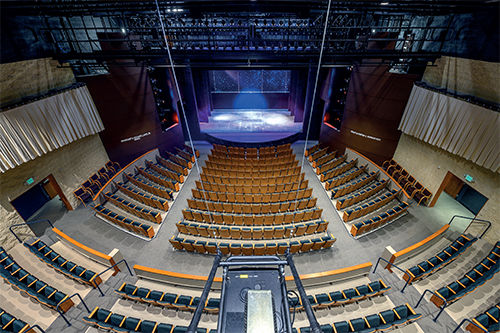 This client-first approach is one that's led to tremendous success for Kaufman Lynn, for which repeat business constitutes upwards of 80 percent of its total workload. "Our greatest successes come when we build for clients who appreciate the extra effort and commitment that we offer," Mike notes. "We're very fortunate to have the luxury of being able to make objective decisions about the type of project we take on, and which clients we choose to collaborate with."
Serious expertise
Among such projects is the company's recent $20 million historic renovation of the Miami Dade College Freedom Tower and, more recently, its work on the Maltz Jupiter Theatre. Finished in July 2022, the latter project was highly complex in nature, and its success represents an immense source of pride for the company.
"It's hard for me to express just how intricate a project the Maltz Jupiter Theatre was to execute," Chris admits. "We were charged with demolishing the stage of the existing theater, which was supporting the entirety of the remaining theater house. To accomplish this, we had to first plan and engineer the temporary support for the structure, then demolish the existing stage and back of house and rebuild it within an inch of the existing foundations. We did this ten feet below the existing grade, while pumping out incoming water, and without allowing the existing structure to settle. That's just one aspect of the complexity we were faced with, but it's a challenge to which the team as a whole rose very well."
"When you are building cultural arts venues, you have to bring serious expertise to the table," Mike adds. "Not only are you taking on structures that are typically unique in their design, and that require really strong construction, but then you are tasked with making them look and sound good. You have to have that in-house, and we do."
A further significant project for Kaufman Lynn is the recent completion of the JM Family campus. JM Family is one of the largest private companies in South Florida, and Kaufman Lynn completed a major overhaul of the corporate headquarters in Deerfield Beach, Florida. The $160 million project integrated innovative technology and sustainability features to reimagine and modernize the facility. "We are enormously proud of the work we did for JM Family," says Chris. "This showed the extraordinary results you can achieve when you partner with a client to understand and address their needs, even as those needs change during the life of the project."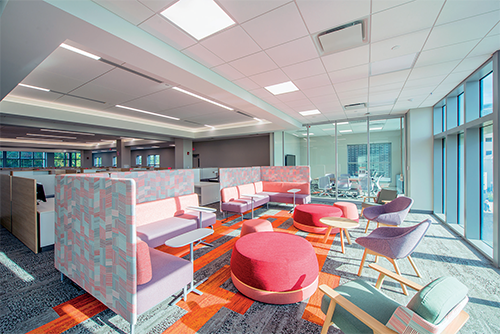 Ownership mentality
This year represents another significant milestone for Kaufman Lynn: the year in which it transitioned to an Employee Stock Ownership Plan (ESOP). As Mike explains, it's a decision that aligns with the company's longstanding values. "We knew we had a great culture here, we wanted to protect that, and we believed that an ESOP was a reliable way to do so," he comments. "At the same time, it was also a way of giving back to those who have put their heart and soul into the company over the years, offering an added benefit that will appreciate in value as the company develops, and provide a substantial benefit whenever our employees reach retirement."
"The ESOP also engages our associates in an ownership mentality," Chris points out. "Having a stake in the company changes how individuals approach their work. Because they feel a part of the company, it brings out a new level of commitment and determination to succeed."
The future's bright for Kaufman Lynn.
As 2022 draws to a close, the company is expecting to confirm its best ever year, surpassing $500 million in revenue for the first time. "Projections for the next two years remain strong," Chris notes. "Beyond that, it will have much to do with the economy. From our perspective, the plan is to keep strengthening our market in North Carolina, especially the volume of our public sector work. We're also exploring the possibility of expanding our operations on Florida's west coast, taking advantage of the growth we're seeing north into Tampa."
"We feel very fortunate," Mike concludes. "We don't take for granted the position we have within our markets. Sticking to our core values through thick and thin has served us well in the past, and we intend for that to continue."
www.kaufmanlynn.com