TrueNet's preparations for the future of high-speed telecommunications in middle America
Truly ready
TrueNet is one of the leading specialty contractors for telecommunications infrastructure across North America. It has served the broadband, telecom, wireless and enterprise markets since 1985, with its expertise in all forms of communications networks, including: CATV, broadband, fiber connectivity, macro cellular, small cell, M2M and Wi-Fi. In its operation as the North American outside plant delivery arm of Fujitsu Network Communications, who acquired the company in 2016, TrueNet prides itself on possessing the manpower, resources and capabilities to manage, plan, engineer, and build virtually any infrastructure project regardless of its scope, geographic span or underlying technological plan.
The internet is now just as important as any other home utility to your average American, which reinforces why TrueNet has 'continued growth' locked in its sights for the near future. Another factor is its advantageous position as a provider of critical services to communication companies, for the provision ofhigh-speed internet. Now, the company hopes to widen that range of services to the broader planning, engineering, and building phases of the telecommunication life cycle.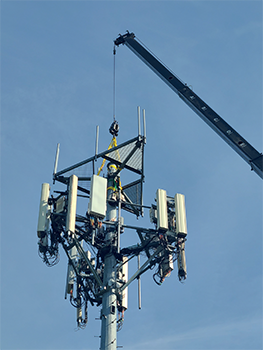 "We have been a service provider within telecommunications for 37 years now," opens Bao Mann, Vice President of Sales at TrueNet. "Until recently, we had primarily focused on providing engineering and design services for broadband cable companies, aiding their growth or the maintenance of their outside-plant networks. The way that we are striving to develop the business is to leverage innovation and technology that increases quality and timeliness for any telecommunications company. The broadband cable industry in the US has really only been around for 50 years, and for the most part, the processes and practices have remained relatively the same. We've developed a culture of questioning these traditional practices."
TrueNet holds ten offices across the US, having closed a number of what it refers to as 'satellite operation centers' during the pandemic. As Bao expands: "We have active programs everywhere from Seattle to South Beach, Florida, and have offices that acted as posts for our engineers and technicians based in those regions – including operation centers in close proximity to our customer offices. During the pandemic, we closed a number of these and enhanced our remote-working model.
"The productivity of our design-engineering group, which makes up roughly half of our company, increased significantly," he continues. "And when we ran further tests, we found that our employees' work-life scores had improved too. So, all round it was a good thing."
Increased productivity among the office staff wasn't the only change that TrueNet observed. "Something noteworthy about our place within the industry, is that we provide our services to assist our customers on what we call Business As Usual (BAU) projects," Bao says. Nearly all of our major customers provide services to both residential and commercial consumers. During lockdown, the traditional pattern of usage was turned on its head. Usually, during the day, providers have to supply high-speed internet to businesses, for which robust connections have specifically been built (in a lot of cases, fiber-to-the-business). This completely changed with everybody working from home. Suddenly, our customers needed us to augment their residential networks.
We found ourselves providing higher bandwidth connections to people's homes in order to preserve the same level of capacity. This meant a great deal more opportunities for us."
As technology evolves, so the demand for faster connection speeds increases, upon which the market increasingly comes to rely. For TrueNet, therefore, continual investment is a necessity. Recently, the company's strategy has included large investments in construction machinery, such as boring rigs and trenchers, as well as developing field data collection tools and tablet applications that assist their engineering efforts. In some cases, this has seen project completion time reduce from weeks, down to mere days.
"One of the larger and more exciting technologies that we have employed is Light Detection and Ranging (LiDAR) for the collection of data regarding our engineering efforts," Bao states. "In the past, we would have sent out a crew of field engineers to our customers' prospective network locations, who would gather all of the telemetry geodata, addressing and routing information and any other points of interest, such as where we would need to submit build permits. In utilizing LiDAR, we're able to collect all of this data through a car-mounted laser-scanner in a matter of days, instead of months. As well as the overall efficiency of the collection, the accuracy has also improved dramatically; if there is an artifact of importance to us, which is visible from the street, LiDAR will find it. We've seen our overall speed in production increase, and a huge drop in repeat site visits."
Through multiple acts of exterior government intervention, in the form of Connect America Fund (CAF), the Rural Digital Opportunity Fund (RDOF), and most recently the US Infrastructure Bill (which includes large grants such as the Broadband Equity, Access and Deployment (BEAD) program), TrueNet's industry has experienced a huge injection of recent finance and activity. Each of the above strive to bring greater opportunities to so-called rural America, by introducing faster, fiber-broadband connections to traditional under-served homes and local communities. This addresses a vital need: a remarkable 20 percent of US homes do not have access to high-speed internet.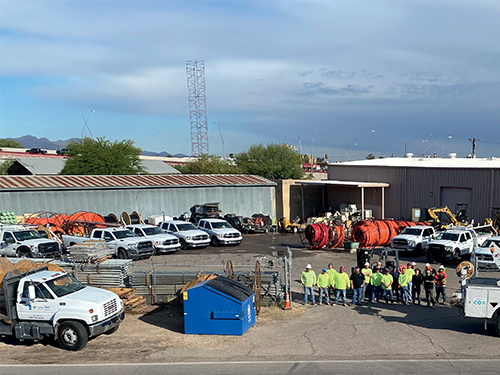 "TrueNet takes pride in the fact that we are assisting our customers' efforts to further develop US telecommunications infrastructure," Bao explains. " Thanks to these government initiatives, we are on the precipice of an enormous paradigm shift within our industry. The 2021 Infrastructure Bill alone is set to award $60 billion in the form of loans and grants in order to provide every American access to high-speed internet. Such a massive injection of capital will create an exciting new dynamic, unlike anything we've seen before.
US states have already started their application and bid processes for available funds, through which telephone companies, cable companies, non-traditional providers and utility providers will in turn be able to bid for funds to build the fiber connections. "We are about to see a huge swell of activity in US geographies that quite frankly none of us has really ever focused on before," Bao notes. "One of the knock-on effects of this radical modernization is that telephone and cable companies who are yet to upgrade to fiber optic cables, will now need to do so in order to stay competitive."
Such extraordinary developments, in a relatively young industry, begs the question as to who will construct and engineer the necessary infrastructure for these changes. On that point, TrueNet has been observing the market and preparing for some time now.
"How do you create more, with less, and how do you bring new talent into the industry?" Bao asks. "Those are going to be the two biggest factors that impact contractors and vendors over the coming years. We've invested a lot of time and money into the research and development of new technologies. As well as this, we've ramped up our internal recruitment process and the emphasis we place on staff trainers, who are working year-round to ensure that we have a broad bench of resources from which to pull. There aren't enough people with the necessary experience."
Despite this, Bao is positive about the outlook for the US. "Nearly 27 million households are without access to high-speed internet in the US," Bao concludes. "But soon enough, those 27 million households will have not just one, but maybe two or three options to choose from." With the likes of TrueNet at the helm, the continent can look forward to a more connected future.
www.truenetcommunications.com