Hillpointe's strategy for success in attainable housing construction
Point of PRIDE
Hillpointe, LLC (Hillpointe) was founded in 2018 with a primary focus on the development of market rate workforce multi-family housing. During our conversation with Co-Founders and Managing Partners, Kelly Mahoney and Steven Campisi, we learn how the company has pushed itself to become the largest developer of new workforce housing in the southeastern United States. "We specialize in providing multifamily rental housing that is affordable to people who earn between 60 percent to 120 percent of the area median income, or about $50,000 to $85,000 annually. Over the last several decades, affordable rental housing largely disappeared, with quality rental housing options increasingly restricted to top-end luxury renters," begins Steven.
"So, in terms of what differentiates us, we are building for a particular market. Essentially, we create Class A quality garden style multifamily communities across the southeastern United States, and we are able to deliver those communities at a significantly lower cost basis than other new, like-kind construction. Our ability to deliver at a lower cost basis enables us to pro-forma attainable or workforce housing rents, and still have our projects pencil from a financial standpoint," Kelly emphasizes.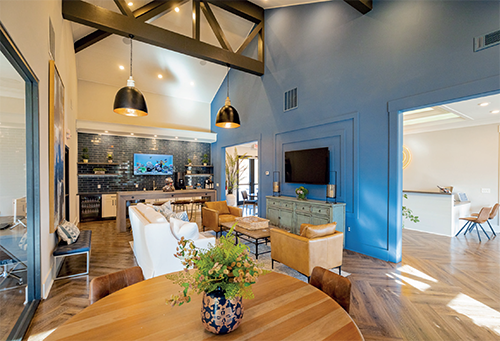 To truly highlight Hillpointe's business model, the leaders discuss a recent project in Savannah. "We originally identified the land for that project in 2019, and it was initially a parcel that, while in a great location, presented some significant pre-development challenges, notably access and wetlands. In most jurisdictions, you need two distinct access points to meet building code on an institutional scale multifamily development and this property only had one access point. Additionally, at first glance, the property appeared to be significantly encumbered by wetlands according to a dated determination by the Army Corps of Engineers. Even though the underlying parcel was relatively large at approximately 40 acres, the then applicable wetlands determination materially restricted the total amount of developable acreage," shares Steven.
"Fortunately, by acquiring an adjacent property and engaging several environmental consultants, we were able to mitigate the access and wetlands issues that had deterred other firms from developing the parcel. We received full approvals and began construction in 2020. As a fully integrated firm we are unique on the construction side of our business. We employ a development model that differs from our industry peers in a number of ways. First, we act as the developer, the general contractor, and we self-perform the majority of the underlying sub trades, which allows us to strip out a significant portion of the embedded fees and overhead that are typically spread across the multiple layers of contractors in a traditional development structure.
"Second, in addition to performing as the general contractor and self-performing sub trades, we source the majority of our materials direct from the manufacturer on a bulk basis. By cutting out middlemen in the distribution channel, we can significantly reduce the cost of building materials. Third, we operate a widget model and we build the exact same building types on every project."
We then dive deeper into the details of the business' operation, and learn about how Hillpointe tackles onsite challenges, again, using the Savannah project as an example. "We operate as close to an assembly line model as possible, building the same design everywhere. A typical Hillpointe community consists of 200 to 400 total units. We have three different building types that we construct, consisting of 12 units, 24 units and 36 units. We lay those building types out on each prospective site and then our construction team builds the same product in each market. By implementing a widget style, uniform construction model, rather than a unique footprint for each project, we are able further reduce our cost basis."
Best-in-class execution
"We employed our construction model on the Savannah project just like we would on any of our projects. The construction was completed in just under a year, and leasing began in early 2021. We were able to develop the Savannah project to a very attractive cost basis, and we were able to successfully complete the entire lease-up in about five months, a timeframe which exceeded all our initial projections. In early 2022, we sold the project to a multifamily investment firm that now operates the property, and it was a great return for us and our investors," Kelly expresses.
Steven then shares more on the development and operational side of the company. "Broadly, our investment thesis is centred on our ability to execute at a significantly lower cost basis than our competitors, which is increasingly important in the current environment of rising rates and construction costs. Our hands-on approach to construction allows us to develop at a significant discount to other new construction, and our total cost basis is often lower than the purchase price at which other investment firms pay for significantly older multifamily assets in our markets. We now control a pipeline of over 8000 multifamily units throughout the Sun Belt. With that pipeline and our proven institutional model for the creation of workforce housing, we believe that we are well positioned to continue addressing the ongoing housing affordability crisis."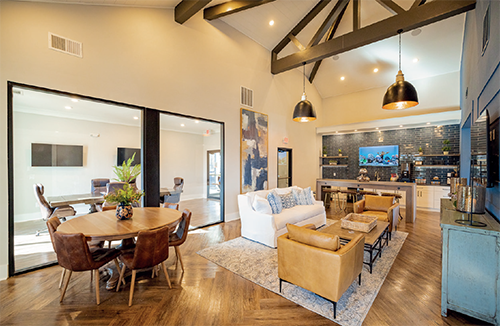 To achieve this, the two highlight that Hillpointe has had to push itself to be a best-in-class operator. "We have had to be exemplary on the development side in terms of finding and entitling great sites and an industry leader on the construction side in terms of executing at a highly attractive cost basis.
"From an organizational perspective, we have continued to build our team, with a focus on boots on the ground underwriting and execution. We believe being hands on in our target markets is a must, not only to select great sites, but to successfully usher those sites through the pre-development process. Best-in-class execution typically can't be achieved from the desktop. The housing market right now has a real problem when it comes to the availability of attainable housing. Having a great internal team focused on both site selection and pre-development has been key in our ability to actually bring new attainable housing to market."
Seamless solutions
For Hillpointe, the last two years have come with several challenges. However, Kelly and Steven explain how the company has mitigated these obstacles in order to continue to excel in multifamily development. "I spend a great deal of my personal time focused on ways to further value engineer our product," says Kelly. "Over the past few years, we have continued to simplify our product, which has both reduced cost and supply chain uncertainty. We have largely switched away from engineered systems and instead have opted for custom assemblies. Additionally, we have continued to expand our direct-to-manufacturer relationships, even going so far as to design some of our own proprietary building products. As a result of these efforts, we believe that our supply chain is much less prone to disruption."
Looking ahead, the two leaders are excited about the journey they're on and are keen to see current plans in the pipeline come to fruition. "We have a wealth of great sites in our pipeline, our construction process is streamlined, and our supply chain has been optimized. All our focus is on the firm's mission, delivering best-in-class new apartments that are competitively priced for workforce tenants." With this, we know that the company will continue its successful trajectory for years to come.
www.hillpointe.com