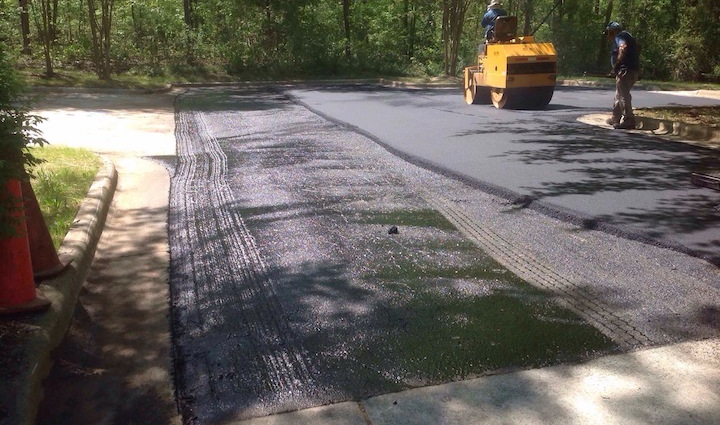 Weavercooke applies lean construction methods to its Greensboro Housing Authority project.
Specializing in custom construction projects with unique needs, Weavercooke is a firm that embraces a lean philosophy. Over the last few years, the Greensboro, N.C.-based company has found success applying lean construction methods to its projects. The methods have made its projects more predictable, saved time and money, improved safety, eliminated waste and increased efficiency.
"We are constantly trying to find faster, less expensive and more efficient ways to operate," Project Manager Frank Sorg says. "We're always striving to improve the quality of our projects."
Most recently, Weavercooke applied lean construction methods to its Greensboro Housing Authority Project, a 645-unit rehab project that spanned throughout nine affordable housing communities in Greensboro, N.C.
Weavercooke – which celebrated its 80th anniversary this year – uses a method called Rapid Rehab that minimizes the costs associated with relocation and can complete rehabilitation projects more than twice as fast as a traditional rehab. It involves working in small batches to speed up the pace of work and increase efficiency and throughput. The Greensboro Housing Authority Project is a perfect example.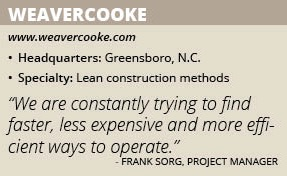 "This is the first rapid rehab project we have taken on using this lean method of small batch train execution," says Courtney Field, project manager. "It's an on-site management tool for our superintendents and trade contractors to collaborate and more efficiently, which was very important for this job. There are a lot of checks and balances for quality control."
The project consisted of installing or applying more than 2,500 door/hardware sets, 3,100 windows, 7,500 gallons of paint, nearly 500,000 square feet of new flooring, 125,000 linear feet of shoe mold and 37 miles of cable TV runs.
It also included some exterior siding enhancements, window replacement, roofing replacement, the addition of some new playgrounds and all required units were brought up to ADA compliance. Some units also received new plumbing fixtures, light fixtures, HVAC systems, water heaters, kitchen countertops, new flooring, interior paint, vanities and sinks, and switches and outlets.
Small Batch Train
In a traditional rehab project, work is rarely planned or executed in batches, and when it is, the batches are large, like the entire floor or building. This creates a lot of time when trade contractors are waiting instead of working.
Since Weavercooke uses the Small Batch Train method, it keeps a continuous workflow essentially turning the rehab process into an assembly line. Its contractors do the exact same work every day in a set number of units, creating predictability, eliminating wait time and quickly making them experts at the specific job they accomplish every day.
In order for Rapid Rehab to work, the project management team needs to be able to create a continuous work-flow – something that Weavercooke already does on all its projects through lean construction methods.
According to the company's rapid rehab brochure, "the principles that we learned through our training and certification in Lean Construction Techniques are directly applicable to the Rapid Rehab process and have allowed us to quickly become experts with proven results."
Exterior work on the project started in February 2018 and it's currently in the final phases of completion. Sorg says that a project of this size would have likely taken three to four years to complete using other building methods.
Using Rapid Rehab and Lean Construction techniques, Weavercooke was able to complete 495 of the 645 units in eight months – finishing the entire project in 12 months.
During the course of the project, Weavercooke's supporting office staff submitted more than 50 owner pay applications with certified payroll, processed 400 trade contractor pay applications and more than 1,800 invoices.
An occupied rapid rehab project, the challenges included working around the home's residents. "While they may not realize it while their home is being rehabbed and while they may never have anticipated these improvements, the quality of life for these 645 resident families has been greatly enhanced through the execution of these projects," Sorg says.
Since starting work with the Greensboro Housing Authority, Weavercooke has also provided rapid rehab for Aldersgate, a 78-unit project in Greensboro, and Ledgewood Village in Asheville, a 180 unit affordable multi-family community.
Celebrating A Milestone
Founded by Herman Weaver in 1939, Weavercooke has provided construction services to customers throughout North Carolina and the southeast region for 80 years.
"Weavercooke's purpose statement says: 'We exist to build great things, develop great people and bring to life the hopes and dreams of others,'" Sorg says.
The company specializes in custom projects with unique needs such as the Proximity Hotel in Greensboro – the first LEED Platinum hotel built in America. It takes pride in its ability to blend old views with new beliefs.
"We can introduce you to new building techniques like 6-D BIM and Integrated Project Delivery, yet we maintain the client-centered relationships where our word and a handshake still has meaning," states the company's website. "Our goal is a simple one: To lower your overall investment cost by combining best building practices with good old-fashioned customer service."