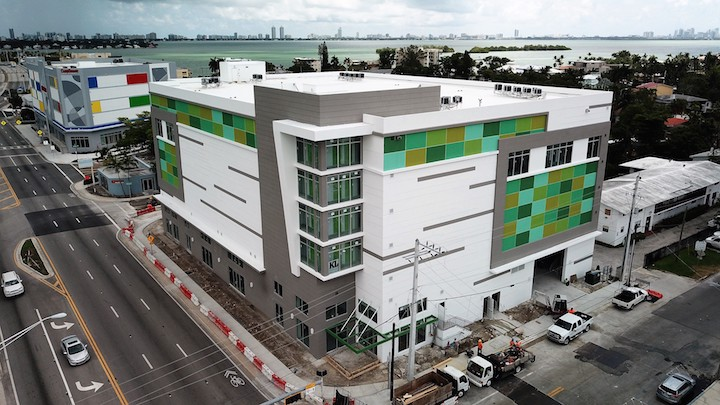 H&M Development builds, develops and does shell work to succeed in South Florida.
When Harry Dornbusch was a child, his father brought him and his two brothers to construction sites in Columbia, where his construction firm Dorco was building commercial and residential projects.
All three sons went on to study civil engineering. Dornbusch came to the United States where he earned a bachelor's degree at the Georgia Institute of Technology and a masters at the University of California at Berkeley. "It's kind of in the blood," Dornbusch says of his family's bond with construction.
Dornbusch worked in real estate development in Venezuela before moving to the United States, where in 2003 he started H&M Development. His son Joey joined H&M after earning a degree in civil engineering at Georgia Institute of Technology.
Dornbusch also founded Matelfer C.A., a construction supply company in Venezuela, which he continues to operate.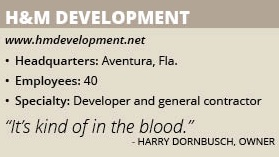 H&M operates in Palm Beach, Broward County and Miami-Dade where it builds office, retail and warehouse.
The company buys vacant land and develops it, works as general contractor and also acts as a shell contractor for larger general contractors. As a shell contractor, H&M performs work related to tilt-up concrete panels, masonry, demolition, foundations, cast-in-place concrete, slabs on grade and all types of flooring. It also is involved in rough carpentry, concrete stairs, site and retaining walls, flatwork, pre-cast, pre-stressed and post-tensioned concrete construction.
H&M's projects include Whispering Woods Center, Forum of Aventura, Beacon Hallandale, Atlantic Village, Palmetto Center, Stirling Business Center, Hallandale Plaza and Beacon Tower of Aventura.
Cycles and Safety
South Florida's construction market in office, retail and warehouse has slowed down in the past year, Dornbusch says, due to a surplus of inventory. "It will come back," heh predicts. "It's about cycles. A construction and development company need to be able to grow or, in some instances, to be able to reduce itself. You see what's coming and take all the measures. Our father sometimes did 10 different projects and sometimes waited and didn't do anything."
The slowdown comes after a period of growth that started after the Great Recession. In 2012, H&M sought to build a midrise office tower in Aventura, Fla., called Beacon Tower. Transitioning out of the recession, banks at the time were reluctant to lend. H&M finally gained a loan from Ocean Bank, which is affiliated with a Venezuelan bank that was familiar with Dornbusch's work. "We repaid the loan back ahead of time," Dornbusch says.
H&M is currently working on two large projects and has more in the pipeline although Dornbusch says the company doesn't expect to be working on nine projects at the same time like it was in spring 2018.
H&M prefers to work with subcontractors that have done well for it in the past, although those subs change depending on what needs to be done. "Some work well in high-rise, some work well in plazas or shopping centers while others do well in industrial or warehouse work," Dornbusch says.
Another priority for H&M is keeping its workers safe. The company developed a safety program and manual that requires safety orientations with workers before breaking ground and weekly safety meetings at every job site. It also works with a third-party company that visits construction sites once or twice a week to independently monitor safety.
A Green Beacon
H&M is building an eight-story building in Hallandale Beach, Fla., with three levels of parking. The 210,000-square-foot building has a construction budget of about $17 million. About 140 people have worked on the project during peak construction.
The first floor of the Beacon will have executive suites, a lounge and two conference rooms, and a receptionist available for any tenant.
H&M bought the property two-and-a-half years ago and started construction in late summer 2017. Completion is expected in May 2019.
"Once we did the homework, the investigation to mitigate risks and challenges, this was a fairly straightforward, smooth project," Dornbusch says.
The project did have one unusual requirement. "Hallandale is one of the few cities where you have to have green certifications for projects of certain size," Dornbusch explains. "We offer a green certification from Green Globes, similar to LEED. The building is very efficient from an energy point of view from the windows to the electrical system to motion detectors."
Condo-Retail
Another H&M project is a one story, 45,000-square-foot retail project composed of seven buildings in Cooper City, Fla. It has a construction budget of $10 million with 80 to 90 employees during peak construction. H&M bought the property in late summer 2018 and, as of May, was halfway through construction. The company expects to complete the project by the end of 2019.
Cooper Square is unusual in that it is condo-retail, meaning that people buy rather than rent a unit. H&M has sold five of the units and has retained two spaces in front of building to rent to restaurants.
"The Latin influence in south Florida has opened up some opportunities," Dornbusch explains. "People in those countries, they like to own their own shops or properties. It's a completely different mentality. In South American countries, the property is part of the business. Americans are used to, whatever [business] they do, they rent."
Proud Work
Dornbusch is proud of the work that H&M does. "When you buy vacant land and after a few years you see the development is working well and people are happy using the facilities, that will make you proud," he says.
H&M is currently working as a general contractor and has five contracts plus a few in the pipeline. The company is also considering getting into developing assisted-living facilities and other senior facilities. "It's exciting," Dornbusch says.