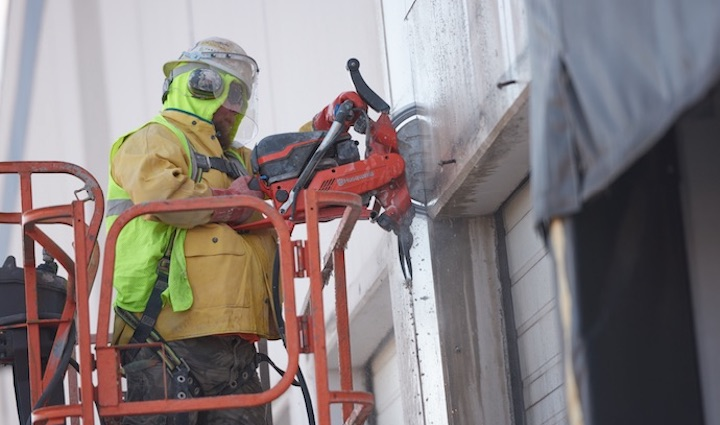 Fabcon's Work to Existing (W2E) division allows it to better cater to clients.
When Fabcon Precast provides a pre-stressed precast wall system, their job does not end when the project is completed. Often, the company receives calls from clients about repair services or expanding their spaces. And that is where its new Work to Existing (W2E) division can lend a hand.
Based in Savage, Minn., Fabcon stands as a leader in the engineering, manufacturing and installation of precast wall systems. David Hanson and Gerald Rauenhorst started the firm in 1970 with the goal of developing its SpanDeck technology, which was used for making concrete wall panels and floor slabs.
In 1995, Fabcon acquired The American Precast Co. in Grove City, Ohio. In 2000, Fabcon expanded to Pennsylvania and in 2015, an additional geographic expansion in Kansas allowed Fabcon to serve the south-central portion of the U.S. In 2018, both facilities were expanded to offer 2 million additional square feet of capacity. W2E Business Unit Manager Tyson Intile notes that Fabcon thrives by being different than its competitors.
"It's unique in that we're several different companies," he says, noting that Fabcon operates manufacturing and construction divisions. "They found a way to put those groups together so that it works really cohesively.
"We can offer a turnkey system that not a lot of builders can do," Intile continues, adding that Fabcon provides constant innovation in its products and how it does business. "That has
created an environment where we're all seeking to do better and be profitable in the marketplace."
From Top to Bottom
Fabcon created its W2E division in September 2018, but historically, the company has always offered support to customers after the completion of projects. "The clients range from building owners to general contractors," Intile says, noting that the company has constructed more than 12,500 buildings across 43 states.
Usually, Fabcon gave requests for after-service to its salespeople and project managers. But when the company did that, he explains, its support and renovation work was always competing with ground-up construction. "It was much more challenging to give customers a good experience," he admits.
This drove Fabcon to create the W2E division. "We thought we could do this a lot better if we took some good people and made this the only thing they do from top to bottom," Intile says.
Today, he leads the division with a team that includes two project managers, two field crews, and a rotating base of engineers and drafting resources. Currently, "We're doing a lot of dock expansions," Intile says.
The division's work also has included expansions for distribution centers and warehouses. "That's probably the most common source of work for us," he says, noting that its portfolio also includes repair and restoration work. "We'll get calls when there's truck or car damage in a warehouse."
Boosting Efficiency
The W2E division has earned a favorable response from Fabcon's clients, which consist of property owners and developers, building management firms and contractors. "We have work in process booked with general contractors that we do our ground-up work with," Intile reports.
But before Fabcon launched the new business unit, he interviewed several of the company's key customers. "We said, 'We're thinking about starting this new business unit, and what would you like to see?'" he recalls.
"The feedback we got from everybody was, 'We really like to have you on the job, but you need to have competitive pricing and you need to accelerate your schedule,'" Intile explains. "We're focused on being competitive and moving these projects through our queue quickly."
He adds that the division has been able to drive efficiency by having its own field personnel. Previously, "I was at the mercy of the existing field schedule to try to get a resource," he recalls.
If a client wanted Fabcon to cut 20 dock doors, "It was unlikely that we could get one of our saw crews and borrow them for three weeks," he says. "We would have to use lower-tier subcontractors, and that drives prices up because we weren't self-performing the work."
Keeping Up
One challenge for the W2E division has been covering the markets that Fabcon serves. Although it initially started out with one crew, "Now we have two trying to cover from Maine all the way out to the Rockies," Intile says.
"Because we want to self-perform, trying to figure out how to cover this large geographic region has been challenging," he admits, but asserts that the company has coped so far. "Most of our work is from the Twin Cities, [Minn.], area out to Boston.
"We've been able to reach most of our major markets," he says, adding that the company is able to reach these clients from its plants in Savage and Mahanoy City, Pa. "We have the benefit of working completely integrated between the two locations.
"I can send the crews out west, and they can send people to the east," he says. "That flexibility has allowed us to keep up with that challenge."
The W2E division also has had to work through the hiccups of a new business that is just starting out. For example, "The way we're moving information through the company is new," he says. "It's taken some time to figure out where our hurdles are and tweak things so information moves efficiently."
A Great Opportunity
New construction is expected to see a downturn, but for the W2E division, that will not be bad news. Instead, "That's a great opportunity for my group," Intile says.
"When new construction is in a downward cycle, people tend to renovate with what they have," he explains. "People tend to look at expanding rather than building new buildings."
But even without the downturn, business remains strong for Fabcon. "Last year was a very strong year for us," he reports. "The end of the first quarter of this year has been very busy with new construction."
While there has not been a shift, the W2E division has seen growth in the demand for its services. "We felt there was pent up demand we weren't able to serve historically," he explains. "We're able to process a lot more work now than what we were [able to do] before."
Rewarding Work 
Intile is a longtime veteran of the construction industry, but he did not originally plan for a career in this field. "I was initially an English major," he recalls. "I thought I was going to do something in the writing world."
But when he was 25, Intile's friend started a small commercial construction company and hired him to work on its website. "I ended up in a project management role, doing retail fit out construction," he recalls.
After working the firm for a couple years, "I took a position as project manager at Fabcon in 2007," he recalls, noting that he has found work at the company to be rewarding.
The modest size of his division, he notes, allows him more autonomy. "Every day I meet with my project managers and the foremen will come and sit with us," he describes. "Because the group is so small, we can all sit together and decide how do we react to something we come across in the field.
"Even if it's something as simple as a tool that would make the job more efficient for us, it's very easy for us to quickly create changes," he says. "It's really exciting for people, because they have a say in almost everything they do, day in and day out."
He is proud of the company and its groups in the East and West.
"They've found a path to make their job work," he says, noting that this includes Project Manager Mike Berg, who leads its team in Minnesota, and Project Manager Angela Van Strander, who leads its team in Pennsylvania.
"They've taken total responsibility for an operational business unit and they've done it extremely well," Intile says. "They've gone from traditional project management roles to sales roles with customers.
"We've put them in the driver's seat and said, 'Off you go!'" he continues. "They've really succeeded. [Our people] are really being trailblazers."
Aiming High
Intile plans to grow the W2E division. "Over the next two years, I want to quadruple the volume of work that we do," he says. "It sounds like a large goal, but I think it's just a matter of keeping up with existing demand and getting our name out there."
Currently, Intile says, there are many people occupying Fabcon buildings and are not aware of it.
"By virtue of being an OEM provider and being the brand we have, we'll be the go-to choice when it comes to maintenance work," he says.
The economic climate, he notes, gives him confidence that the division can achieve this goal. "We have an optimistic outlook for the new year," Intile says. "I would expect to see the size of my group double in the next year and keep pace with the volume growth we expect."
He also sees a strong future for Fabcon, as well. "This has been a really amazing place for me to work," he says, noting that the company has longevity in its staff with field personnel and project managers that have three decades with Fabcon.
"We have mountains of technical expertise," Intile continues. "In the future, we can take that and really turn that into an appealing thing for potential and current customers."
SIDEBAR – Partners in Growth
Fabcon Precast has many national account partners, including Target, Home Depot, Menards, Prologis and Kohl's. "Currently we have only one national account renovation program with Menards," Tyson Intile says.
"One strong area of growth I see for my group is partnering with these accounts so we can offer turnkey precast renovation services throughout the country," he says. "There aren't many people who can offer single-stop shopping for that scope from the Rockies to the Atlantic, but we can and I think that will be valuable to these customers."