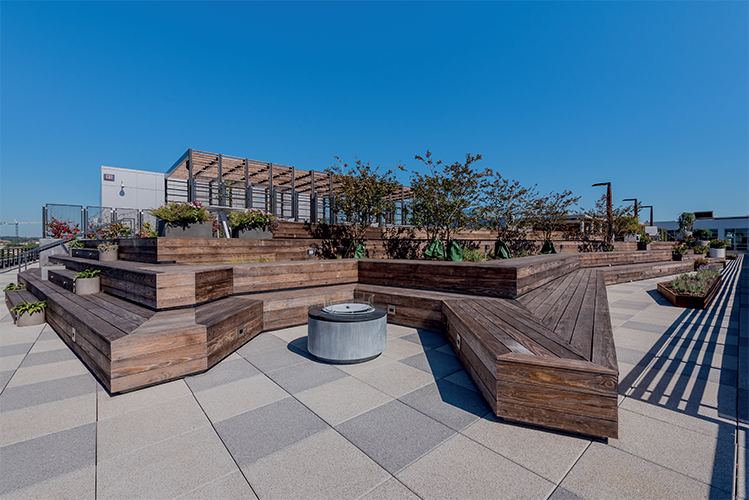 Located nearby the epicenter of Washington DC's H Street, the Apollo Apartments have been thoughtfully designed to capture the excitement of the early 20th Century Apollo Theatre, located on the same site, with modern amenities befitting one of the city's most dynamic neighborhoods. Global leader in the production of sustainably modified wood, Kebony, was selected for one of the building's most striking features, its multi-faceted rooftop deck, sat atop the residential building, which houses more than 350 apartments.
Responsible for creating a beautiful outdoor living environment, the landscaped deck offers unparalleled 360-degree views of the city, a multi-use pool/fountain, a movie screen with lawn seating, a contemporary pergola and several stylish Kebony benches which adorn the sensitively designed rooftop space.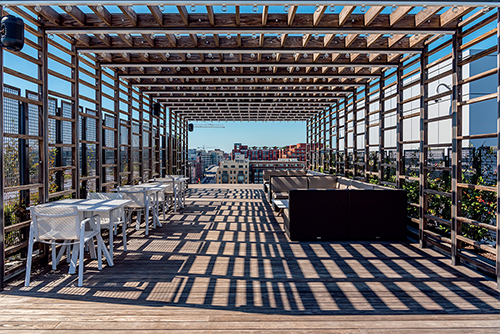 Finding the right material for the ambitious rooftop project led Insight Property Group and Landscape Architecture Bureau to Kebony, which was ultimately selected due to its natural aesthetic, impressive durability and award-winning sustainability credentials.
Kebony's durability and need for extremely minimal maintenance made it the perfect choice for the project, which is exposed to the elements all year round, with highs of up to 34°C in the summer and lows of -18°C in the winter.
Developed in Norway, Kebony's revolutionary technology is an environmentally friendly process, which modifies sustainably sourced softwoods by strengthening the wood with furfuryl alcohol – an agricultural by-product. By polymerising the wood's cell wall, the softwoods permanently take on the attributes of tropical hardwood including high durability, hardness and dimensional stability*.
Brendan Whitsitt, Director of Development of Insight Property Group, said: "We are delighted with the impressive rooftop space and are pleased to have worked with fantastic partners and products to help realize the vision. For the decking, we were looking for a natural material that would not require any real maintenance or regular touch-ups and were very pleased to have discovered Kebony wood, which only requires normal cleaning and no additional processing."
Commenting on the use of Kebony at the Apollo Apartments, Payam Ostovar, PLA, ASLA, at Washington-based Landscape Architecture Bureau added: "The decking is performing extremely well since construction completed. One of the best benefits we have noticed the most, is that being a pool deck, it is far cooler than the adjacent concrete pavers."
Kebony Technology
The Kebony technology is a patented process which enhances the properties of non-durable wood species to give them similar characteristics to the best performing woods. Through a sustainable process wood species such as pines and non-durable woods are impregnated with a bio-based liquid derived from agricultural crop waste. With the addition of heat, the furfuryl polymer is permanently grafted into the wood cell wall, resulting in greatly improved durability and dimensional stability.
https://us.kebony.com/