Southwest Industrial Electric shares why advocating for women in construction is crucial for the industry's growth
A feminine power
Despite the challenges currently plaguing the construction industry, Southwest Industrial Electric (Southwest) is determined to overcome the odds. With a persistent team at the helm, the business has been making promising headway in the energy sphere since we last spoke in 2020, through battery energy storage systems and solar installations. "We have undertaken multiple large projects – two of them being rooftop solar installs, one of which is six megawatts, and is one of the ten largest in the country," shares Kristin Larson, the company's CEO. She also expresses that the company's team members have grown alongside the business' expansion, and she has continued to develop its culture and training programs. "Our team members have been motivated in these past two years and have taken on more in their positions. We love to see individuals thriving, and being able to grow in their careers," says Kristin.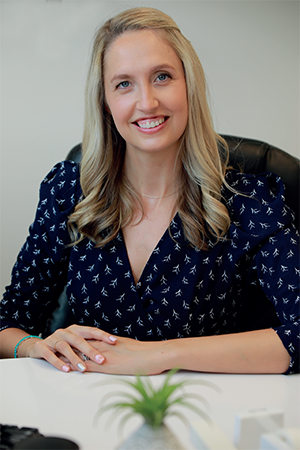 Further exciting developments have taken place within the business over the last two years. For example, the company expanded its horizon and gained its license in Texas. It also grew its green energy projects and continues to pursue more in that sector. "We attended the RE+ International Solar Power expo in September, which is one of the largest trade shows for solar energy, with companies flying in internationally to attend," Kristin adds.
"In terms of investments, Southwest has also expanded its fleet of service vehicles, bringing us to 20 trucks. Otherwise, our main investment has been in our team, expanding our team of electricians, and our sales and marketing this year to be able to deliver on more projects."
Then, in terms of the business' order book, project demands have been increasing tremendously as well. "We have two battery energy storage system projects starting in the next couple of months, with more on the horizon," notes Kristin. Furthermore, the company is installing a 6.3-megawatt photovoltaic solar panel system on a large distribution facility for one of the largest distributors in the world. A total of 14,400 solar panels are being installed, and the project will take approximately nine months. Following completion, the business will be testing and commissioning the installation. "We did everything from racking, wiring, and modules to all other supporting equipment. We are currently in the final phase of pulling and terminating the rest of the wire, and I am pleased to share that the project falls into the top ten in the US, and top 20 in the world.
"We have also helped one of the largest distribution vendors in the world electrify their fleet, and we are currently lined up for more EV projects than ever this year. More frequently, we are seeing our customers reach out for assistance with this sort of development. We are also looking to add a whole new residential department for EV installation for customer homes."
Alix Smith, the Chief Production Officer overseeing EV projects, briefly expands on this saying, "As demand increases, Southwest is looking for great partnerships with manufacturers of EV trucks and chargers, as well as design teams. We look forward to maximizing our reach in the EV market by partnering with other companies to make this as accessible as possible."
The EV charger market is rapidly growing and evolving just as fast. For Southwest, the challenge is making sure the business puts infrastructure in place to handle new styles and sizes of chargers. "Internally, I'd love to see a full EV fleet for our technicians, technical estimators, and salespeople," says Kristin. "In addition to that, we want to work with our customers to plan for their future, and make sure that they can have as many options for EV charging as possible.
"About four years ago, we had a customer reach out for a pilot program at their sites. They wanted to do small quantities of EV chargers in different configurations to find the best solution for them and their entire fleet. This gave us the opportunity to install different brands of chargers with various install configurations. That was a valuable experience as it allowed us to offer our services regardless of the EV installation type they were looking for."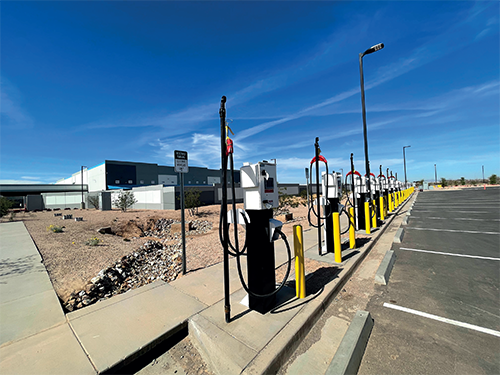 Because cities and states are pushing for EV charging, they want to expedite plan checks and coordination times. As a result, customers also know that in the long-term, installing EV charger infrastructure at their site will reduce fuel costs for their fleets, and they will also benefit from government assistance as an incentive to achieve their net-zero goals. "There are rebate programs from the government that customers can apply for when installing EV, which will cut down the cost for the project significantly. They also gain control of their fleet being charged, and it streamlines day-to-day operations. Other advantages include cleaner air, especially in places like California, a lower cost of driving, and an increase in property values where the chargers are installed."
Our conversation then steers towards the discussion of the company culture, which, as we learn from Kristin, is an aspect considered equally important as the business' overall growth. "One of our core values is team spirit and that is seen throughout many parts of our company. We make it part of our leadership team training to lead by example, and by validating those jobs done well through positive reinforcement.
"We have weekly staff meetings where we share the successes from each part of the company and commend team members for their hard work. We implement activities for the company, based on goals for our production. Those are then celebrated when targets are met. We also have games for various charity events where teams participate together, which plays a huge role in our overall culture of support and community. We also have an in-house training program, where team members are encouraged to learn more about our industry and are motivated to become experts in their field."
An added layer of which Kristin is particularly proud is the company's advocacy for women in construction. "Most of our chief executives and many of our staff are women, and we are also a part of the National Association of Women in Construction. I think by working hard and showing what we can do, we lead the way for more women to participate in the electrical field, as well as construction. We like to shine a light on what a great sector this is, and what our work can do for the community; that is something all people, and all women, can be proud to be a part of."
With a leading, female-driven team, the pillars of Southwest seem resilient enough to withstand any challenges the future may bring. "The last part of the year is often the busiest, with many projects having deadlines before the year is done. We also have some great opportunities coming up at the end of 2022 that include new construction and solar projects, and orders for battery energy storage systems. We are excited to continue to partner with great companies to produce top-quality installations," shares Kristin.
Beyond that, the company is planning to have licenses in more states, and is working towards having a footprint in all 50. Kristin ended by revealing that the business will have another branch in Texas soon to provide more service further east. She looks forward to seeing her team grow, as Southwest refines its ability to service customers with the best electrical services it has to offer.
www.southwestelectric.com