How company culture is propelling ADB Companies to the top
All in for the END USER
Headquartered outside St. Louis, Missouri, ADB Companies (ADB) is a full-service provider of turnkey, end-to-end technology infrastructure solutions including engineering, wireline, wireless, and technology services. Since being founded in the 1990s, the company has undergone significant growth. Today, ADB has completed projects in nearly every state. The company boasts more than 1500 team members, and offices across the US, serving a customer base that includes leading telecommunications service providers, cable TV operators, power companies, regional internet service and telephone providers, government agencies, and datacenter operators.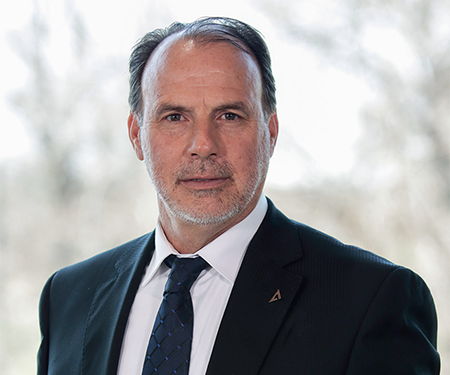 Four primary lines of business make up ADB's services. As Chad Johnson, President and CEO of ADB explains, these lines integrate seamlessly in order to fulfil customer need. "We can plan, design, and install a full communications network from the source right to the point where the end user interacts with it," Chad says. "Our engineering group can design a range of solutions from basic concept to dig-ready, including permitting and project management. Our wireline group is capable of installing nearly any type of hard infrastructure, both underground and aerially, servicing a variety of end customers in the telecom and power space.
"Furthermore, our wireless group is highly experienced in all wireless communications infrastructure development and maintenance, from the base of the tower to the top," he continues. "Finally, our technology group specializes in inside-plant networking and commercial audio-visual implementation."
It's a busy time at ADB. Recent years have seen the company continue on its upwards trajectory, with strong organic growth bolstered by a number of strategic acquisitions. For Chad, it's testament to an ability to stay ahead of the curve within a fast-moving sector, and capitalize upon promising market opportunities.
"While we remain focused on the telecommunications sector, we have moved into a variety of new market segments where we believe we can leverage our expertise and resources to deliver exceptional value to our customers," Chad outlines. "Some of this has been organic, such as our recent successes in private LTE networks, while some has been through acquisition. We've pushed ourselves to become more balanced as a company and have greatly increased our wireless portfolio."
Customer commitment
But growth doesn't come easily. It's a situation that wouldn't be possible without a high-quality team of individuals; one that Chad believes is the best in the industry. "We've built our leadership team with a fantastic combination of long-time industry and company veterans along with strong leaders from other industries that bring unique experience and perspective," he indicates. "We truly live by our mission statement: 'We are a customer-centric partner, providing innovative solutions. The safety, well-being and career growth of our team members are the benchmarks of our success.' ADB team members are 'ALL IN' on this mission.
"This is evident in all that we do and has resulted in ADB having an industry-leading safety record, even with exponential growth over the last several years," he reflects. "All of our team members are committed to doing the right thing for our customers. We don't take shortcuts. Rather, we provide full turnkey solutions in a way that ensures our customers, and their customers, are satisfied – not just today, but well into the future. We also have a very robust strategic planning and operational management model, which aligns all of our teams and keeps focus on our key objectives, limiting a lot of the noise and distractions."
The culture that ADB fosters internally is one that it extends to the wider community, where the company has established itself as a key supporter of local charities and non-profit organizations. "Social responsibility is embodied through our cultural pillar – ADB Community," Chad confirms. "It is extremely important to us, and every team member is encouraged to actively pursue opportunities to help their local communities. ADB has logged tens of thousands of community service hours and we support more than 65 charities around the country."
At the time of our interview with Chad, ADB is celebrating the recent award of its largest ever single project. The company's strong reputation for quality,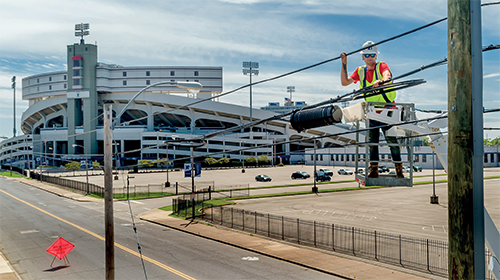 excellent project management capabilities, and a stellar safety record were all very significant considerations in the awarding of the work.
"Having the in-house capabilities needed to support a project of this size, along with an excellent network of partners, we are well-positioned to excel in delivering this project," Chad notes. "The same is true of our recent work to create a private LTE network for one of our great customers and longtime partners, for whom we have been doing an extensive amount of utility installation work over many years. Given our ability to deliver exceptional customer service through the duration of our relationship, they began working with us early in this new endeavor, relying on our expertise in the design and delivery of wireless networks."
Reflecting on the past two years, Chad is frank about the impact of the Covid-19 pandemic, and the lessons that ADB has been able to take on board as it continues to grapple with long lead times, labor shortages, and supply chain disruptions. "Most importantly, we've learned resilience and the need for strong interdependency," he reflects. "The pandemic taught us that we can't take anything for granted, but we can get through some really tough waters if we keep an open mind and rely on each other.
"While there was probably no way to be completely prepared for the last couple of years, our ALL IN culture absolutely gave us an advantage in dealing with everything that came at us," he goes on. "Jumping in to help others be successful, without regard for titles or politics, led to our ability to continue to grow every year. We are definitely still dealing with the hangover effects with regards to executing, and it's a challenge we deal with every day," Chad adds.
Full-service solutions
"Material lead times are still a significant issue, and they've resulted in slowing a lot of projects down. The fact that our market remains strong despite macroeconomic headwinds forces our Project Managers to constantly juggle projects to ensure we're being as effective as possible while waiting on materials. Labor is probably the most significant factor and has limited our ability to take on even more projects. We have a great team that we supplement with partner providers to access geographies where we have more opportunity than current capacity. There is intense competition for all these resources as a result of the limited labor pool."
Looking forward to the remainder of the year, ADB is preparing for an exciting pipeline of activity. "We have a lot going on," Chad admits. "We still have our foot on the gas with regards to acquisition activity and expect to add even more to our family in the coming months. We believe there are a lot of great opportunities to expand our services and bring in more expertise while offering acquired companies access to the resources they need to grow. In addition, we'll certainly continue to be active players in our local communities, working with a variety of organizations to help strengthen the fabric of those communities in which we live and work.
"Beyond that, we have extremely aggressive goals for the coming years," he reveals. "We have plans in place to grow our revenue by more than 25 percent in 2023, with a plan to double our business between now and 2025. Through increased geographical density and expanded service offerings, we'll be able to offer more of our customers the full-service solutions they need.
"With such a fast growth trajectory, we recognize that it would be easy to lose focus on our culture and our people, so we're keeping those at the center of our strategic plan," Chad concludes. "We are dedicating more resources to training, development and our cultural pillars to ensure we don't lose sight of the most important aspects of our business. Acquisition is certainly a part of our growth strategy, but our organic growth is just as critical. We're working closely with all of our customers to build these opportunities out."
www.adbcompanies.com