Hourigan is a fully integrated construction and development company
Passionately shaping tomorrow, today
How sustainable construction from Hourigan is enhancing communities in the Mid-Atlantic region of the US – and blazing new trails in the process
Serving the Mid-Atlantic region of the US, Hourigan is a fully integrated construction and development company with offices in Central Virginia, Hampton Roads, and Western Virginia. The firm has become the go-to partner of choice for managing complex projects and delivering them to a high standard.
Hourigan places a special emphasis on continual investment in its people, tools, and technology – everything that is required to spearhead smart and innovative projects. Indeed, thanks to this ethos surrounding sustained progress, the company has established strong commercial partnerships and has been recognized as a trusted advisor by leading developers and investors in the region.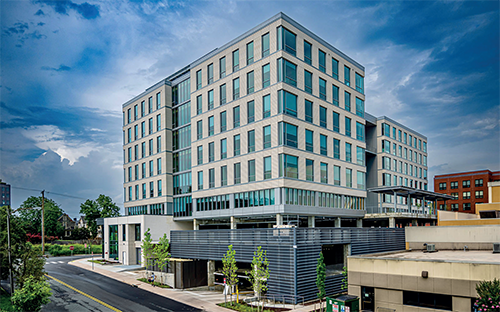 With a focus on its core values of serving with integrity and leading forward, Hourigan has built an impressive portfolio over the years. Chief Administrative Officer, Bryan Jones, offers us insight into the company's diverse operations. "Over the years there are many projects that stand out, but we remain most proud of the relationships we have built and continue to cultivate," he asserts. "In terms of services, we focus on 'moving to the owner's side of the table,' and being an advocate and resource for their project goals.
"As solution providers, we support the built environment through a variety of preconstruction, construction management, design-build, and development projects," Bryan details. "We tailor services to fit the needs of our clients and provide them with the answers they need to deliver certainty and intelligence in their decision-making. Furthermore, we always look ahead to new and innovative solutions and strategies to deliver more sustainable buildings that have a reduced impact on the environment."
Hourigan's internal mantra is about passionately shaping tomorrow, today and there is no better example of that than the firm's work on Apex Plaza: Virginia's first, and the East Coast's tallest, large-scale mass timber building.
The 265,000-square-foot cross-laminated timber (CLT) project includes 151,000 square feet of office space, 102,000 square feet of podium concrete parking, and 6,800 square feet of retail units. Needless to say, it was a mammoth project – and right at the center of it all was one primary consideration: sustainability.
Offering an overview of Apex Plaza is Joseph Marshall, Project Manager at Hourigan. "The building is based on a cradle-to-cradle certified design and uses mass timber for the upper six stories of the nine-story building. As a renewable resource, mass timber not only sequesters carbon but also minimizes the use of carbon that would otherwise be used to produce traditional building materials like steel and concrete. So, it really is win-win.
"This cradle-to-cradle philosophy limits or eliminates the use of harmful materials and ensures that materials are fully recyclable and have life after their initial intended use," he notes. "In fact, just one dumpster of recyclable timber waste was needed for the entire construction project. Structural wood from fast-growth timber is one of the many sustainable features of Apex Plaza; much like a healthy tree stores carbon dioxide, one square meter of cross-laminated timber can remove around one ton of greenhouse gas from the atmosphere. Additionally, the building's 875 solar panels are designed to produce over 50 percent of the energy the lead tenant, Apex Clean Energy, consumes in any given year."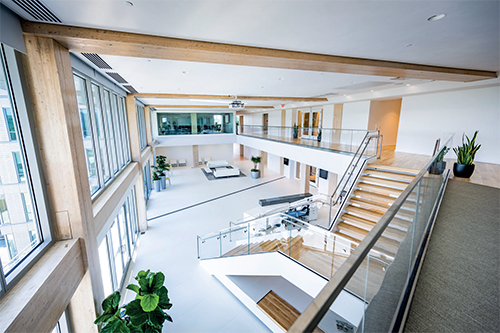 Acting as both development partner and construction manager on the project, Hourigan was aided by Apex Clean Energy in the search for land to construct the latter's new headquarters but also provided guidance throughout site selection, design services procurement, representation, and through the transition into construction operations for the facility.
"Executing Apex Plaza in just 20 months was an exercise in creative problem solving on the planning and coordination front," details Joseph. "With a plan to expose mass timber in many interior spaces, maintaining the beauty of the material was clearly on our mind; thus, protection from the elements during active construction was a key success factor across the project.
"With the goal of 'drying in' the structure through the most efficient method possible, our team established a plan to construct the project," he continues. "The building was divided into three sequences which proved to be the most feasible and efficient way to limit the exposure of the wood to the elements and avoid potential water damage. It was an all-hands-on-deck approach, requiring heavy collaboration across the trades to reach a common goal for the benefit of the overall structure."
As Joseph explains, the primary ambition of constructing Apex Plaza was to deliver a new benchmark in sustainability while, ultimately, delivering a faster turnaround time and lower costs. The end result is a net positive for all – the environment, the occupants, and the wider Charlottesville community.
Apex Plaza foresees a more sustainable future by delivering strength, resilience, and innovative construction processes, that represent a discernible effort in the transition from energy consumption to energy optimization. Going forward, Hourigan intends to facilitate that transition further.
"As we look towards the future, developing lifelong, uniquely remarkable relationships and buildings will always be at the fore of our agenda," concludes Bryan. "And we will also remain true to our mission — to passionately shape tomorrow, today, by delivering integrated building solutions that enhance communities and advance our living world."
www.hourigan.group