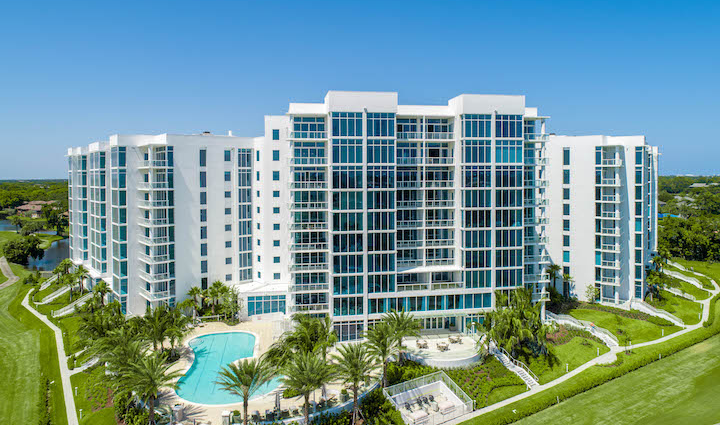 Siemens Development – Akoya at Boca West
The Akoya Residences at Boca West is the latest addition to the Siemens Group's impressive residential portfolio.
The Siemens Group has played a major role in the development of the Boca Raton, Fla., region for more than 40 years. "We've developed many of the major projects in this market," Managing Partner Scott Siemens says.
Founded by Richard Siemens in 1964, the company specializes in land acquisition, real estate development, sales and marketing, construction and property management. Siemens Development has built more than 15,000 homes in more than 20 communities over the years. In addition, it has developed commercial office buildings, high-rise condominiums on the ocean, hospital campuses, shopping centers, manufacturing plants and country club communities.
"Siemens Development has created a unique approach to community and commercial development that continues to be the industry standard," the company says. "During our many years in the development business, we have maintained an unparalleled ability for blending lifestyle, golf and country club amenities into communities that elevate the expectations of buyers throughout the country."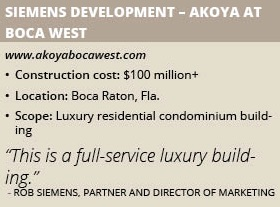 The company's notable past projects include the Polo Club Boca Raton and Gleneagles Country Club in Delray Beach, Fla. The Polo Club includes 1,700 residential units as well as golf, tennis and shopping, while the Gleneagles Country Club features 1,100 residential units in addition to golf, tennis and other amenities.
Construction Status
Siemens Development is finalizing work on Akoya, a project the company expects to be its next crowning achievement. Akoya Residences at Boca West are now being occupied. The nine- and 10-story luxury residential building sits on a 6.7-acre lot within the gates of Boca West, the nation's No. 1 Private Residential Country Club. The general contractor is Kast Construction of West Palm Beach, Fla.
The $100 million+ building – designed by Siemens Development and architect GS4 Studios – features a combination glass curtainwall and masonry exterior. One of the building's signature features is a porte-cochere arrival court, where guests "stroll into a contemporary sanctuary," Rob Siemens says.
Akoya's multi-level lobby features modern art, sculptural lighting and a large water wall, which together create  "an atmosphere as chic as the city itself," the company adds.
Full Luxury
Akoya Residences at Boca West includes 113 private residences that will be served directly by one of 16 elevator stacks in the building. The elevators will open directly into a private lobby in each apartment, notes Jim Spooner, broker for Akoya.
Residences feature floor plans ranging in size from 2,000 square feet to more than 4,500 square feet. The units range in price from $1.3 million to more than $4 million.
Units feature floor-to-ceiling windows showcasing panoramic golf and lake views. Floor plans include large master bedroom suites as well as open living areas with terraces. Master bathrooms include soaking tubs, custom vanities and cabinets.
Kitchens feature European cabinets as well as high-end Sub Zero and Wolf appliances.
The interiors of each unit are designed by Interiors by Steven G, which has galleries in Florida and New York. "The Interiors by Steven G name is associated with award-winning design across the Eastern Seaboard," Siemens Development says. "His stunning portfolio has helped South Florida grow into a fashionable metropolis by providing luxurious interior design to some of the most prominent homes, condominiums and five-star hotels throughout the region."
Building amenities include a pool and fitness center, a parking garage, valet parking, party and card rooms, air-conditioned storage areas and electric car charging stations, elevated gardens and dog park. The building also features on-site management and maintenance personnel. "This is a full-service luxury building," says Rebecca Siemens Spooner, director of sales.
'Extraordinary Service'
All Akoya residents are  members of the Boca West Country Club. Situated on 1,400 tropical acres, Boca West Country Club offers more than 400,000square feet of facilities including multiple clubhouses, a spa and dining and entertainment options. The club also includes four 18-hole championship golf courses as well as state-of-the-art tennis facilities.
Boca West has been recognized as one of the best country club communities in the United States for the past nine years. "An unwavering commitment to extraordinary service has made Boca West the No. 1 Private Residential Country Club in the Nation," Siemens Development says.