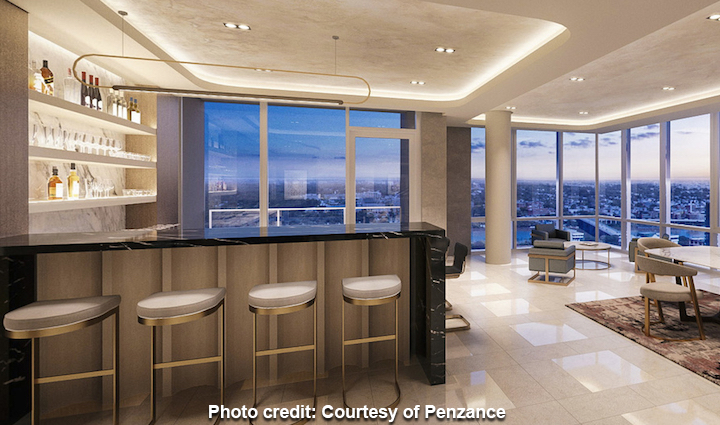 Penzance – The Highlands Project in Rosslyn
Penzance's Rosslyn project has the objective of bringing the local community together.
When people hear the term "mixed-use development," they usually think of a project that combines both residential and commercial elements. But Penzance's Rosslyn project in Rosslyn, Va., redefines that term, Senior Vice President of Development John Kusturiss III says.
"We have a mixed-use development which is a collaboration," he explains. "It has involved a tremendous outreach with the community, first-responder teams, and parks and recreation to make sure this is a place that is inviting to the community."
The project, Kusturiss notes, has roots going back to 2011, when Penzance identified an opportunity to purchase an existing office building in the heart of Rosslyn. Afterward, the company started conversations with officials in Arlington County, Va., about what they would like to see developed.
What Penzance discovered, he recalls, was that the county wanted to replace the local fire station, which had become antiquated. "It was in bad condition," Kusturiss recalls. "The loading bays couldn't handle modern fire fighting vehicles."
After executing a letter of intent to ground lease the land, Penzance continued exploring what it could do in the region. "In 2014, we realized that Arlington Public Schools and Arlington Public Partners for Affordable Housing wanted to get involved too," he continues.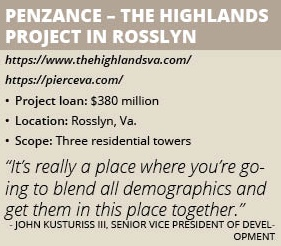 Together, the organizations created a zoning plan to determine what could be achieved in the region with new schools, affordable housing, a new public infrastructure and a new fire station. Today, "Our 6.5-acre assemblage is unique," he says. "It is designed to maximize what could be achieved in this very special project."
One portion of the Rosslyn project is The Highlands, which consists of three residential towers and the new Rosslyn Highlands Park. "We're building 1.2 million square feet of best-in-class apartments and condo product on-top of retail and public amenities," Kusturiss says.
Arlington Public Partners for Affordable Housing also will construct a 12-story, high-rise tower. "They're bringing affordable housing into the urban grid and will help balance out the overall building options," he describes. "It's really a great addition to bring in these public price points."
Arlington Public Schools, he notes, will construct a 750-seat secondary school designed by Bjarke Ingels Group. "They're the architect who designed Google's new headquarters," he describes.
Project Pride
Kusturiss is proud of the Rosslyn project. "One of the really interesting things is we have three residential towers that are all best in class," he says, noting that each Highlands tower has its own identity.
For example, the Evo tower will be the largest of the three, standing 26 stories with a façade of metal panels, shimmering windows and brick. It also will feature 449-unit apartment residences as well as strong amenities.
These include a 75-foot-long resort-style pool on its rooftop, a rooftop outdoor kitchen with sinks and grilling areas, clubrooms with televisions and a tailgate lounge, and views of Rosslyn Highland Park and Virginia's countryside. "We try to be thoughtful and every resident can take advantage of the views," Kusturiss says.
Another tower, Aubrey, will have sculptural balconies and 331 units that range in size from large to more intimate. It also offers amenities similar to Evo as well as adjacency to the benefits that urban life has to offer.
This fits well, Kusturiss says, with the needs of residents who have moved from the suburbs to the city. "People want to stay where they can walk to the grocery store, to the Metro and they can walk to their job," he says. "Residents can have a family [here] but still have all the conveniences of urban living."
But "the crown jewel" of the three towers, he notes, is Pierce, which has 104 condominium residences that feature floor-to-ceiling windows and are primarily two-bedroom homes. "These are the places where the family gathers around for Thanksgiving dinner," Kusturiss says.
The 27-story tower includes amenities such as a hotel-style lobby, a two-story fitness center, and a resident club. It also allows tenants to enjoy the luxuries of home without dealing with hassles such as lawn or garden care. "It's really a place where you're going to blend all demographics and get them in this place together," he says.
At the Table
Based in Washington, D.C., Penzance stands as a leading owner, operator and developer in the capital's metropolitan region. Kusturiss, who has been with the company for six years, credits its success to its relationships.
"We're fortunate to have great partners that put their trust in us," he says, noting that its modest size also is a plus. "The strong, entrepreneurial nature of the small organization, combined with the collaborative people and mindset, allows us to fight above our weight class."
Penzance has learned many lessons as it has built the Rosslyn project, including the value of bringing the general contractor, The Whiting-Turner Contracting Co., into the project early on. "We had them at the table with us, developing the project in a smart, efficient and constructible manner," Kusturiss recalls.
He sees a strong future for the company. "We recently diversified our investment platform," he says, noting that its roots were originally in commercial office product. "We've been rebalancing by bringing on existing multifamily.
"You'll see a more balanced portfolio from Penzance," he predicts. "We're going to continue to keep our eyes open for interesting opportunities that fit into our wheelhouse."