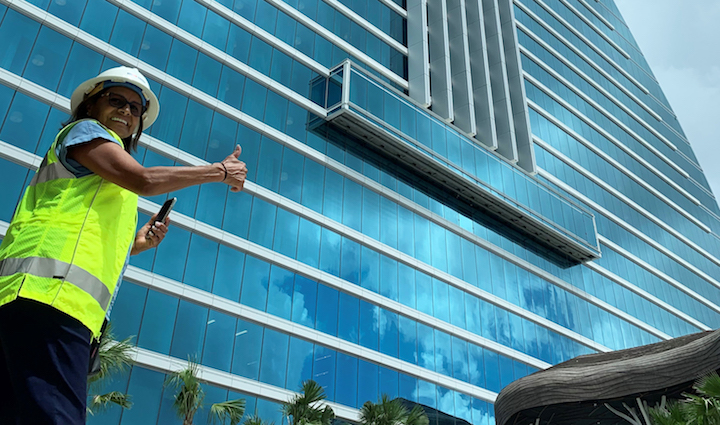 Seminole Gaming – Seminole Hard Rock Hotel & Casino Hollywood
Seminole Gaming nears completion of the Seminole Hard Rock Hotel & Casino in Hollywood, Fla., which it says will be a landmark destination. 
The Seminole Tribe of Florida has long been recognized in the gaming industry for innovation and delivering exceptional guest experiences. Its newest development, Seminole Hard Rock Hotel & Casino in Hollywood, Fla., may be the tribe's boldest move yet as its vision for the world's first guitar-shaped hotel takes form 450 feet into the sky.
Seminole Hard Rock Hotel & Casino Hollywood is the flagship destination of Hard Rock International, which is owned by the Seminole Tribe of Florida. In 2007, the tribe acquired Hard Rock International, including all of its casinos, hotels, restaurants and memorabilia. "Our ancestors and elders welcomed curious tourists to our Florida reservations, and today's members of the Seminole Tribe of Florida will soon welcome visitors from all over the world to what will become a landmark destination," Seminole Tribe Chairman Marcellus Osceola Jr. says.
In addition to its two Seminole Hard Rock Hotels & Casinos in Hollywood and Tampa, Fla., the Seminole Tribe owns and operates four Seminole Casinos in Coconut Creek, Hollywood, Immokalee near Naples and on the Brighton Seminole Reservation northwest of Lake Okeechobee. Analysts believe today's Seminole Tribe operates one of the most profitable gaming enterprises in the world. "I believe that at its core the Seminole Tribe of Florida through Seminole Gaming, its business entity that operates their gaming interests, has the right leadership, quality people and systems in place to operate these entertainment venues productively and profitably," Director of Pre-Construction Jonathan Ruiz says.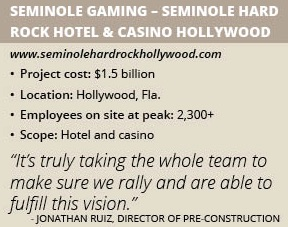 "I think the other thing that has made a huge difference is in 2007, when the Seminole Tribe closed the deal purchasing Hard Rock International, they took the brand and focused on expanding that guest service," Vice President of Construction Jess Burts says. "Seminole Gaming CEO Jim Allen pushes that at every venue and everything is about the guest experience."
Building a Landmark
Seminole Hard Rock Hotel & Casino Hollywood's guitar hotel structure has been a vision of Allen's for more than a decade and Las Vegas-based Klai Juba Wald Architects brought it to life with structural engineers, DeSimone Consulting Engineers. Other firms involved in designing and furnishing the project include Rockwell Group in New York; Fort Lauderdale, Fla.-based EDSA; Wilson Associates in Dallas; Wimberly Interiors in Coral Gables, Fla.; KJW Interiors in Las Vegas; and Los Angeles-based Laurence Lee Associates. Additional consultants on the project include Giovanetti Shulman & Associates, Cloward H20, Avroko, Johnson Studios and Dale Partners. "It's truly taking the whole team to make sure we rally and are able to fulfill this vision," Ruiz says.
Although the 450-foot-tall, 596,044-square-foot guitar tower draws the most attention, the $1.5 billion Seminole Hard Rock Hotel & Casino Hollywood's project is a massive undertaking with many different standalone components. The 3.2 million-square-foot master plan includes a new 240,000-square-foot, 6,500 seat Hard Rock Live entertainment venue, an additional seven-story hotel tower, a 42,000-square-foot spa, 120,000 square feet of new meetings and convention space, a 13.5 acre water feature which includes a swimming lake, 16 new dining concepts, three of which will be high-end restaurants, 20 bars and lounges including a comedy club, poolside day club and ultra-luxe nightclub, a central energy plant and the remodel and expansion of low-rise buildings that house gaming, hotel rooms and restaurant space.
"This is truly an integrated resort," Ruiz says. "There are a number of unique attractions, including South Florida's first day club, that will make it a complete entertainment experience outside of just gaming and the hotel."
On the Fast-Track
Seminole Gaming began considering the cost, schedule and logistical challenges of the Seminole Hard Rock Hotel & Casino Hollywood project well before construction began in late 2016. The construction team, a joint venture between Suffolk Construction and Yates Construction, modeled the project in building information modeling and communicated its ideas for the project in 3D, as well as 4D (time) and 5D (schedule).
"We are working with Suffolk and Yates, which are two very high-quality companies and well-known for their experience in both gaming and hospitality," Burts says. "They are on top of their game as far as using the latest technology to build the project in 3D."
Seminole Hard Rock Hotel & Casino Hollywood is on schedule to be completed in October. To ensure the project stayed on track, Ruiz says it was important to create a true definition, narrative and scope of what it is Seminole Gaming intended to do even though the drawings had not reflected it at the time. "With the nature of fast-paced projects, we would go out to bid and 70 to 80 percent of the documents don't capture the full scope, so there needs to be a meticulous definition so all parties involved know what they are getting into," he adds. "From there, we need to make sure all stakeholders are fully aware of what's expected to achieve success."
Success in terms of the Seminole Hard Rock Hotel & Casino Hollywood project meant not only completing the work at the highest quality level, but also maintaining the existing casino facility to continue generating income for the Seminole Tribe of Florida. "Clearly one of the largest challenges on the project was building all the new program areas and renovating the existing areas, while keeping the guest experience at the highest possible level for the operating casino," Burts says. "The ongoing logistics of accomplishing that goal while maintaining employee and customer safety at all times has been the focus of the entire team."
In addition, Seminole Gaming faced environmental challenges in its effort to maintain the construction schedule. "We have gone through three hurricane seasons which has presented challenges and we are battling an extremely active market where everyone is busy, so maintaining manpower is a real challenge," Burts says. "The trade contractors are putting in tremendous hours, both standard and overtime, so we need to focus on maintaining a positive working environment for our construction workers while keeping the place orderly. South Florida has a lot of work going on, and with so many other opportunities out there, you have to provide a good, safe work environment."
Total Collaboration
Because Seminole Gaming has been on a growth pattern since 2004, the company has been through a number of renovations, additions and upgrades, which means it has developed long-term relationships with general contractors and the local subcontractor market. For the size and demanding schedule of the Seminole Hard Rock Hotel & Casino Hollywood project, Seminole Gaming also brought in resources from well outside the immediate area and has been developing those relationships while working at "breakneck speed," Burts says.
"Seminole Gaming has developed a solid reputation in the industry and there has to be trust involved with everyone on a fast-track project," he continues. "You can't always wait for change orders to be fully executed, and have to push the work forward with tighter quality control. We currently have over 2,300 employees on the project and you start building relationships through the challenges of the job and the extremely tight schedule we have to build it in."
One of the benefits of building on the Seminole Tribe reservation is that it has its own police, fire and building department of trained and qualified individuals to help expedite the project schedule. "We have access to those resources and can get an inspection at off hours, and being able to have immediate access to the building and fire departments has been a real asset," Burts notes. "It requires a consolidated effort to complete well over a billion dollars of work in place on a fast track schedule."
All departments meet weekly to ensure everything is where it needs to be and approved, including permits, materials, and manpower. "In pre-construction, we make sure we keep everything in line with cost and get everything ready for the team to build," Ruiz says. "Timeframes matter and the tariffs are impacting budget projections and availability of materials, so we keep constricting and expanding to adjust to the circumstances."
Nearing completion, Burts says the Seminole Hard Rock Hotel & Casino Hollywood project has truly been unique. "The uniqueness of this property as a whole and for everything the Seminole Tribe of Florida has done, it's truly been a proud moment for all of us to be part of it," he concludes. "It's a magnificent job."