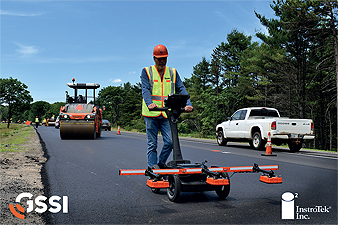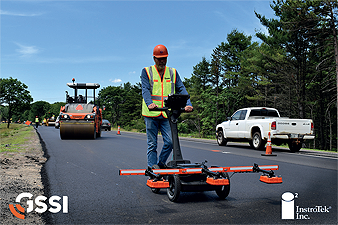 Based in Research Triangle Park, NC, InstroTek is a global leader in products and technology development for the construction and raw materials industry, with sales and services offices across the US. "We are excited to add the unique PaveScan system to our industry-leading materials testing instrumentation," said InstroTek President Ali Regimand, who has more than 30 years of experience in research, development, design and manufacturing of portable and laboratory-based product. "This system fits well into InstroTek's offerings, which will undoubtedly help our customers more efficiently construct high performance and quality asphalt pavements."
Instrotek will exclusively represent the PaveScan to paving contractors, pavement management, materials test laboratories and municipalities in the United States, while GSSI will continue to work with Federal and State agencies. Internationally, InstroTek will maintain sales and product support via its international distribution network of partners.
Stimulating simulations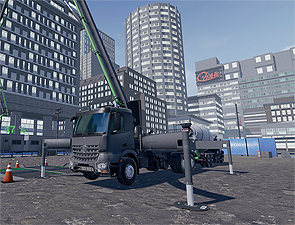 CM Labs Simulations, developer of Vortex training simulators, has released the first Concrete Pump Simulator on the market. The Concrete Pump simulator allows operators to develop basic skills such deploying outriggers, creating concrete slabs, and pouring footings and foundations. Built-in performance metrics help trainers identify areas for improvement.
The curriculum, which was developed in collaboration with the American Concrete Pumping Association (ACPA), ensures operators are proficient with using the remote control box before being exposed to the stress of the work site.
"Control familiarization is extremely important in ensuring safety on the job. Mastering the remote box could take up to two months in the field but takes two weeks on the simulator," says former ACPA President and Board Member, Dennis Andrews.
"Every detail from providing the superintendent with the job ticket, to operating in the rain and at night, as well as risks such as hose whipping, is replicated. Because of this, novice operators gain real-world experience faster but within a controlled and safe environment," he added.
The Concrete Pump training pack incorporates CM Labs' Smart Training Technology, which means that real machine behavior from the backlash of the boom to machine hydraulics and stability are accurately simulated.
Revolutionizing fall protection
Honeywell has announced the Miller H500 series of fall protection solutions, to provide workers with more confidence when working at heights in construction, utilities, steel, manufacturing, military and other industry operations.
"Honeywell has a long history of providing safety equipment to keep workers safe and supported," said Celine Verdot, global product and marketing leader, fall protection for Honeywell's personal protective equipment business. "We've integrated ergonomics, safety, comfort and style with cost-effectiveness to provide a more breathable, lightweight harness."
The Honeywell Miller H500 series offers greater freedom of movement with specially formulated webbing that flexes to accommodate movement and body contours for a more comfortable fit. It boasts a new, more modern design and many benefits for the wearer, including smart anti-tangle for a hassle free donning experience, and clearly identifiable fall impact indicators for easier inspection.
Informed decisions
Procore Technologies, Inc., a leading provider of construction management software, has launched App Management Metrics, a new feature that provides customers with a deeper, more comprehensive understanding of their third-party application usage on the Procore platform.
More than 40 per cent of Procore customers use two or more integrations. Providing a clear understanding of how these applications are being used will allow customers to make more informed decisions. "No one technology is going to solve it all, and that's why we've built Procore on an open, flexible, and extensible platform," said Kris Lengieza, Senior Director, Business Development at Procore. "Procore's platform allows you to connect your software solutions on one core system that you can build upon."
Positive papers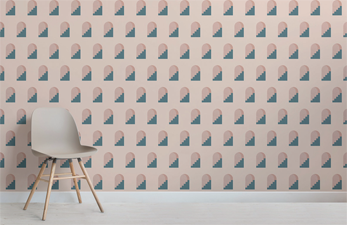 UK-based surface design company Milexa Group is contributing wallpaper designs to Netflix's Silicon Valley Headquarters. The Liverpool based wallpaper producer worked with Gensler, the US architects responsible for the building's design. The work is due to be completed in November 2020, and the designs are intended to create vibrant open meeting and work spaces for Netflix's teams.
Milexa Group Managing Director, Richard Wilde, stated: "We're excited to be a part of the new design for Netflix HQ. We hope that the team at Netflix enjoy our designs and the positive work atmosphere they create."
Milexa Group's MuralsWallpaper brand supplied their Arch Pink & Blue and Arch Terracotta designs, and the repeat pattern should make a positive atmosphere in which Netflix staff can work.
Scaling up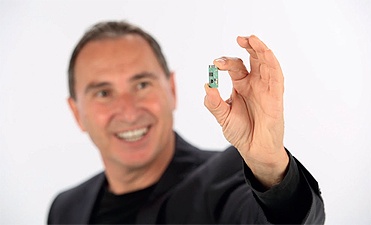 Amber Solutions, a technology innovator creating a modern hyper-intelligent electrical architecture, has completed of a new $5.5-million round of financing and the securement of three new memorandums of understanding (MOUs) with leading global manufacturers of electrical products, smart automation systems and silicon chips.
These new MOUs now total six agreements signed during the Covid-19 lockdown and nine overall for the company, noted Amber Founder and CEO Thar Casey. He also pointed out that this recent financing strengthens the company's ability to continue refining and productizing its technologies into prototypes and pre-production products for evaluation, manufacturing and shipment by Amber's growing number industry partners.
The latest round of financing and new customer agreements also come on the heels of Amber's sixth secured patent, which enables manufacturers to design simpler, better and smaller LED lighting solutions.
Giving a lift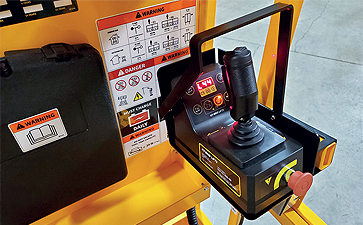 Hy-Brid Lifts, the industry leader in high-quality, low-level access equipment, has introduced Intelligent Controls, offering intuitive and safe operation of lifts. The new Controller Area Network (CAN) bus controls come standard on all Pro Series Hy-Brid Lift models, and replace the previous hard-wired controls.
"Many lift manufacturers are making the switch from hard-wired controls, but ours takes it to the next level," said Terry Dolan, Hy-Brid Lifts president and CEO. "We listened to customers and learned what controls and options would make their jobs easier. Then we implemented those elements to make the most intuitive controls possible."
The Intelligent Controls includes selection buttons for driving and lifting control. The driving control engages steering and forward and backward motion controls. The lifting control engages the up and down movement of the platform. Both driving and lifting movement feature Hy-Brid Lifts' proportional control. This provides feather-like control for optimal lift positioning and precise jobsite mobility. Additionally, if the controls have not been used after a short amount of time, they will automatically disengage for safety reasons.
The panel also includes a diagnostic display that indicates battery charge level, percentage of load in the platform, and hours on the machine. It will also show warnings such as platform overload and tilt angle. Operators can cycle through the diagnostic display with the easy-to-identify information button.
The controls also include an indoor/outdoor selection button, with the indoor option allowing for full height operation if no wind is present, and the outdoor selection button limits the height to allow for a 28-mph wind speed, which complies with ANSI A92.20.
Lastly, the Intelligent Controls include a horn, which adds a safety element by alerting other workers about the lift when entering a hallway or room.