What happens if the risk can't be avoided? Brian Leonard reports
If the worldwide pandemic has taught our nation one thing, it's to be more prepared. The onset of Covid-19 has forced many of us to take a look at our businesses and determine how we can make everyone safer. The good news here is, there is no better time than now to assess your response plans and compliance with other health and safety related situations.
The construction industry as a whole frequently faces more unforeseen events than other industries due to the prevalence of potential hazards. Being prepared for an unforeseen event, can however, greatly influence a more positive outcome of an otherwise dangerous and at times life-threatening situation. In the construction industry we focus frequently, and rightfully so, on fall prevention. However, there is quite a bit of room to discuss what happens if that fall, or other emergency event is not prevented.
Traumatic bleeding
Working in remote areas with longer response time from EMS combined with heights and 8heavy-duty equipment pose a great risk for traumatic bleeding situations. In an event like this, a standard first aid kit will not help you. First aid kits include contents needed to handle minor injuries such as scrapes and abrasions, sprains, burns, and frostbites. However, they are not designed to stop traumatic bleeding.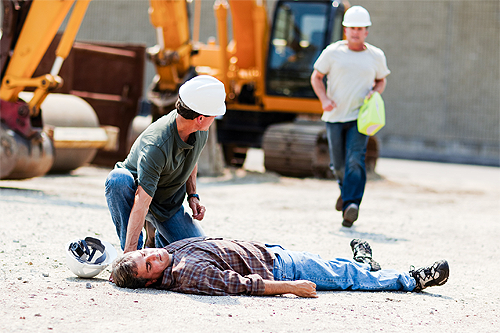 A bleeding control kit is specifically developed to stop life-threatening bleeding caused by injuries such as stabbing, crushing and gunshot wounds. Uncontrolled bleeding is the number one cause of preventable death from trauma in the United States. These kits typically include key items such as tourniquets, chest seals, and combat gauze to help stop the bleeding until professional help arrives. Death from trauma such as uncontrolled bleeding can occur in as little as five minutes. Having the proper tools on-site can help save the life of a coworker while professional responders are in route.
Sudden cardiac arrest
Sudden cardiac arrest occurs when the heart stops beating and unlike a heart attack, is an electrical malfunction of the heart. When someone suffers from sudden cardiac arrest they will become unconscious and collapse. Defibrillation from an AED (automated external defibrillator) and CPR are the only actions that can help restart the heart. Sudden cardiac arrest is more prevalent for those with existing heart conditions; however, it can happen to anyone, at any age. Working closely near electrical and power equipment may increase one's risk of an electric shock which could cause the heart to stop. In this case, an AED would be needed to help restart their heart.
Ensuring that employees who are on-site are certified in CPR can be the difference between life and death for the victim, too, and with extra attention to physical distancing, hands-only CPR is more important than ever. Ideally in a sudden cardiac arrest situation, one employee should be prepared to promptly get the AED while another begins hands-only CPR on the victim and someone else calls paramedics.
Keep in mind, however, that your success in responding during an emergency situation is only as good as the product you have and the plan in place. I recommend running through this checklist when evaluating your own emergency plan:
1. Identify emergency points of contact: Whether a crew is set up in teams, shifts, or projects, having members on-site who are trained in CPR, AED use, and emergency response can mean the difference between life and death in some situations.
2. Ensure equipment is not expired and regulations are being met: Regularly scheduling preventative maintenance on your emergency response (and construction) equipment helps ensure things are in working order. Legislation across the country outlines requirements for a variety of business sizes and types to have AEDs and/or bleeding control kits present on-site, not to mention adhering to FDA and manufacturer regulations. Navigating these requirements can be cumbersome if you manage multiple job sites across the country, however, there are solutions out there that can make this part of being compliant and prepared easier.
3. Regularly review emergency information with teams: Whether working on-site or in an office location, your team needs to know where the emergency equipment is located. If shifts, teams, or other operations have changed recently, especially to accommodate Covid-19 requirements, it's a good time to remind everyone about the equipment you have in place, the intended use for each, and where to locate it.
4. Outfit company-owned vehicles and work trucks with emergency equipment: Having emergency equipment on the job site and in the job trailer is paramount, but in the event there is an emergency on the way to or leaving the job site, outfitting work trucks with a standard first aid kit and traumatic bleeding kit are simple and low cost preventative measures.
Brian Leonard is the director of sales for Cardio Partners, a national leader in providing emergency preparedness solutions for public access. It offers a proven and complete suite of products and services including employee CPR training, AED deployments, and AED program management to help organizations of all sizes be heart safe. Cardio Partners is part of Sarnova, a family of companies which lead specialty distribution of healthcare products across the continuum of care.
Brian can be reached at brian.leonard@cardiopartners.com or visit: www.aed.com.