An impressive façade embraces 570 Broome: a revolutionary skyscraper in the heart of New York City
Standing at nearly 330 feet tall in downtown New York City is 570 Broome, a brand-new 25-storey building nestled between bustling Soho and Hudson Square. This marvel of modern design, clad with a stunning glazed curtain wall, consists of 54 luxury boutique residential units as well as a commercial component at ground level.
The skyscraper, designed by Manhattan architectural firm builtd, is inspired by its setting: a whimsical combination of contemporary and contextual elements which define its environment, once known as the Printing District. Today, the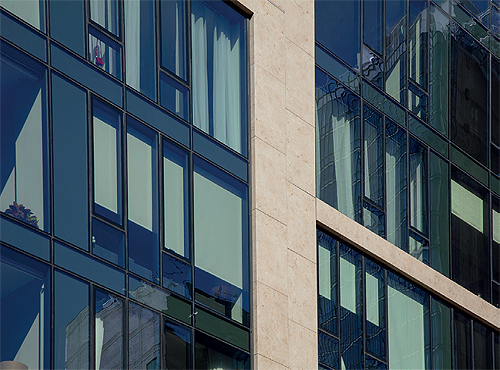 neighborhood is home to some of the world's most famous advertising, design and communications agencies, and will soon house ABC News and Disney HQ.
Neolith®, the pioneering brand of Sintered Stone, was specified across the whole façade, framing three-stories high expanses of glass which capture spectacular vistas of 6downtown and the Hudson River. The building is also surrounded by landscaped gardens on both ground and second floor, offering unfettered views of public greenspace and urban activity. The overall design is symbolic of NYC's rich history by way of the tower's soaring ceiling heights and a silhouette evocative of staggered cubes.
Whatever the weather
Due to the project's location near the heavily-congested Holland Tunnel, the client wanted to deliver a durable, low-maintenance building that could withstand physical damage. Importantly, it had to be stain-resistant and impervious to natural and man-made atmospheric deterioration, such as UV-rays and car exhaust fumes. This made Neolith, which embodies all of these properties, the natural choice.
Taking the brief event further, Neolith suggested using a special surface developed in partnership with a NASA-offshoot photocatalytic treatment company PURETi.
The application of this proprietary water-based solution on Neolith slabs enhances the surface, transforming it into a self-cleaning air purifier which helps to improve air quality and keep the surfaces clean.
The ingenious technology also has the ability to reduce air pollution by destroying Nitrous Oxides (NOx) and Volatile Organic Compounds (VOCs) that contact the treated stone, solely using the energy from natural sunlight.
Both builtd's principal architect, Tahir Demircioglu, and Neolith felt the innovation would be a great addition to the skyscraper, given its design and location in a crowded area.
Demircioglu explains: "We initially selected Neolith panels for their lightness and aesthetic qualities, but once we found out it came with this added-extra, we were like, of course! It's a huge plus that PURETi treated slabs also limit the amount of maintenance required. Instead of using chemicals and power-washing the façade, the material is hydrophilic so it cleans itself."
Better than the real thing
33,000 sqm of PURETi-treated Neolith Jura Limestone (a custom color produced especially for the project) in 1/2" thickness was used for the façade, which required sensitive and careful installation using lightweight aluminum frames, providing essential strength and flexibility. As Limestone is a traditional cladding of choice for luxury buildings, it was the perfect color option, standing in contrast to the smooth glazed surfaces of the building's curtain wall.
Demircioglu says: "We've previously specified Neolith in other architectural and interior design projects due to the large panel size and variety of thicknesses and colors. We knew it would be the ideal material for this project and a great choice for a ventilated façade. With the assistance of Megaker, the makers of an inorganic, porous skeleton structure, we were able to design and document the perfect cladding system with the precision of a Swiss watch."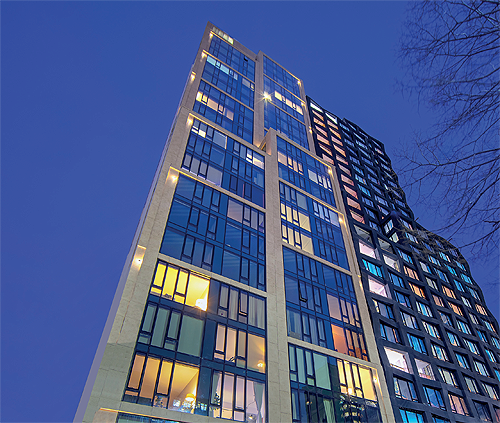 The game changer
Neolith has become known as one of the safest, most hygienic and most sustainable materials available to specifiers, without compromising on performance and visual appeal.
Commenting on this and the significance of the project, Neolith's CMO, Mar Esteve Cortes says: "This project marks an important milestone in the partnership between Neolith and PURETi. 570 Broome is one of the largest projects in which the treated slabs have been specified. It's truly awe-inspiring."
She continues: "There can be no doubt that this is a game changer in the way that we approach urban planning and construction. We believe this will have a highly positive impact on the lives of both 570 Broome's residents and New York City citizens in general. Neolith is an ultra-hygienic, carbon neutral surfacing material that has been built over a decade of commercial and consumer specification. Hopefully this example will encourage other architects and specifiers globally to adhere to the same ESG criteria that Neolith follows and consider greener façade options for future high-rise projects."
Founded in 2009, Neolith, the market-leading brand of Sintered Stone, is a revolutionary product category which has become a material of choice for architects, designers, specifiers and fabricators.
This pioneering material can be specified for the most demanding interior and exterior building projects. Combining high-definition detailed decoration with high-performance qualities, Neolith offers the triple reassurance of strength, beauty and longevity.
www.neolith.com/en/