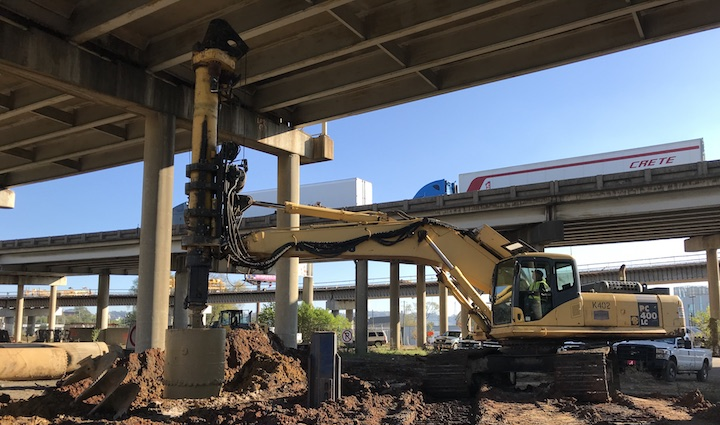 Russo grows throughout the South thanks to its expertise.
Russo Corporation remains highly valued among the contractors and project owners with which it works for numerous reasons, but one of the company's characteristics sticks out above all. Vice President and Co-Owner Harris Wilson explains Russo's quality reputation is the result of the company's willingness to take on challenges – challenges unlike anything other firms will approach.
"We are known for our ability to remove rock and perform in the most difficult of situations," Wilson says. "Foundations and underground work, that's our specialty. But we are known for anything that scares anyone else – that's what we want to do."
Based in Birmingham, Ala., Russo was established in 1956 and has expanded over the years to become a diversified foundation and site work firm, offering services such as drilled shafts, micropiles, hollow bar anchors, ground modification techniques, H-pile and timber lagging walls, tiebacks, sheet piling, shoring and other design/build solutions. The company's utility division focuses on complex water and sewer projects, and its full-service blasting division takes care of other related services.
With mechanical shops in Birmingham and Fort Worth, Texas, Russo serves clients in a timely manner in 13 states from Virginia to Utah, going as far north as Kentucky. But in addition to its competitive prices and ability to provide design/build assistance, Russo succeeds with long-tenured employees and a strict culture of safety.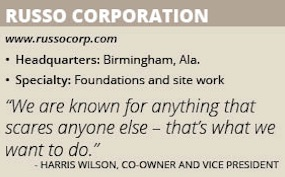 "Our staff is very talented because we have dads and sons who work with us," Wilson stresses. "Not only do we have great training systems so our people know how to work on these project sites, but we have families who pass their knowledge to the next generation. Many of our people are lifetime employees.
"We also believe in taking good care of our equipment, and we will keep doing that because it's important," he adds. "But our expertise comes from our people, and all of our guys are backed up by management – we really believe in them."
Russo recently completed a large job for the Alabama DOT on I-20/59 in downtown Birmingham, involving foundations and shoring. Working with general contractor Johnson Bros. Corp. from Texas, Russo's work involved installing caissons, micropiles and concrete foundations for bridge columns. The company had to deal with traffic, lane and road closures, but continued to work quickly and efficiently while keeping pace on its other ongoing projects.
Russo also is erecting foundations and shoring for a residence hall at University of Alabama in Birmingham. The general contractor is MJ Harris Construction Services, and Russo has installed 156 caissons, including two tower-crane locations and driven h-piles in sink hole locations. Currently, the company is completing excavation work and installing chilled water lines, although it had to deal with existing infrastructure from a surrounding area of a city built in 1871. Even so, Russo powered through and takes pride in the ability to complete a wide range of project types.
A Team Effort
Any successful project has to start with a good estimate, Wilson notes, which is why Russo spends a lot of time working on estimations to ensure prices remain competitive and meet clients' needs. Additionally, Russo's ongoing project success also is the result of strong teamwork, which is apparent in many aspects of the company's operations.
"Everything we do is a team effort," he says. "As a larger small company, this works well. Everyone spends time with their team and they work together to ensure we're always doing what's best. No one here is on an island – we make every call together."
Wilson explains that because Russo travels so much for its work, the teams build camaraderie by spending so much time together. This builds relationships and helps ensure ongoing project excellence. Russo takes pride in maintaining an EMR of less than 1.
"Our dedication to safety goes back to our focus on teams and taking care of your brother," he says. "That's what we found is the best way to do things. By being with the same guys all the time, you look out for each other and take care of each other. Jason Timmons leads our safety program and does a wonderful job. But the teamwork is key – spending time together and traveling together really helps your safety record."
This record of project excellence is helping Russo gain customers in its current market. Wilson notes the company knows the geology of the states where it operates, so it plans to grow by staying in those areas where it already has experience.
"The atmosphere and family and friendships that run throughout the company from the highs to the lows, really keep us going," Wilson says. "We keep growing, but everyone comes into my office to talk or I see them in the field and catch up – it's still a family company."