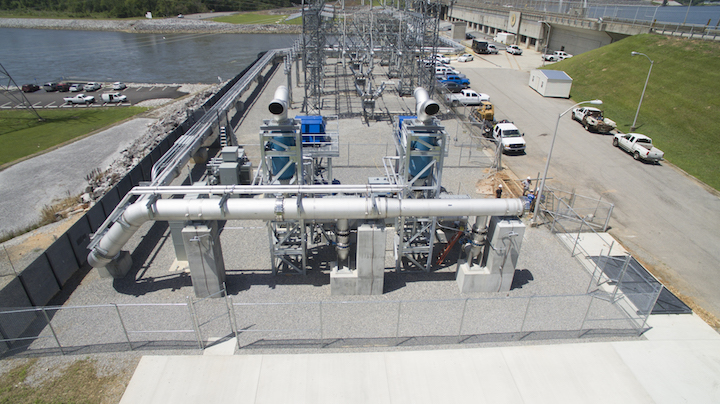 M&D Mechanical Contractors
M&D Mechanical Contractors used innovative methods on a challenging piping project at the Neely Henry Dam in Alabama.
Specializing in mechanical contracting services and solutions, M&D Mechanical Contractors has tackled its share of challenging projects for clients in the industrial, institutional and government sectors in Alabama and other parts of the Southeast.
One of the most challenging was a recent project that involved installing large air blowers and roughly 3,500 feet of piping and equipment to support structures at the Neely Henry Dam on the Coosa River near Gadsden, Ala.
"We ran piping down into the belly of the dam," says Brit Wright, senior project manager. "It was a very challenging environment because you're working 30 to 40 feet below the river surface inside the dam structure. It's not easy."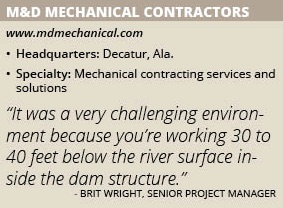 Due to environmental concerns over low dissolved oxygen readings that were recorded several times during the dam's monitoring of the effluent, the project required a plan for injecting air below the dam's turbines before water is released in order to boost the oxygen readings.
Decatur, Ala.-based M&D Mechanical was contracted to install the piping and water-cooled blowers that would generate and carry the air down into the dam for expulsion into the effluent.
The two compressed air blowers – which weigh more than 10 tons each and can generate 2,200 horsepower and provide more than 24,000 CFM of air – were installed on concrete pedestals in the dam's high voltage switchyard.
A 36-inch stainless pipe and two cooling water lines were then installed on pipe supports through the switchyard which contained electricity transmission lines.
"Since these heavy pieces of equipment and piping had to go through the electrical switchyard, we had to maintain a minimum distance from existing electrical equipment because of the high voltage," Wright says. "It took some thinking outside the box to get the piping installed safely. We had a high voltage switchyard on one side and a steep drop off to the river on the other."
Focusing On Safety
Due to the amount of specialized work M&D Mechanical performs on a regular basis, the company has gone to great lengths to establish detailed safety measures. It received numerous safety awards, including the ABC STEP Award.
Additionally, M&D Mechanical invests in its employees through training programs, both in-house and through the North Alabama Craft Training Foundation, Tennessee Valley Training Center and the Gulf Coast Safety Council.
As safety was a big concern on the Neely Henry Dam project, M&D Mechanical's crew would host daily toolbox meetings and pre-job planning sessions. "We had a safety topic each day and we would talk about the daily task and the potential hazards," Wright says.
M&D Mechanical recently attained OSHA's Safety & Health Achievement Recognition Program (SHARP) certification – a type of gold medal within the construction industry. It recognizes small employers that have used OSHA's onsite consulting program services and operate an exemplary injury and illness prevention program.
The Neely Henry Dam project involved running pipes throughout the dam, its walls and into its belly, which is several floors down.
"One of the most challenging aspects of the project was the lack of space for our piping and supports inside the damn," Wright says. "This made installing large diameter piping and supports very challenging."
Much of the piping was installed in corridors that were between 6 and 8 feet wide and less than 8 feet high. Since the corridors already contained piping, conduit and equipment, coordination was important.
"There were some places where the concrete of the lower damn walls was over 10 feet thick," Wright says. "We had to get our pipe through those walls and mount pipe supports (on them). We had to hire a subcontractor with ultrasound capability to make sure our concrete penetrations didn't hit rebar."
Innovative Methods
M&D Mechanical has various specialty services including medical gases, duct fabrication, and green building. The company has in-house CAD and Building Information Modeling (BIM) capabilities and fabricates piping and custom metal products, including spiral and ready-to-erect duct work, in its cutting-edge pipe and metal fabrication shops.
"For a construction company, onsite labor is a wild card," Wright says. "Our team was awesome in coming up with creative ways to let us take a task that would have typically been a field task and make it a shop task. That's what we try to do with every project. Our company has always recognized the labor savings in prefabrication and we've made some large investments into our operation over the years."
On the Neely Henry Dam project, the piping system was prefabricated and then shipped to location. Flanges were used to connect the pipe together in order to reduce field welds. "We were able to prefabricate all of the piping and made very few field welds," Wright adds.
Founded in 1910 as Mason & Dulion Co., M&D Mechanical was instrumental in the construction of many of the high-rise buildings in downtown Birmingham in the 1920s and later supported war efforts through projects at the Pensacola Naval Air Station, Eglin Field and other military installations.
During the time of early space exploration, the company worked with NASA at the Marshall Space Flight Center on many projects, including the Saturn C-5 Test Stand Support Systems.