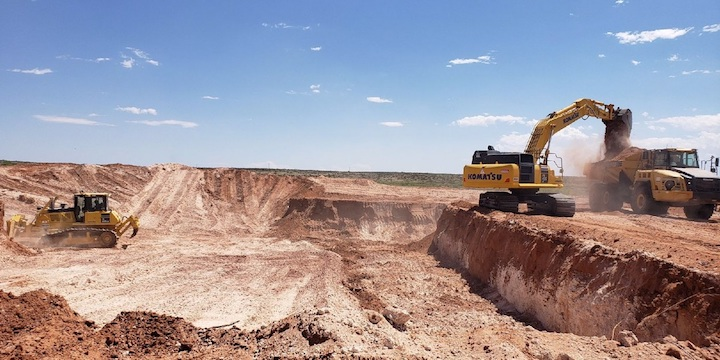 Shackelford Construction and Hauling, LLC
Shackelford Construction makes safety and relationships its top priorities.
When talking about his business, Jay Shackelford often repeats and stresses certain key words: relationships and safety. As head of Shackelford Construction – a multi-state civil construction company based out of Mississippi – Shackelford has built a successful family business with repeat clients and an exceptional safety rating.
"It's a family business and our family includes the people that work for us," Shackelford says. "Relationships are important and we have good working relationships with our customers. They know they can call us 24 hours per day."
Authorized to operate in 28 states throughout the country, Shackelford Construction's services include civil construction, equipment and material hauling, demolition, embankment, grading, drainage, ditch work, excavation, clearing and grubbing.
Although the company can serve most industries that require civil construction services, its main focus has been on the industrial, railroad and oil and gas industries.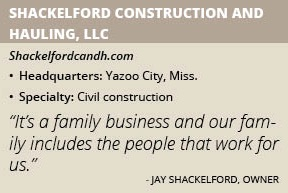 "About 60 percent of our work now is railroad related," Shackelford says, adding that the company opened an office 3 years ago in La Porte, Texas. "And 40 percent of our work is in the Houston area. But we also do a lot of work in New Mexico, Oklahoma and Mississippi. Those are our four main states."
Safety Is Key
At Shackelford Construction, finishing every job without incident is a top priority. The company takes pride in its .73 safety rating and having zero incidents in the past 9 years.
"In our industry, .73 is the lowest you can go," Shackelford says. "If you have a good safety rating, you get in the door. If your rating goes above one, you can't work for the railroads and certain customers. We take safety very seriously."
Once a year, all Shackelford Construction employees are required to participate in a three-day safety training program. Aside from being trained on railroad safety and equipment, employees are also given a CPR and first aid course.
"We shut down every job site and bring in people from all over the United States for this training," Shackelford says.
In addition, employees are generally involved in two daily safety meetings when on-site at a job to discuss possible hazards they may face that day. "You are your brother's keeper," Shackelford explains. "You always watch out for the person that is besides you – whether you like him or not. Make sure he is safe and that he gets back to his family and that you get back to yours."
Employees also participate in online training and random drug tests. It's a part of Shackelford's mission to make his company safer, more responsive and more competitive.
Ultimately, the company's main goal is to have all of its projects completed ahead of schedule and with zero accidents.
"We have developed a reputation for finishing jobs ahead of schedule, which allows our customers to realize a faster financial return on their investment," Shackelford says. "That has gotten us a lot of jobs."
Time Is Money
One example of staying ahead of schedule is a recent project in New Mexico where Shackelford Construction is building a processing plant for an oil and gas company.
The project, which broke ground in spring of this year, takes up roughly 220 acres. It is one of the largest such projects that Shackleford Construction has handled to date.
"And we are about a month and a half ahead of schedule," Shackelford says. "We are moving about 2.2 million yards of material and we had to blast but we are still ahead of schedule. Our people have a reputation for finishing jobs ahead of schedule and our crews work really hard to keep that reputation going."
Other challenges have included extreme heat and transporting water to the site, which is located in a desert. "It's hard to process sand when it's that dry. We had to budget 50 million gallons of water to get compaction. The most we've ever done before is about 10 million gallons."
A Family Affair
Not only does Shackelford view his construction company as a family, his actual family works with him as well. His wife Missy has been involved as the company's safety manager for years. In addition, his three sons work for the company as well. Hunter Shackelford is the operations manager, Reeves Shackleford is a senior project manager and Clint Shackelford is a project manager.
"I taught my kids construction so that they had something to fall back on, but I sent them to college," Shackelford says. "And they had to work for another construction company for at least 3 years before they came to work for me."
In total, Shackelford's "family" consists of more than 100 employees, including eight superintendents. Don McCausley, the most senior superintendent who has been with the company for more than 8 years, has served as mentor for many. "Don has been a great asset to the company," Shackelford says. "Without great leadership, we wouldn't be where we are today."
Shackelford also believes in promoting from within. Stephen Wolfe has been with the company for seven years. Wolfe started out as an operator, then was promoted to foreman and later recognized as Employee of the Year as superintendent. Currently, Wolfe is a project manager.
In addition, Lori Cohea started with the company part-time in bookkeeping. Today, she is the office manager, leading a staff of 11 employees.
"I think I have the best employees in the field and the best office staff," Shackelford says. "My name may be on the sign, but my employees have built this company."