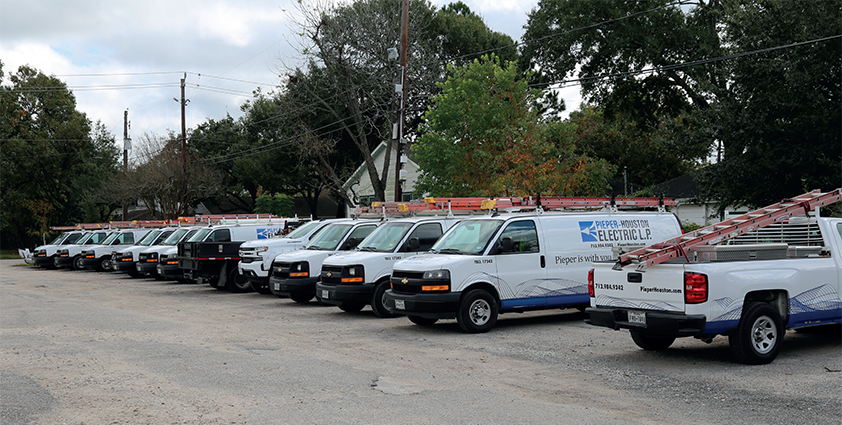 Outperforming the pack
With more than 60 years of heritage, commercial electrical contractor Pieper-Houston Electric is thriving thanks to a set of key relationships with major industry players
Pieper-Houston Electric (Pieper) has provided quality electrical work to the greater Houston area since 1958. Beginning life as a small, family-owned residential contractor with annual revenues of just $10,000, the company has since grown to become a full-service, fully insured commercial electrical contractor, holding a significant aggregate bonding capacity in excess of $100 million. To date, Pieper has designed, installed, and maintained hundreds of projects, ranging from simple repairs of switchgear to the design and build of a facility as large as 820,000-square-feet.
For many within the US construction market, the last few years have presented a mixed picture. Following the arrival of the Covid-19 pandemic, the commercial construction sector experienced a dip in the first two quarters of 2020, before a period of relative stability. However, with construction deemed an essential industry, by July of that same year optimism among contractors began to return, as delays to projects fell in number, and companies sought to embrace new ways of working. For Pieper, the story was much the same, with field operations and project commitments ongoing amid the disruption. But it was by no means business-as-usual.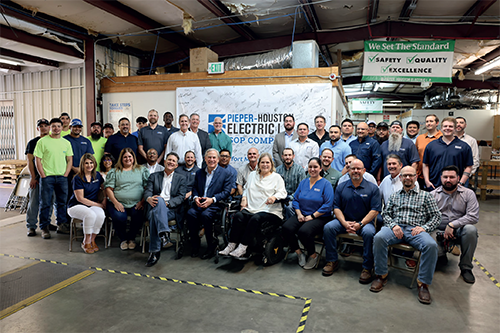 "To continue operating in the field was a significant challenge," explains Bud Walters, CEO of Pieper. "There were a few points, during the height of the pandemic, that we had a high percentage of our labor force unavailable due to quarantine restrictions. We therefore had to authorize overtime to replace those who were absent. Within our offices, we also felt the pressure to keep our operations going. It was very important for us to ensure that all our employee-owners did not have a lapse in pay. Thankfully, we were able to adapt, eliminating shared workspaces by expanding work-from-home, and introducing alternating in-office days."
One thing clear from Bud's comments on the subject is the vital importance of Pieper's employees to the company's operations. It's testament to the well-defined set of values that govern Pieper's activities: safety, ethics, ownership, respect, and legacy.
"Safety comes first," Bud insists. "We ask our employee-owners across the entire organization to put their owner's hat on and share ways to become more efficient, while providing an industry-best service, and the well-being of our employee-owners and trade partners is our number one goal. Next comes ethics. We honor our commitments to customers, vendors, fellow employee-owners, and our community. We hold ourselves accountable to the highest standard.
"Then, we also empower all employee-owners to take ownership every step of the way," he adds. "We recognize that all employee-owners are essential to the organization, and maintain a culture that fosters broad participation and respects all ideas for improvement and strategic direction. Finally, we set out to build upon the legacy that Pieper has built over the last 60 years, planning for the future, and realizing our commitment to remaining a multi-generational, employee-owned company."
The concept of employee ownership is not new, but it's one that's rapidly gaining momentum. As of 2022, the National Center for Employee Ownership in the US estimated that there are approximately 32 million employees participating in some form of ownership plan, numbers which very well could be conservative. The most common type of plan is ESOPs (Employee Stock Ownership Plans), a type of qualified defined contribution scheme that gives employees an ownership interest in the company, in the form of stocks.
There are an estimated 6500 ESOPs in the US, and Pieper is one of them. The company first sold a portion of its business to an ESOP in 2020, and now has plans to roll out the scheme further, with the ultimate objective of becoming 100-percent employee-owned. For Bud, it's another indication, as he puts it, that "people are everything in our business." He goes on: "The company with the most engaged, talented, motivated, and incentivized people will outperform the pack. Communicating to our 300-plus employee-owners as owners, and not just employees, provides Pieper a unique advantage on this front."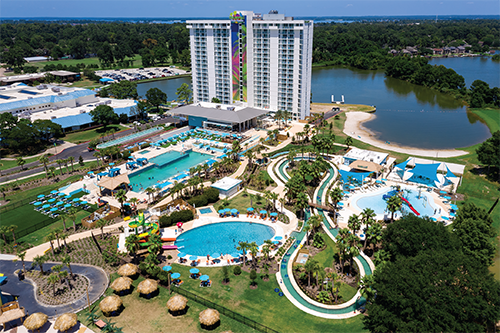 Fittingly, one of the principal driving factors behind Pieper's long-term growth has been the successful recruitment of talent, something that has bolstered the company in its efforts to take on larger, more complicated projects. Today, Pieper boasts an outstanding reputation as one of the largest electrical contractors in the Houston area, with impeccable standards of workmanship and innovation. Meanwhile, the company's commitment to continuing and higher education enables it to provide clients with exceptional work that delivers on the latest industry standards.
"As well as a best-in-class safety program, we offer rigorous standards of quality control, and a high degree of coordination with other trades across the BIM and design process," Bud insists. "Added to that, we're 100-percent self-performing electrical subcontractor."
It's an arsenal that has helped Pieper to build a robust set of industry partnerships, and a steady stream of new projects: among them, recent work on the rewiring of a new testing facility at Hewlett-Packard's Houston office, along with the installation of a one-megawatt generator for the standalone building. A huge project, its completion is testament to the combined work of more than 100 individual electricians.
"Pieper and Hewlett-Packard have built a solid and successful relationship over the 24+ years we have worked together. HP's Houston office is continually expanding, remodeling, and evolving, and we've been there to help HP every step of the way," Bud explains. "In fact, we've handled 95 percent of HP's Houston manufacturing facilities, and have also installed and maintained much of the electrical infrastructure, as well as wired many interior office build-outs and remodels. Under short time constraints, we finished the recent project in just a matter of months, allowing HP to get a jump start on testing new technologies and to put the company's products on the market."
Pieper's work for HP is one example of what Bud refers to as a "relationship-centric" approach to business. "We tend to work with a few general contractors year-in-and-year-out who share our values," he comments. A partner of similar ilk is Tellepsen Builders, for whom Pieper recently completed work on the renovation of the sports field at Grace Bible Church, an outdoor recreational facility. The work as a whole included the construction of a new parking area, along with athletic fields, a pickleball court, volleyball court, pavilion, and more.
"In addition, we've been blessed to partner with great architecture and engineering firms, general contractors, and subcontractors to produce landmark buildings that serve our community," Bud reflects. "Similarly, now more than ever, our supplier relationships are extremely important. We continue to take a team approach to help overcome the challenges post-pandemic, including inflation, stockouts, and long lead times."
Looking ahead to the remainder of 2022, Bud expresses Pieper's determination to continue winning marquee projects in the Greater Houston market, with the goal of driving double-digit growth, while successfully managing material escalation and other supply chain related risks. "We have recently made large scale investments in our pre-fabrication facilities, design capabilities, and field technology," he concludes. "Moving forward, we'll continue to expand each of those, giving us the means to offer a premium service level at a very competitive price. In doing so, we're confident that we can maintain our position at the forefront of the industry."
Pieper-Houston Electric
www.pieperhouston.com
Services: Commercial electrical contractor