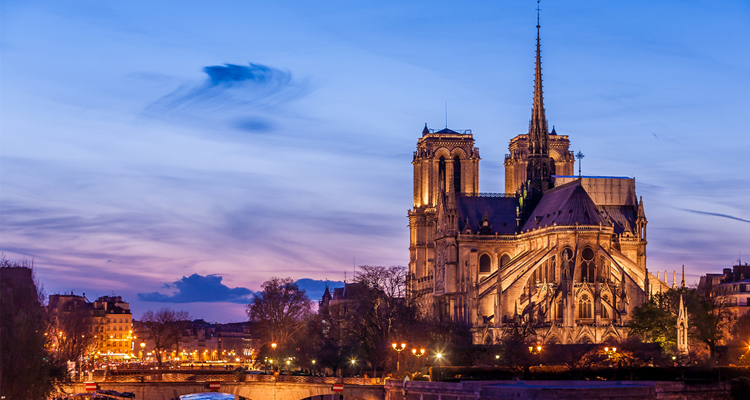 Only a team effort will bring Notre-Dame back to life
Schneider Electric is offering its expertise and leading energy solutions to restore the historical cathedral
The public institution in charge of rebuilding Notre-Dame de Paris has signed a sponsorship agreement with Schneider Electric to contribute to the restoration of the cathedral through in-kind donations and the transfer of skills.
The fire that ravaged the cathedral on April 15, 2019, triggered an extraordinary wave of solidarity over at Schneider Electric. For Notre-Dame de Paris, as for previous projects, Schneider's commitment is to provide its expertise, equipment and state-of-the-art solutions. The company will supply all the equipment needed to power the site, which includes the transformer station, all the downstream electrical cabinets and breaker panels, and their components. 
Their agreement also includes a Building Management System (BMS), sensors, controllers, PLCs, communication buses and associated software that will enable the cathedral's operators to fine-tune the site's energy use and consumption. Schneider is also supplying an inverter, a distribution board and emergency lighting.
In addition to the equipment, Schneider Electric is responsible for maintaining the site's electrical distribution systems, as well as the design, engineering, commissioning, and programming of the installed systems and training future users.
Cédric Larcher, Senior Project Manager at Schneider Electric France, is responsible for the implementation and follow-up of the project. Accustomed to tailor-made projects in special environments, he and his team are delighted to be working on this project, which, in addition to its prestigious nature, is anything but ordinary.
"Participating in the restoration of Notre-Dame de Paris is not only a technical partnership, but also a human one," said Jean-Pascal Tricoire, Chairman and CEO of Schneider Electric. "It gives us the opportunity to deploy our most innovative and secure energy management solutions at the service of an emblematic site dear to the citizens of France and the world. And this project is also a human adventure for the employees who will participate on the site." 
"We thank Schneider Electric for its support in the restoration of Notre-Dame de Paris. Powering this monument is a major challenge for the work that will allow the cathedral to reopen in 2024. We are delighted to benefit from Schneider's innovative energy management solutions, which will enable future operators to optimize their energy consumption. We are committed to integrating these concerns into the restoration of the cathedral and we are pleased to count these technical advances among the French know-how at the service of our heritage," said Philippe Jost, Deputy General Director of the Public Institution for the Restoration of Notre-Dame de Paris in a press release.
Work onsite will begin later this year, 2023, to secure the power supply to the site. The BMS will make it possible to control and optimize the monument's energy consumption, bringing 21st century innovations to the world heritage site.