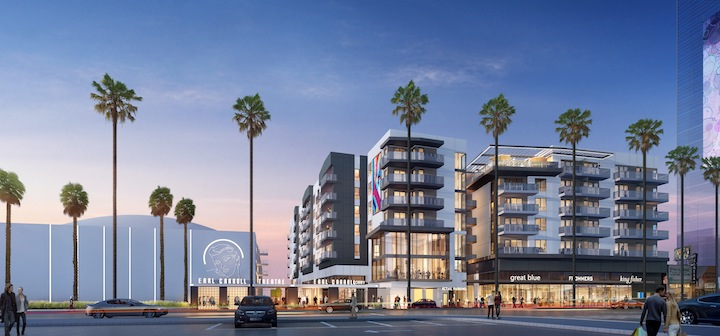 McCormick Construction – Wallace on Sunset
McCormick Construction's century of expertise helps it navigate the successful completion of the new Wallace on Sunset development in Los Angeles.
For more than a century, McCormick Construction has played an integral role in the construction of corporate real estate infrastructure in Southern California. Equipped with a stellar reputation that precedes it, local knowledge and an abundance of industry expertise, the company is building a new mixed-use development at one of the busiest intersections in the nation – Sunset + Vine in Hollywood, Calif.
"McCormick is a fourth-generation family owned general contracting firm established in 1914 and has a lot of history in Los Angeles and Southern California," Project Manager Mohamed Felo says. "Our relationships with our clientele tend to be intergenerational given our service-oriented approach as a general contractor. We engage with the owners/developers, subcontractors and design professionals in the pre-construction phase of our projects to ensure overall project success. Ultimately, our goal is to address the needs of our client on the project and ensure that we implement an approach that is in line with their needs."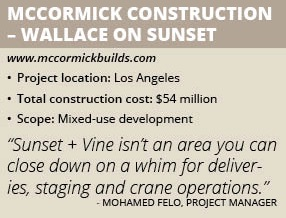 Brothers Michael and Steve McCormick continue to set the standard for industry leadership that their great-grandfather, George McCormick, began when he started the company. Then, now and in the future, the McCormick Construction commitment to honesty, integrity and excellence remains the foundation upon which it was built and its lasting legacy.
Today, the Burbank, Calif.-based company specializes in general construction and construction management of mid- to high-rise commercial and institutional buildings, industrial projects, retail and medical facilities, multi-family residential and interiors for both the public and private sector. "In addition to our service-oriented nature, we are also very risk-averse," Felo says. "We perform a detailed risk analysis for various ideas on the table during the design phase of the project. This is where our abundance of expertise and knowledge of the industry comes into play as we are able to look out ahead and advise our client on a particular course of action. We are quality driven, ensuring that our finished products exceed their expectations."
Wallace on Sunset
In 2017, developer Essex Property Trust brought McCormick Construction aboard the Wallace on Sunset project to build the $54 million mixed-use development next to the historic Earl Carroll Theatre. "We were engaged in the pre-construction phase of the project and assisted through various iterations from design and development through to the issuance of the construction documents," Felo says. "We have been working hand in hand on this project with both Essex Property Trust and TCA Architects."
The seven-story Wallace on Sunset building will be located at 6240 Sunset Boulevard, replacing a surface parking lot. The building will consist of 200 residential units and 4,700 square feet of ground-floor retail space, two levels of subterranean parking and amenities that include a fitness center, sky deck, clubhouse, dog park, courtyards, swimming pool and spa. The contemporary podium-type building's eastern side will feature a pedestrian paseo between Sunset Boulevard and Leland Avenue, adjacent to the historic Earl Carroll Theatre.
"The property itself was designed to reflect the rich history of Hollywood and the Earl Carroll Theatre, in particular, which Essex is also restoring to its former glory," says Adam Berry, co-chief investment officer for Essex. "The name, Wallace on Sunset, was inspired by Beryl Wallace, a 1930s performer who starred in many of Earl Carroll's shows at the theatre and was also his life partner."
One of the major ways the project is enhancing the area is through the preservation of the Earl Carroll Theatre, which Essex also owns. "Essex worked with a preservation coalition for over two years to find ways to best preserve and retain the historic theatre, which we believe will be an incredible amenity for our tenants and the neighborhood," Berry adds.
Building on Iconic Sunset Boulevard
The Wallace on Sunset development is located at Sunset + Vine in Los Angeles – the famous corner where Cecile B. DeMille directed Hollywood's first full length movie, The Squaw Man – which Felo says presents a number of logistical challenges. "Sunset + Vine isn't an area you can close down on a whim for deliveries, staging and crane operations," he explains. "We have been working closely with the city on logistics and lane closures to keep the job moving forward. That is by far the biggest challenge we have had on the project."
"McCormick Construction has done an excellent job managing a complicated project and we appreciate their hard work to make Wallace on Sunset a success," Berry says.
In addition, McCormick Construction is building next to historical structures, including the Earl Carroll Theatre, which is protected by its historical status. "That comes with its own set of challenges including the implementation of additional precautions and steps needed to protect the structures next door," Felo says. "With the project sandwiched between existing structures, there has been an extensive amount of supplemental coordination with the adjacent property owners to maintain and preserve the safety and structural integrity of the adjacent properties."
Wallace on Sunset is expected to be completed in the second quarter of 2020 and will be the first project McCormick Construction has completed for Essex Property Trust. "We toured the Essex team through multiple projects of ours during the pre-construction phase to give them an idea of who we are and what we stand for," Felo says. "Our relationship continues to grow and we are proud to be part of the Essex portfolio. We look forward to working together for years to come."