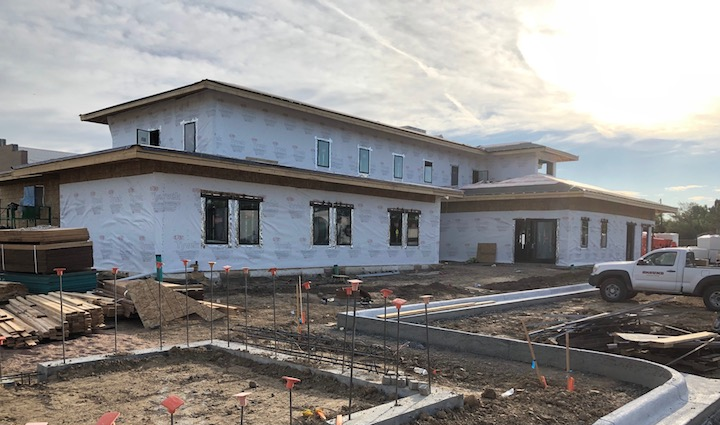 Mark Young Construction overcomes obstacles while building a new fire station in Aurora, Colo.
Lots of construction companies have built important municipal buildings but Mark Young Construction (MYC) is building a fire station that helps firefighters train for their profession.
Mark Young Construction (MYC) broke ground on Fire Station No. 5 in Aurora, Colo., in January and is currently wrapping up drywall and mechanical/electrical/plumbing rough-ins. The company anticipates completing the $8.3 million project by early December.
MYC constructs elements to fire stations that provide specialized opportunities for firefighter training. For Aurora Fire Station No. 5, one building corner is designed with a parapet that firefighters can practice climbing over. There is a manhole lid set in the second floor slab so firefighters can set up extraction equipment and a mezzanine for practicing bailout techniques.
This is the third fire station the city of Aurora has built in as many years and the second completed by MYC. Aurora, which is located east of Denver, is the third-largest city in Colorado and has grown in population from 325,078 in 2010 to an estimated 374,114 in 2018, according to the U.S. Census. Due to that growth and to reduce response times, the city is replacing an existing fire station that was built in 1969.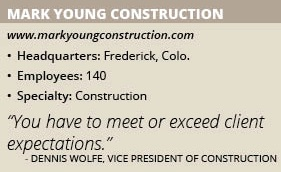 MYC completed Fire Station No. 16 for the city in 2018. The same project team is working on No. 5 and "the bones of the design are the same," MYC Superintendent Duane Krueger says. Changes from the previous project include external materials, color scheme, tweaks in layout, another bay and an extra bathroom.
The two-story station is 18,662 square feet and features dispatch, IT and communications systems. "Being a city building, it is a smart building with connectivity back to the city and the maintenance facility division so they can remotely monitor the building and see how it is functioning," Krueger says.
Although the majority of the materials are common, some of the finishes are higher end and more durable. All kitchen cabinets are metal, the floors are polished concrete and there is heavy-duty wainscoting in the hallways. "There are a lot of hard surfaces that are durable and easy to clean," Krueger says.
There are, of course, challenges that come to light during construction. In each case, MYC has been able to overcome these obstacles.
The design for steel joists didn't work as originally planned. The project team was tasked with redesigning and resequencing the project. While this initially was thought to create a one-month delay, MYC was able to minimize the schedule impact for structural steel and the critical path. "We are tracking to make up at least another week and maybe two through schedule optimization," Krueger says.
The project was also slowed down by a rainy spring although that had more of an impact on site work than on the station itself.
Keeping employees safe on the worksite is important at MYC. Prior to starting any project, the superintendent, project team and in-house safety manager sit down to create a job site hazard analysis that deals with broad safety concerns such as excavations, crane operation and fall protection. The plan includes training activities and mitigation. "Then we go into detail as the project goes on," Krueger says.
The project team performs a safety orientation and regular safety walks. Every Monday, the superintendent sits down with each crew foreman and together they create a three-week work schedule. During that meeting, they also meet with tradespeople and discuss any safety concerns.
"It could be an elevated slab we need to pour before putting up perimeter walls or what we need for edge protection," Krueger says. "Ideally, those areas are identified two weeks before performing the actions."
MYC continue to make improvements in planning and scheduling our work by conducting weekly team planning meetings with every crew foreman that is on site or scheduled to be on site. This helps subcontractors think about the work they are going to perform before they get there, so they don't get caught up in hurdles or are stepping over each other, Krueger says.
The company has found that it can be difficult to get all trades to participate. MYC sets meeting reminders and makes it mandatory for the subcontractor foremen to create work plans for their work. "l feel like we continue to improve on that," Krueger says.
MYC was founded in 1989 with 10 employees and is celebrating its 30th anniversary. The company offers pre-construction, construction, concrete, service/maintenance, industrial and, interestingly, refrigeration. "We started working on retail/grocery projects for King Soopers, Inc. dba Kroger," Vice President of Construction Dennis Wolfe says. "In the beginning, we did service work, then remodels, and then new stores. There were a lack of companies doing refrigeration work so we created a refrigeration division to accommodate our client's needs. Now it's a vital part of our business."
MYC's largest markets are grocery, education and municipal, although the company also works in the healthcare, hospitality, office, historical and resort sectors.
The company has little turnover and some employees who have been with MYC more than 20 years. That includes Wolfe, a 23-year veteran of the company. "The dedication of our employees has been a large part of why we have succeeded for 30 years, even in challenging construction years," he says.
MYC can use their own forces for many projects. "We don't have to convince a subcontractor to do an undesirable project," Wolf says. "As such, we can take on jobs with our staff that other contractors can't take on or are not willing to take on."
Part of that loyalty is due to keeping employees working. "We have work, year-round," Wolfe says. "We never go through layoffs. If there is a bad weather day, we do safety training. We are all a team."
Wolfe also attributes the success of Mark Young Construction to its performance. "We have repeat business with some pretty demanding clients," Wolfe says. "You have to meet or exceed client expectations to continue to work in the Colorado construction industry."