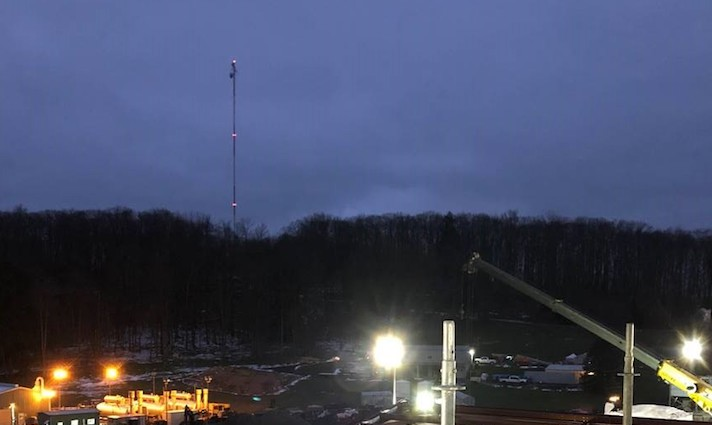 Appellation Construction Services
Appellation Construction Services celebrates 10 years and enters a new market.
It has developed a reputation for the construction, maintenance and improvement of natural gas and industrial piping systems for clients in Pennsylvania, New York, New Jersey, North Carolina, Ohio, Virginia and West Virginia.
But Appellation Construction Services – which is celebrating its 10th anniversary this year – has enhanced its portfolio when it entered a new market last year.
The Montoursville, Penn.-based company has expertise in the construction of compressor stations, meter and regulator stations, system upgrades and modifications and shop fabrication services.
Last year, the general contractor changed its name from Appellation Prefab to Appellation Construction Services when it started constructing, maintaining and improving electrical systems.
"Adding the electrical division has allowed us to grow," says Sandy Spencer, business development specialist. "It has allowed us to work in other markets outside of natural gas."
Appellation Construction Services now offers electrical construction, instrument installation and low voltage system construction in the industrial, healthcare, education and commercial markets – as well as oil and gas.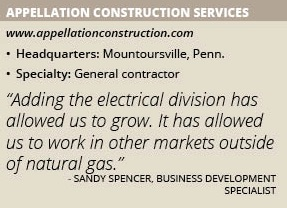 "It's something we always had to sub out before," Spencer adds. "Now we can do it inhouse which helps with cost and also our people are working together from the same plans and have good communication."
Self-Performing
Appellation Construction Services prides itself on offering its clients quality craftsmanship with schedule-driven project management. The company has earned an industry leading safety record and focuses on continuous improvement utilizing best management practices.
"We self-perform both mechanical piping and electrical work," says Westley Smith, vice president of preconstruction and contract management. "Most companies specialize in one or the other. We have a strong team in both facets."
One of the company's most recent projects was a natural gas compression station facility in Potter County, Pa. Completed this spring, the project involved upgrading a dehydration system along with a significant amount of compressor piping.
"It was the size of four or five football fields and at peak, involved maybe one or two miles of piping," Smith says. "We had 100 employees working around the clock to meet the deadline."
And there were other challenges. Appellation Construction Services wasn't the original contractor for the project. It took over for another company that couldn't deliver the project to the finish line.
"They got the project to some critical points, but they didn't understand how to deal with the cold weather," Smith says. "When it's freezing, you have to heat all the piping for hydrotest, and we had to put up construction tents and build a structure around the piping. So, weather was a challenge and we had a really aggressive timeline. But we have become an expert in completing tight deadline projects and I think we are known for that in our industry."
Overcoming Challenges
Appellation Construction Services is currently involved in a large two-phase project in Springville, Penn. It involves the installation of mechanical and electrical systems for compression of natural gas.
Phase one called for installing four compressors and various meters, filters and control systems. The three-month project was completed in November 2018.
Phase two, which started in September and is scheduled for completion in early December, calls for expanding the facility by installing three additional compressors and additional electrical systems to support compressors and gas coolers.
"The job challenges were weather, a tight schedule and site logistics," Smith says, adding that the weather in northern Pennsylvania at the time of the project was a mixture of both snow and wind. "We had to build tents and struggle with diesel equipment not starting due to the conditions. We overcame it through additional resources, tents and persistence."
The already tight schedule was further challenged by equipment delivery dates and the time of year construction.
"We worked 7 days a week 12 hours per day to make the deadline as well as add additional manpower," Smith says. "As the project was constructed, the site became more and more crowded with equipment and workers stacked on top of each other. We overcame this challenge with planning, coordination and communication of each day's planned activities."
Appellation Construction Services has earned itself a reputation for tackling difficult projects. The company has a strong team of supervision and project managers that understand the urgency of construction and have the experience to solve problem that may arise.
"I believe we have a really good reputation in the industry," Spencer says. "In this industry, you hear about companies if they don't get the work done well and on time. We meet those tight deadlines and we do the work well. Our reputation has allowed us to build our business."
Appellation Construction Services leads the industry in project controls and turnover documentation. Its team understands the importance of being constantly updated on project status.
According to the company's website, it provides daily reports, weekly schedule updates and weekly "look ahead" schedules to its clients.
As a project is constructed, the company focuses on carefully and accurately documenting turnover information for a project. Its design department compiles all data and places it in a professional bound turnover package once the projects is complete.
In-House Capabilities
Founded by William Emick in 2009, Appellation Construction Services is a privately-held company. In addition to its other services, the company also offers complex piping fabrication and installation, ASME vessel construction and repair, station mechanical construction, general contracting services, electrical construction blast/coat/paint in-house or in-field and hydro-testing.
The company has an 86,000-square-foot fabrication shop located on a 15-acre site in the heart of the Marcellus Shale formation in Williamsport, Penn.
This gives it the capability to simultaneously build piping in a controlled environment in its shop while field construction is being completed onsite. This offers its clients the advantage of two work fronts – saving time and money while increasing quality. Appellation Construction Services' fabrication shop can handle anything from a half-inch pipe to a 60-inch pipe.