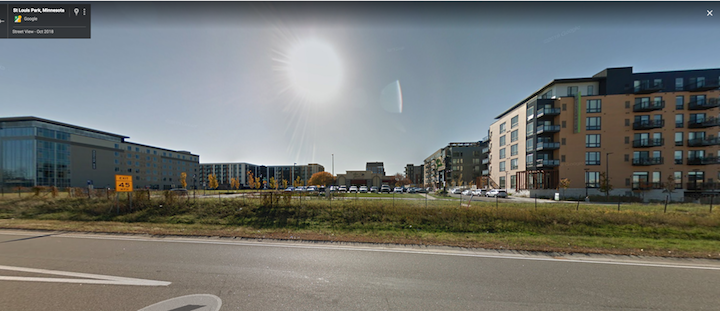 Luxe Residential succeeds in Minnesota with upscale apartments.
Luxe Residential is building several upscale apartment buildings in two suburbs of Minneapolis as part of a master development that took two years to be approved.
"There is a housing boom taking place," Regional Director of Construction Robinson Zamorano says. "The idea is downtown living without the hassles of downtown. You could have the same types of amenities as downtown living. The other thing that is attractive about this area is its minutes from downtown by highways 394 and 100 and 20 minutes from the airport."
Luxe's first project was Village Green Apartments in St Louis Park. Village Green Apartments is a six-story building with 150 Class A apartments that was built from 2013 to 2015 and sold in 2018. The building has two levels of underground parking, with the first two levels being made of concrete and 4 level of wood framing on top of that. The amenities include lounges, a yoga room, fitness center, conference room and working spaces.
In 2015, the company began work across the street on the Central Park West project, a $47 million project with 199 Class A apartments. Next to the building, Luxe constructed a private park with a water feature. The building and park were completed in late 2017 and is the building is now about 90 percent leased. As part of the project, Luxe rebuilt a four-lane boulevard called Utica Avenue with a landscaped median.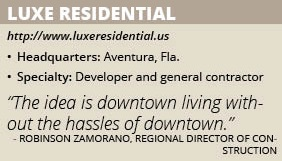 On the Forefront
Near its first building, Luxe plans to demolish an Olive Garden restaurant and build Luxe at West End, a $40 million, six-story building with 207 high-end apartments including 66 two-bedroom apartments and 12 three-bedroom units.
"We are putting in a golf simulator and some really nice finishes," Zamorano says. "There will be lots of glass, two levels of parking garage, a corner park and pool. That's what we're working on right now. We plan to break ground in spring 2020."
While the architect initially proposed an S-shaped building, Luxe countered with an E-shaped building to expose the tenants to a better view of downtown. "The more we talked about it, the more they started to buying into it," Zamorano says. "We challenged them to come up with something a little different for the interiors."
While plans are still being developed, the building could include an indoor/outdoor spa and Italian-style cabinetry. "We're always trying to be on the forefront of something with a different with a different shape," Zamorano says. "We're not the kind of company where we build the same thing over and over.
The government approval process was relatively short, from late August 2018 to January 2019. "I think it's because we have demonstrated our ability to construct these buildings and show the quality of construction," Zamorano says. "It has paved the way to do these sort of things fairly quickly."
Upscale Apartments
Coming soon are two upscale apartment buildings in Edina. Construction is expected to start this summer on the first building, which will be six floors with 225 units and contain high end finishes and more wood than usual. "The challenge is to make it feel classic but not feel old," Zamorano says.
It will have an underground parking garage, concrete columns on the first floor, a limestone finish and curved columns. The building is expected to take years to construct.
The building will include a bowling alley, dog walks, pool, spa, lounges and a theater. The first building is projected to cost $45 million.
The second building will have 150 units and take about two years to build. Luxe is both managing construction and conducting its own general contractor work. The company is attempting to retain the same group of subcontractors that has been working on all of its projects so far.
"They are really high-end guys," Zamorano says. "We like the quality of their work and they like to do business with us."
There were challenges. The Central Park West project was built with half the building in one city and the other half of the building in another city. "They had to figure out which post office and which responder [police and fire] would come out," Zamorano says. "We resolved that by putting two addresses on the building."
Stable Investment
Luxe Residential, founded in 2004, is based in Florida and has completed work in Florida, Texas, Colorado and Minnesota. The company is run by co-CEOs Nick Coldea and Igor Krivor.  Julia Baytler recently joined as partner.
The company "has been a leader in the conception, development and construction of high-end income producing multi-family rental properties," the company says. "Our philosophy of doing business is simple: create wealth and stable investment returns through conservative real estate developments. We use broad market knowledge and experience to target the most viable geographic regions, perform extensive research and due diligence, then acquire the right assets at industry leading cap rates."
The company describes itself as full integrated. Its development team works with architects and engineers, the in-house general contractor division performs construction and the project managers oversee construction.
"Luxe residential prides itself on continually staying ahead of the curve – seeking out viable niche markets for new development and investment opportunities," the company says. "Targeting the multi-family market has proven to be a successful formula for investing seeking stable, stolid returns with low risk and downside."