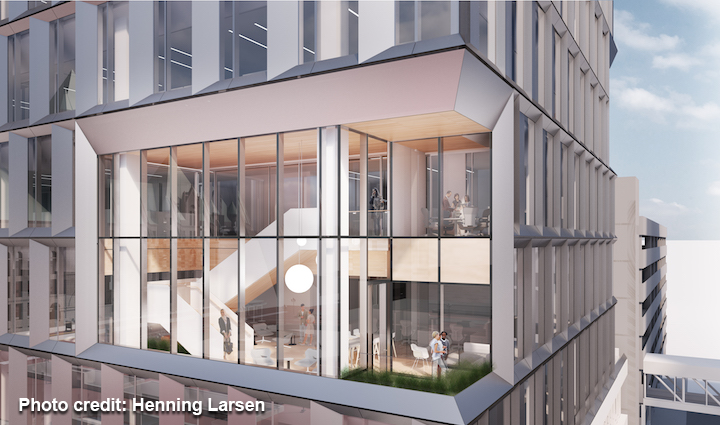 Mortenson – City of Minneapolis Public Service Building
The city of Minneapolis' new Public Service Building will create a central hub for government business, becoming the new face of public service.
The City of Minneapolis is building a new Public Service Building that will consolidate staff formerly located at various sites throughout the city and improve access to services for the public. "For the City of Minneapolis, this is a generational building," Director of Major Real Estate Projects for the City of Minneapolis Greg Goeke says. "We are really looking to this as a huge opportunity to improve our way of working with the public, as well as centralizing staff."
In 1999, the city began exploring the idea of developing a new office building when it realized its fleet of facilities outside City Hall would not meet its long-term needs. "The city decided we should no longer be continuing to invest in our current buildings and we should be managing for a financial future that would allow us to do something to consolidate," Goeke says.
The new 11-story, 372,000-square-foot Public Service Building will consolidate seven different locations of current owned and leased space, which will be sold or vacated upon lease term being completed. The building will sit on a one-acre site adjacent to the City of Minneapolis' historic 125-year-old City Hall building. Consolidating its buildings into one Public Service Building will alleviate confusion among residents and businesses interacting with the city, as well as increase efficiency for staff that needs to travel between buildings several times per day.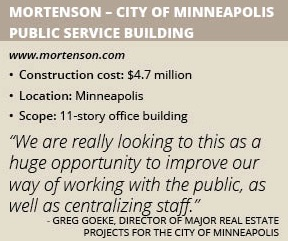 "Taking people from seven buildings involves rethinking of how we will work with the public," Goeke adds. "We have had a big public service redesign for the building with the idea that we will try to handle as many things with the first contact with the public as possible, including permits and business licenses, for example. We want to handle as much as possible with our frontline people and other experts supporting them rather than having them to go multiple floors and buildings to take care of their business."
The new Public Service Building is expected to be open in October 2020 with occupancy phased in as the building is completed. Opening day, the city will have seats for 1,100 people and 1,000 people will be moved into the new facility. "That will allow for our near-term growth needs to be taken care of," Goeke notes. "One of the floors will be a future expansion floor and we actually put that in the middle of the building because we will have police operations and general office operations in the new facility, so depending on which area will grow is where we will add. When we add that floor in the future, we could have total occupancy of 13,000."
Appealing to All 
Mortenson Construction began demolition last July on the existing 900-space parking facility to make way for the city's new Public Service Building. Earth retention, deep foundation and underground utility work began after Thanksgiving 2018. "With headquarters here in Minneapolis, Mortenson is a logical choice to work with," Goeke says. "We held a competition among three local construction managers and Mortenson was selected out of that group."
The City of Minneapolis has worked with Mortenson in the past. The company recently completed the $140 million upgrade of the Target Center, which is home to the Minnesota Timberwolves. "I've built about eight buildings throughout my career and it is impressive to see Mortenson's tools and systems they use for scheduling, managing information, dollars, and communication."
Located at 501 Fourth Ave., the new building is steps away from Government Plaza Station, which serves both the Blue Line and the Green Line light rail transit routes. Space for bicycles, departmental storage and building systems will take up the single underground level, which will not include vehicle parking for employees or the public.
Minneapolis' Public Service Building is also being built to connect to existing skyways, which are elevated and enclosed walkways that connect buildings for easy access in the winter months, to be part of the pedestrian transportation network. "That is a challenge on the project because the skyways are at different elevations, so we had to determine how to make that work with ramping to be up to code with ADA requirements," Goeke says. "It's also a significant part of supporting our business community with connections between retail and the office building."
The project's international design team, including Henning Larsen of Denmark and Minneapolis-based MSR Design, brought to life the city's vision of a unitized façade. "This is the first time the City of Minneapolis has done a unitized façade and it's a new adventure for us," Goeke says. "It is also the first time we have worked with an international design team where we meet electronically versus in person, which has had its benefits and some inherent drawbacks, as well."
The façade work is being developed in partnership with Architectural Wall Systems in Des Moines, Iowa, and Baker Metal Products in Dallas. The building's façade will feature a generous amount of glazing and a metal panel system that will create a transparent effect and open up the surrounding environment. "We are fairly close to the Mississippi River, which is a migratory path for birds, so we are using bird safe glass for a portion of the façade," Goeke notes. "It's a very European design and the interior is a nice combination of glass, stone, terrazzo, metal and wood."
About $2 million in public art will also be integrated into the architecture. The city of Minneapolis' new facility will be a candidate for LEED Gold certification and Fitwel certification, which supports healthier workplace environments. The Public Service Building will be the centerpiece of the City of Minneapolis' estimated $210 million project that also includes improvements to City Hall.