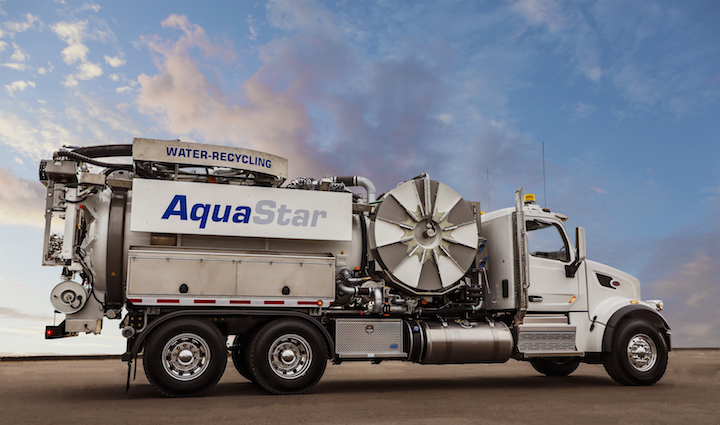 Kaiser Premier looks to take the lead with revolutionary technology.
Kaiser Premier formed in 2017 with the goal of expanding its existing portfolio of hydro-excavators and establishing a leadership position in the United States market for sewer recycling vehicles that are equipped with Kaiser AG technology. "Kaiser AG is the leader in commercial sewer-cleaning technology with multiple operations in Europe," Kaiser Premier President and CEO Dan Weber says.
Kaiser AG of Liechtenstein is a world-renowned innovator that has been in operation for more than 100 years. CEO Markus Kaiser took over leadership of the company about 15 years ago as the third generation to run the business. In 2016, Weber was acting CEO of Premier Oilfield Equipment and tasked with finding an investor.
"I found Markus and we began discussions in late 2016 and ended up closing on a purchase in May 2017," Weber remembers. "Markus was interested in purchasing Premier Oilfield Equipment because it would be a way to introduce Kaiser AG technology to the U.S. market. Prior to the purchase, they did little or no business in this country. The purpose of the acquisition was to gain a foothold in the United States so he could bring the technology here. Markus is a strong believer in having a local presence to be successful."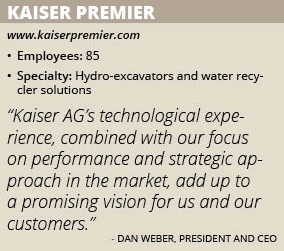 Today, Kaiser Premier continues to manufacture hydro-excavating vehicles and has its sights set on expanding into wastewater markets. The hydro-excavators manufactured in Fort Morgan, Colo., were designed for the oil and gas industry where they are known for rugged reliability and high productivity.
With the backing of Kaiser AG, Kaiser Premier has launched groundbreaking water-recycling technology with a unit called the AquaStar® Water Recycler, to bring greater productivity to sewer-cleaning customers in the United States and Canada. This move enhances Kaiser AG's reputation as the leading manufacturer of sewer and industrial cleaning application products, operating on an international scale.
"Kaiser AG's technological experience, combined with our focus on performance and strategic approach in the market, add up to a promising vision for us and our customers," Weber says. "What we have jointly accomplished since the acquisition is remarkable."
Revolutionary Technology 
The North American industrial and municipal markets are experiencing strong growth. There is an increased customer demand for recycling vehicles for sewer-cleaning applications. Today, improved efficiency and fresh water conservation, as a result of regional water shortages, are major factors influencing the decision to purchase.
Although Kaiser AG has built recycling machines worldwide since the mid-1980s, the brand is still relatively unknown to customers, according to Kaiser Premier Vice President of Sales Mike Kohn. "We are educating the market on who we are and the amount of experience we have," he adds. "In terms of manufacturing and engineering capabilities, we are second to none."
Kaiser Premier's AquaStar offers a combination of performance and versatility. Several technological components contribute to the success of the AquaStar as an effective and efficient solution for sewer-cleaning applications. The power behind the AquaStar jetting capabilities is Kaiser's patented KDU high-pressure water pump. The KDU is hydraulically driven and directly converts oil pressure into water pressure at a ratio of 1:1.5 oil to water.
The KDU jetting pump, depending on the model, can deliver water at a rate of 0 to 132 GPM and water pressure of up to 2900 psi. "The recycling technology uses wastewater, rather than using fresh water, which can save up to 10,000 gallons of fresh water a day in sewer cleaning while running 12 to 15 hours a day, which some contractors do," Weber notes. "It's extremely more efficient and productive than traditional sewer cleaners."
Kaiser AG developed a liquid-ring vacuum pump for use in light construction and mobile vacuum-truck applications. The AquaStar uses this liquid-ring technology to power its vacuum system. This pump design uses an eccentric rotor that produces a ring of water using centrifugal power. As volume changes in the rotor chamber, air is circulated and compressed. This technology is highly resistant to dirt particles and is ideally suited for the recycling environment.
The AquaStar ROTOMAX water filtration system is unmatched in the industry. The centerpiece of the ROTOMAX water-recycling system is an oscillating rotary filter drum. Built into the front part of the sludge tank, this one-stage filter system separates solids from sewer water. No settling basins are required because the filtered water is channeled directly back to the high-pressure water-jetting pump.
"Sewer-recycling is a relatively mature technology in Europe, but is still considered an emerging technology in the U.S. over the last five years," Weber says. "The strategy with Kaiser Premier is to introduce the technology to the United States using the Fort Morgan-based manufacturing center.
The AquaStar is a robust piece of equipment that was developed to handle multiple challenges for contractors and municipalities, according to Weber. "Kaiser's products have a long history and reach in multiple markets, including Russia, China, South Africa and throughout Europe. The experience gained and the modifications made from an engineering standpoint over the years have improved the overall product."
After only two years, Kaiser Premier is seeing an overwhelmingly positive response to the technology and an increase in demonstration requests. Last year, Kaiser Premier debuted the AquaStar at the 2018 WWETT Show. "A lot of promotion is done through trade shows, social media and demonstrations," Kohn says. "We are trying to get to the right people at the right place and the right time."
Once Kaiser Premier demonstrates its technology, it receives great feedback, Kohn adds. "Recycling is the hottest trend in the municipal sewer-cleaning market today," he explains. "This technology has been refined for over 30 years and has weathered all the difficult challenges. What really sets us apart is the simplicity of the operating system and people fully appreciate the value of the technology once we show them how it all comes together. They appreciate how simple the machine actually is and how easy it is to use."
CV-Series Hydrovac – Rugged Reliability
In 2017, Kaiser Rental was formed to support customer needs for flexibility and availability. This also showcases the Kaiser Premier CV-Series Hydrovac production models.
In response to continuing demand, the company continues to grow the Hydrovac business. "Our Hydrovac business remains the core foundation of our business as we introduce the recycling technology to the market." Weber says. "The CV-Series Hydrovac is a true workhorse, able to handle even the most extreme conditions."
Expanded Distribution Network
Kaiser Premier's new focus is to establish strong brand awareness for its cutting-edge products through distribution. "Effectively serving our customers is our No. 1 priority and we are in the middle of building an effective distribution network," Weber says. "We want to grow in a controlled, responsible manner that allows us to provide the kind of service customers expect."
Kaiser Premier's first big move to expand its network includes the opening of its new Gulf Coast Sales & Service Center in Pasadena, Texas. The facility is strategically located near petrochemical hubs, ports and major municipalities in that region. The company is also searching for qualified partners in other metropolitan areas, such as California, which is a hotbed for water conservation.
As Kaiser Premier continues to build its reputation in the market and expand its reach, the company is growing its workforce. When Premier Oilfield Equipment was purchased in 2017, the company had fewer than 45 employees. Kaiser Premier has now grown to 85 people and continues to expand. "Our workforce has a great spirit. What I mean by that is they have a sense of urgency in supporting our clients, the business and a dedication to supporting each other," Weber says. "Our culture is very important to us. We want to foster a positive and supportive atmosphere that sets clear accountabilities, goals and expectations."
Based on the overwhelming response to its products, Kaiser Premier is poised to lead the industry in recycling sewer-cleaning and hydro-excavation equipment solutions well into the future.