For those in need
An established name within the restoration sector, family-owned Kowalski Construction discusses its recent work at a West Valley Shopping Mall and strategy for future growth
Proudly serving Arizona since 1967, Kowalski Construction (Kowalski) is a nationally recognized, award-winning construction, remediation, and restoration company. Celebrating its 55th anniversary in 2022, Kowalski began its work in disaster-related restoration, before gradually expanding into rehabilitation, remodeling and repair services. Now serving Arizona and for large loss emergency services all its surrounding states, except California, commercial restoration remains the company's specialty, with a 24/7 emergency service that covers everything from localized fire and water damage to mold remediation, asbestos removal, and electrical work.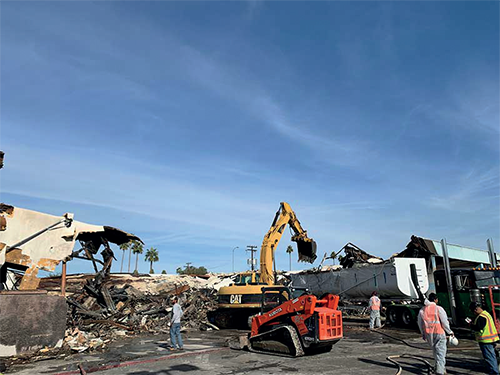 Recent years have played host to all manner of difficulties, not least the arrival of Covid-19 in the first half of 2020. Nevertheless, Kowalski has thrived. Thanks to the experience under its belt, the veteran company bucked a trend by earning a place as a 2020 and 2021 Inc 5000 honoree, confirming its status as one of the fastest-growing companies in the US. "Amid the challenge of the pandemic, so many businesses are just trying to keep their head above water," admits Jim Kowalski, Co-owner and Vice President at Kowalski. "For us to achieve such fantastic growth in a very difficult climate is something we're really proud of, and it requires a ton of work behind the scenes."
Kowalski recently found itself with a major job on its hands, after a fire at one of Arizona's largest shopping malls in the West Valley.
With a third of the mall damaged by the blaze, Kowalski's objective was not only to keep the remainder of the premises open, but to restore the business to full working order as quickly as possible. "With typical construction projects, you have months or even years to plan," Jim tells us. "But with emergencies, you don't know what you're up against, and you're handed an extremely short deadline.
"To deliver under those conditions requires an exceptional level of communication and coordination," he continues. "How many team members are we going to need? What will the chain of command look like? Who's going to be the liaison for the client? How will we deal with the media when they show up? After years of working together, we're able to identify on the fly the best way to handle a situation. In that regard, our staff really stepped up to the plate at this West Valley mall, completing the project in just 14 days."
But the trouble didn't end there. When this mall received news of an impending riot attempt on its property, Kowalski was called in to help board it up. "They had an exact time for the attack, down to the minute," Jim reveals. "Again, we had very little idea about what we would be required to do, but we got the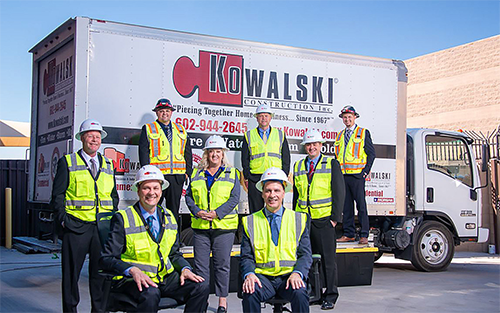 plywood together, showed up, and set to work. The mall was boarded up for one day. Combined with the visible police presence on the day, that averted the attack. Then they rang us up again, asking for it all to be dismantled by nine in the morning. We worked through the night to make that happen."
None of this would be possible without the depth of expertise throughout Kowalski's employee base. But for Jim, the real secret is culture. "The number one thing we ask whenever we make a new hire is: will this person be a good fit?" he explains. "If people feel at home in an environment, it gives them a better opportunity to thrive, and the same is true of our vendor partners and our clients. Yes, processes are important, as are our software and systems. But without culture, the company wouldn't have the rocket fuel it needs to propel things forward."
With this mindset, it makes sense that Kowalski holds its local communities in similarly high regard. "My late uncle was one of the original founding fathers of the local Society of St. Vincent de Paul (SVDP)," Jim tells us. "Growing up, we were always helping, serving meals and doing whatever we could, and we've translated that into our company culture, coordinating opportunities for our staff to do the same. We have four main charities that we contribute to regularly, along with other infrequent donations. Working in our environment requires you to be invested in helping others, so we're never short of people willing to give back through other avenues."
Looking ahead to 2022, the outlook for Kowalski is bright. "We're in the process of getting approval for our GSA government services, which we see as a natural progression for us," Jim reflects. "At the same time, what we don't want to do is focus on a new market, vertical, or service at the expense of those we already have, and we maintain scorecards for each of our divisions to help us monitor and anticipate any atrophy in business. We are considering an additional office location in Arizona, to provide a stronger foundation from which to operate. But we're not pursuing that simply because it sounds good; we want it to make sense, and to provide a valuable additional resource within our operations."
Kowalski Construction, Inc
www.kowalski.com
Services: Construction, remediation and restoration