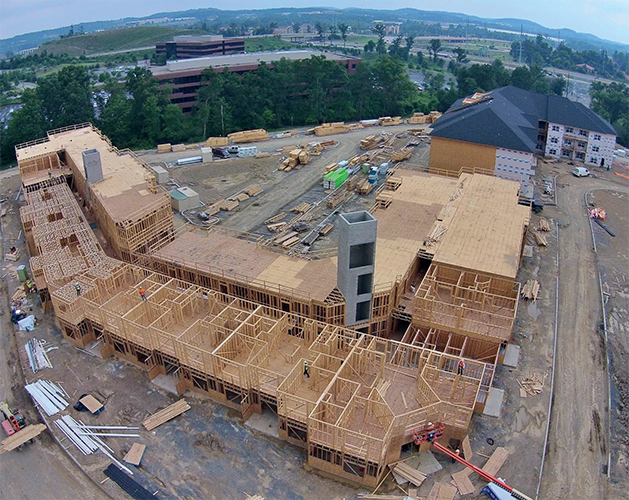 A better way to frame
With over two decades worth of experience in large timber frame construction, US Framing provides unparalleled services to contractors on a range of structures, from multifamily homes to assisted living facilities
Offering a comprehensive range of services, from wood framing to hardware installation to house wrap, has helped US Framing become a strategic partner to dozens of construction company's across America. The company offers expertise in a range of applications in the modelling, pre-construction, and construction phases of a project, priding itself on accuracy, quality and timeliness. Today, US Framing has completed over 10,000 units worth of wood-beam construction, and it looks forward to further large-scale projects in the near future.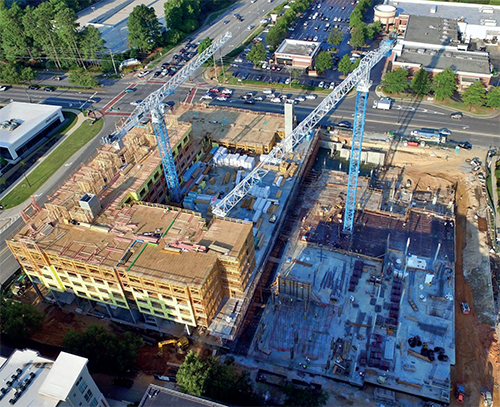 As an industry-leading Type III framer, US Framing works in several major categories: multifamily projects, assisted living facilities, student housing, hotels, takeovers, and high-end estate homes. The company offers a variety of services, from framing labor to complete turnkey packages, including lumber, structural steel, trusses and stairs. As a national operation, US Framing offers it services to any major project, in any region of the US.
Multifamily homebuilding is the primary focus of US Framing's work. The company has completed more multifamily units than any other wood framing contractor group in the US, and has a vast depth of experience in division 6100 rough carpentry. With a portfolio full of two, three and four-story projects, US Framing is capable of managing a structure of any size, shape or complexity.
Boasting an incredible understanding of its market, US Framing has expert capabilities in the framing of connecting walls, low-rise duplexes, and high-rise apartment complexes in a range of densities and heights. The company has specifically trained its team in the management of these kinds of structures, in response to industry trends that show the rising popularity of larger, shared spaces.
As an expert in the field, US Framing actually offers a more aesthetically pleasing and easier to maintain alternative to industry standard framing. Using timber beams, the company can create a variety of structures with integrity. The wooden frames are not only more reliable, but they offer higher levels of thermal resistivity, meaning that the building is less likely to be affected by cold weather conditions. It is more energy efficient than masonry and steel during and post construction, thanks to the cellular structure of wood as opposed to metal. Holding pockets of warm air inside of it means that the finished structure will have an overall higher level of insulation.
Further, the use of wooden beams makes US Framing the green alternative. As a renewable material, wood releases less greenhouse gas than concrete and steel, and it also requires less energy to extract, manufacture and transport. US Framing is an industry leader in timber framing, making it the ideal choice for environmentally conscious builders.
The company's depth of knowledge also makes it a strategic long-term partner for construction companies in the multi-family or high-end housing market. The working culture at US Framing prioritizes customer satisfaction, and seeks to form lasting relationships with contractors through reliable, on-time service.
Thanks to its years of experience in large-scale construction, US Framing is able to offer its services to any project, at any point in its lifecycle. The company regularly partners with builders and contractors as early as the pre-construction stage, wherein its expert team can provide support in planning and designing, as well as sourcing materials.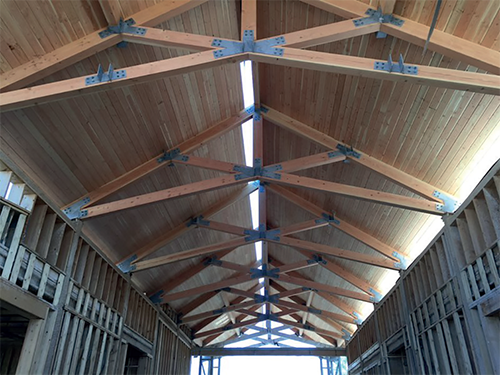 With its designated pre-construction team, US Framing guides customers through important decisions regarding foundation planning and design, materials, budget, schedule and even risk assessment. These highly-skilled teams are effective in supporting projects through the pre-construction phase, ensuring a far smoother overall build. Furthermore, they are dedicated to meeting the client's needs, listening to their opinions and working collaboratively to achieve the goals of a project.
These assets are the reason that US Framing is such an important and strategic partner for builders looking to work with wooden framing. Its services are broken down into two sections: pre-design and start-up. To begin with, the pre-design team will build a digital version of the project building, so that clients can get a good idea of what the end result will be. The start-up phase then involves making in-depth, collaborative changes to the design, until it meets the needs of the client perfectly.
Builders can continue to rely on US Framing as a trusted partner throughout the construction process. US Framing designs its processes around the site-specific requirements of each project, using more than 40 years' worth of accumulated knowledge.
Using its specialist abilities in wooden, cross laminated timber, metal stud and industrial framing, US Framing will then advise on the most effective materials and layout for the project's internal structure. These decisions are made by carefully evaluating safety, longevity, reliability and ease of maintenance.
The company then provides framing laborers to erect the structure, following a strict plan that considers fire resistance, thermal insulation, and noise insulation as important variables. These decisions are supported by US Framing's additional 3D modelling capability.
US Framing is leading the way in Building Information Modelling (BIM) for wood framing applications. The company is now capable of managing and controlling customer projects through new and innovative technologies that include the design and framing process. This new software allows US Framing to work together with customers to get architectural designs right the first time around. With practical applications in the pre-construction and co-ordination phases of a project, US Framing's 3D modelling software adds a new innovative layer to its already comprehensive offering.
These developments highlight just how forward-thinking US Framing is as an operation. Providing builders with a more sustainable, technologically advanced alternative, will no doubt continue to spell success for the company, as it leads the wood framing industry into the future.
US Framing
https://usframing.com/
Services: Multi-wood framing experts