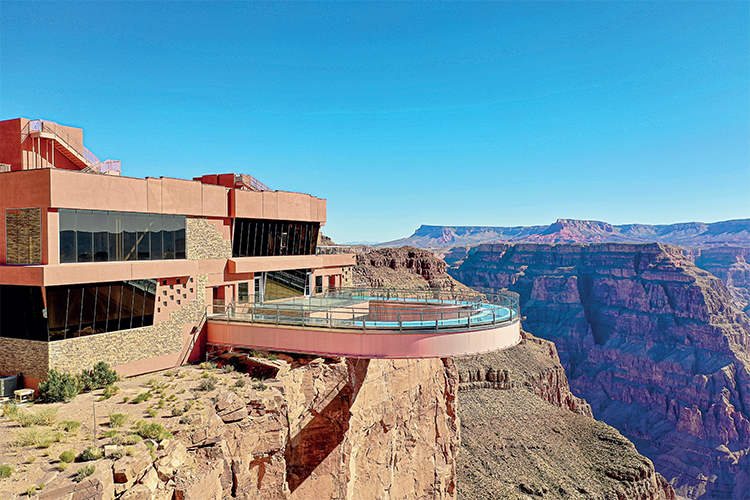 Breaking the glass ceiling
Giroux Glass's competitive advantage is its people, who are dedicated and driven to see the company become a recognized expert in the construction industry
Hiring the right people from a wide range of diverse backgrounds, and training and empowering them to succeed is the secret to Giroux Glass' history of achievements. Opening the doors to companywide collaboration and encouraging all to join in has enabled the company to maximize its resources during the typical industry peaks and valleys. "Our belief in complete transparency demonstrates our integrity, as well as our trust in our employees. Offering services in the different glazing markets is a practice we've learned over the years, and has served us well through many economic changes," says Nataline Lomedico, the company's Chief Executive Officer and President. She shares details of her business' inner workings, and the key elements that make Giroux Glass an industry pioneer.
The glass, glazing, and architectural metals contracting company operates branches in Los Angeles, San Bernardino, Fresno, Orange County, in California, as well as Las Vegas, Nevada, and Phoenix, Arizona. Catering to the commercial, retail, and luxury residential sectors, and with over 75 years of experience, award-winning Giroux Glass continually challenges the boundaries of its capabilities. "We believe that the awards we receive reflect both sides of our business values: our dedication to quality and thoroughness, and a degree of risk-taking that pushes us to find creative solutions and propels us into the future of the industry," Nataline expresses.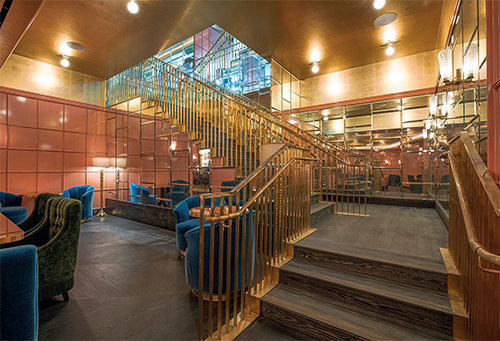 The awards mentioned include the USGlass Magazine Design Award from USGlass Design Magazine and the 2021 'Best Glass Interior' award from Glass Magazine. Concerning the former, Giroux Glass applied both its deep-rooted expertise and creative problem-solving skills to revise plans for a new scientific greenhouse facility at UC Riverside. "Drawing on our first-hand knowledge of the unique Southern California climate and its implications for glass installations, our team recognized water intrusion issues in the project's initial design. For a research greenhouse requiring full climate control, this was an obvious issue.
"To correct these errors, our team got to work, going beyond our initial 'labor only' role to provide in-depth consultation on materials and construction methods. Although this was not initially asked of us, we responded to the task at hand, and our insight and decisive action played a huge role in making the project a success. We believe this was why we were honored by USGlass Magazine.
"The other award was given to us following completion of the Pendry Hotel. Here, our company exhibited fastidiousness and reliability via our organized, timely approach to sourcing and receiving thousands of custom pieces, as well as our extreme attention to detail when installing them. We showcased innovation and creativity in the face of significant challenges, like when a change in plan on a complex mosaic mirror wall required our team to improvise a new arrangement that met both the aesthetic standards and physical dimensions of the wall, or when custom shower door components arrived stacked by size, instead of by installation location, requiring our team to quickly implement a new organizational system that got the components exactly where they needed to go across more than 140 hotel rooms. All of these approaches factored in to Glass Magazine's decision to award us the 2021 'Best Glass Interior' award," Nataline explains.
Another impressive project that the business completed, which Nataline shares with us, concerned the Resorts World Complex, the first of its kind in ten years. "Perseverance, extreme organization, adaptability, and hard work were integral to our successful completion of the massive Resorts World Scope. On the estimating end, it took our team nearly a year to win the large bid. To demonstrate our dedication, we helped general contractor WA Richardson develop the project drawings on which all competing glaziers would place their bid. We also took multiple meetings with other trades and coordinated our work with theirs as part of our bid. Essentially, we did as much work as we could in advance to map out our scope, schedule, and plan for the project in order to make our bid the most appealing to the general contractor."
Once the company secured the bid, it was on to sourcing and receiving materials. Due to the sheer quantity of glazing products required to complete the project, the team at Giroux Glass had to be highly strategic regarding material supplies in order to optimize its manufacturers' limited quantities and schedules. "We also had to remain very flexible and adaptable, as there were a number of late-stage changes made to the project. To implement these changes against approaching deadlines, our team created a unique, coordinated schedule that involved constant installation across all areas of the scope. We did not have the luxury to wait for every piece to arrive before beginning the work; we had to install materials as we received them. In the final months of the project, our field crews were working seven days a week to meet the approaching deadline. Fortunately, their hard work, combined with the strategic efforts of the management team, had our scope completed in time for the hotel's grand opening in June 202," elaborates Nataline.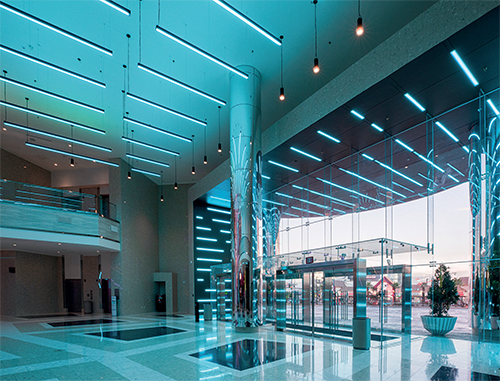 To make projects of this scale happen, Giroux Glass utilizes cutting edge technology in order to maximize project efficiency. Its CAD department, for example, has been implementing new software programs that allow it to collaborate with other trades in the planning phase of a project. "This significantly cuts back on time and money on our end. In the preconstruction phases, it allows us to view any changes to the project other trades have made in real-time, so we can adapt to them as we create our plan – as opposed to completing a set of plans individually, and awaiting edits and approvals. Once installation begins, we can continue to map out ongoing changes, which significantly reduces the amount of requested change orders.
"This type of software is especially helpful when it comes to providing design-build assistance on projects that involve serious code, material, and structural regulations – like healthcare facilities. Architects and general contractors often look to us for our expertise on selecting the right systems and glass types to meet the requirements on a project, and it is a much more effective way to present plans to regulatory agencies (OSHPD, in California, for example) for review," Nataline explains.
"In addition to that, in the field, our team uses new equipment that makes our work easier, safer, and more efficient. One current industry trend is the use of extra-large, extra-heavy pieces of glass, which require specialized equipment to move and guide into place. We use the latest Wood's vacuum cups and lifters, which feature Intelli-Grip technology that monitors lifter operation and safety conditions via a user-friendly control unit and app."
Finally, although it has not yet been implemented, her team is looking forward to adopting a state-of-the-art installation program called Total Power Station. This application, which operates via smart phone or tablet, uploads CAD plans to its system and advises, in real-time, how to install glass according to drawing dimensions.
Turning to the people of the business, Nataline shares how her team is absolutely everything, and how her management crew goes above and beyond to learn the needs of their employees, enabling them to prosper. "We believe our employees are not only important, we do our best to learn how they need to be taught in order to grow and thrive. By prioritizing our people, we create success. The faith we put into our crew leads to them taking the utmost pride and precision in all they do, whether that's through double checking their work, or even soliciting feedback from our clients for example. By wanting our employees to succeed, they in turn ensure that our clients succeed as well."
This was evident in how the company navigated the turbulence of the Covid-19 pandemic, by ensuring that every member of the crew was well-looked after. "We never closed down our offices, and our work continued on many of our projects with the multiple layers of Covid-19 safety precautions in place. We did allow our employees to work in the setting where they felt most comfortable during the lockdown period. We already had companywide virtual meeting capabilities, but obviously we increased those at that time. We also invested in additional companywide technology functions, such as Microsoft Teams applications. It not only further enabled continual communication both from desktops and mobile phones, but features on those apps, like virtual informal chatting and sharing photos provided a new way to engage in the types of activities that demonstrated our strong culture," she says.
Now, turning to the future, Giroux Glass's ongoing goal is to continually improve, and Nataline is excited about what lies ahead for her company's journey. "I often tell our team, 'We're just getting started!' This year we plan to increase sales by 50 percent,improve margins through increased efficiencies, and rollout companywide dashboards for each of our employees. We're all about empowering our employees and continually offering them the tools to 'own' their work. In five years' time, we will remain a 100 percent employee-owned company with over $100 million in revenue, while expanding our reach in the Southwest region of the US," she concludes.
Giroux Glass
https://girouxglass.com/
Services: Glaziers