Signs for the times
Built through a focused strategy of acquisition, Indigo Signworks has become the premier full-service sign business in the Upper Midwest of the United States
From office door appliques to custom-built 100-foot pylon signs, Indigo Signworks does it all. A design, manufacture, and installation specialist, Indigo has become renowned for its full-service approach to the delivery of sign solutions across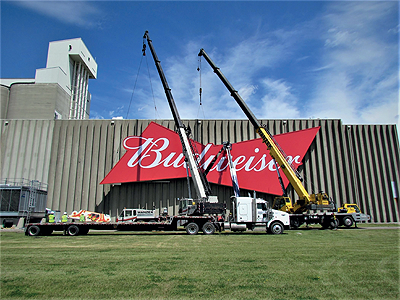 North Dakota, South Dakota, Minnesota, Wisconsin, and Iowa. As the firm's CEO Eric Gibson explains, the journey from concept to delivery is a collaborative venture navigated through close partnership between customer and client.
"Initially, we meet and listen to customer goals and brand aspirations, and we work with them, or their affiliates, to put together a sign package that helps them meet those needs," Eric explains. "We create sketches, devise a plan, and put the whole project together, including coordination with local authorities to meet all the needs of that particular customer. We then go to our in-house engineering and fabrication team to help build either the interior or exterior sign package. We have local project managers that coordinate the entire process throughout, and then once it has been fabricated, we have certified installation teams that go to a customer's site and put everything in place."
Perfecting this process, Indigo has gone on to deliver some of its most successful projects for customers. In 2019, when tasked with creating a custom-built product for a customer based in the wide, sparse oil fields of North Dakota, Indigo delivered a sign in the shape of an oil derrick that not only had full lighting capabilities, but could also simulate the motion of oil spouting from the top of the structure.
"It was quite unique to be able to create the lights and design that made the derrick project happen," Eric states. "As new technology evolves, we are listening to our customers, trying to meet their needs, and then applying some of the newest things in the market space to help them get the effect or look for their brand that they are going for.
"As an example, over the last ten years, LED lighting has really taken over the sign industry, so we've worked directly with some of our lighting suppliers to try and develop new application techniques and new visual experiences for our clients. One of these new concepts is the RGB lighting that we're integrating into a lot of our signs. We find a lot of our customers want to be able to change the accent of their exterior lighting to match different causes – changing it to pink for Breast Cancer Awareness Month for example – so supporting that trend has been very exciting."
Efficient and cost effective
More recently, Indigo has been working on a vast rebranding initiative for Minnesota's Bremer Bank. Serving over 100 local bank affiliates in the Midwest, Indigo helped Bremer design and specify new signs for its brand, then oversaw the signs' high-quality fabrication, before finally project managing the installation process across each of the bank's facilities, on budget and within the set timeframe.
"It was really a cool project," Eric says. "It took us about 14 months and Bremer Bank was very happy when we finished because they only had to deal with one company. They didn't have to go to multiple places. We met weekly to give them project updates and it was easy for us to communicate which buildings were done, what was next in line, and how the work was being performed, so they were absolutely thrilled."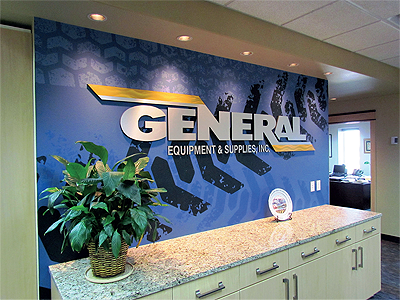 Projects like the Bremer Bank development are supported by Indigo's three production facilities in Minneapolis, Minnesota; Fargo, North Dakota; and Minot, North Dakota. In Minneapolis, Indigo focuses on using laser etching to produce interior ADA sign packages, whereas the firm's other two factories are more adept at delivering client-led, custom signs, from flat fronts in Minot to major pylon signs in Fargo measuring up to 30 feet long, 15 feet deep, and 20 feet wide.
"Across all three areas, we are utilizing the latest technology to make sure we are efficient and cost effective," Eric reports. "Our suppliers are a vital part of the process too. Whatever the project, we look for vendors and suppliers who have the same level of quality as us, the same focus on innovation, and the same ability to stand behind what they do. When we build a sign, we will stand behind our workmanship for the life of the sign and we want our vendors and suppliers to do the same. We are not interested in cutting corners here and there just to save a few dollars if we think it is going to cost us that long-term relationship with our customer."
Having battled through the initial stages of the Covid-19 pandemic, Indigo has since used the crisis to discover new ways of giving back to its local community, as well as diversify its product range. Working through staggered schedules and in-line with social distancing protocols, Indigo offered free products and services to clinics, hospitals, and healthcare providers: A-frame signage to help guide patients to Coronavirus testing centres, as well as free service and messaging for their outdoor digital displays. Building on this, the company developed a Business Covid Package, which included elements such as A-frame signs for curbside pickup, floor graphics for six-foot distancing initiatives, and appliques for store doors informing customers of new operation procedures.
"Those were our two big things throughout the brunt of the pandemic," Eric remarks, "but something we're continuing to do is build plexiglass Covid barriers for everywhere from schools to community centers, local government buildings to dentists, and banks to health care centers. The barriers protect staff and customers, so we've seen a lot of interest from our client base for those. It allows us to get in front of our customers and show them the other things we do, so it has worked to our advantage in that way."
Full service offering
Due to the financial impact of Coronavirus on businesses across the world, Indigo understands that new signs may not top the priority lists of many companies in the Midwest United States in 2020, but the firm may begin to see requests for more service and maintenance work on existing signs as an alternative. Fully certified by major conglomerates like 3M, Indigo is proud to service anything from small appliques to major LED pylon-topping installations. However, though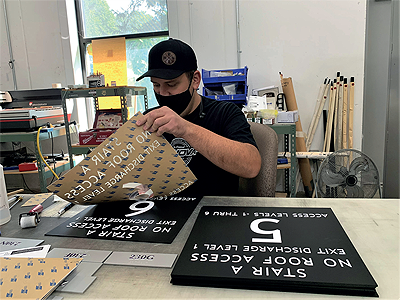 trends may come and go, and economies may crash and boom, Eric is confident that customers will continue to return to Indigo for the full-service opportunity and deeply embedded company culture that have always made the firm different.
"Being able to self-perform on design, manufacture, installation, and service really makes it easy for customers to come to us," he argues. "A lot of companies can do the installation part but not the design, or they can do the fabrication bit but not the installation. We can do it all, start to finish, so we have full control of the process. That's the first thing that attracts people to the business and keeps them coming back.
"On top of that, we benefit both internally and externally from our IMAGE of Indigo culture. An acronym for Integrity, Makers, Action, Growth, and Experience, IMAGE describes who we are as a company. On the 'Integrity' front, we are a company that leads by doing the right thing consistently. We are 'Makers' and craftsmen; we make things. In terms of 'Action', when you work with us, you know we are going to get things done. We are constantly learning, which is our 'Growth' opportunity, and finally, thanks to over 100 years of 'Experience' in the sign industry, we've built up full-service that separates us from everybody else out there."
A company built on a history of acquisitions across America's Midwest corridor, Indigo now boasts seven facilities in Minnesota and North Dakota, and an annual revenue north of $20 million. As the firm looks to drive growth over the next few years, Eric suggests that – in true Indigo fashion – more purchases appear to be in the pipeline.
"Acquisition has always been a big part of our growth strategy," he asserts. "We look for companies that can add to our abilities and give us the additional reach to serve more customers in that Upper Midwest area. Businesses that grow by acquisition are always talking with other companies, and being no different, we do have a couple of prospective firms for purchase that we are having discussions with at the moment. I think our first goal right now is to get through this pandemic without having to scale back or do anything different, but we think customers still want to use custom sign solutions to promote their brands and we can meet all their needs in a really cost-effective manner."
Much like the customers it serves, Indigo is constantly evolving and evaluating its brand. Though the firm has always been known as Indigo Signworks, its name will soon be changing to Indigo Signs as the acquisition of new companies continues. Along with the rebranding, customers can also look forward to an overhaul of the company's website and communications network. With a new brand, a new look, and a new feel on the way, all signs point to exciting times ahead for Indigo and its customers.
Indigo Signworks
www.indigosignworks.com
Services: Full-service sign works