A rich history of success
With the values of performance, quality and integrity ingrained throughout its every operation, W.T. Rich Company has demonstrated a first-class ability to exceed its client's expectations, even in the face of projects that are inherently unique, complex or challenging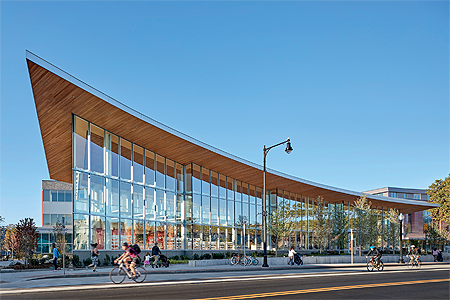 When Walter T. Rich founded the business that bears his name – W.T. Rich Company (W.T. Rich) – back in 1968, he did so with the goal of providing construction services to various public and private organizations throughout the Commonwealth of Massachusetts. Walter was determined that, in doing so, the firm would operate under a set of values that its figurehead held dear – namely to operate with performance, quality and integrity in all aspects of its business.
In following this approach, W.T. Rich has grown from a small family business into a hundred-million-dollar company with more than 70 employees. During this time, the firm has developed unique capabilities in serving the public construction market and in performing complex new construction, renovation, and historic restoration work. To this day, Walter Rich plays an active role in the development of W.T. Rich – serving as its Chairman of the Board – while his son Jonathan Rich serves as the firm's CEO, and Brian Santos holds the position of President. Under their leadership, W.T. Rich has amassed an outstanding track record and an admirable reputation among owners, architects, engineers, and sub-contractors.
"W.T. Rich specializes in projects that involve unique logistical, technical and scheduling challenges," Brian Santos explains. "We focus primarily on the Massachusetts Chapter 149A CM at Risk delivery method. We manage mid-to-large scale construction projects ranging from $30 million-to-$250 million in new ground-up building construction, major renovations and additions, and complex historic restoration within the Academic, Historic, Municipal and Public Safety sectors."
Academic projects are certainly a specialized area for the company, as Brian goes on to reveal. "We have a passion for building schools and all the logistical and technical challenges that come with it. Many of our academic projects include constructing new schools adjacent to existing occupied schools where logistics are challenging, and safety is of the utmost importance. One of the most rewarding aspects of constructing academic facilities is knowing that we are contributing to the advanced educational environment for our future generation."
A perfect example of the aforementioned passion would be the company's work on the King Open/Cambridge Street Upper Schools and Community Complex project; this project received the prestigious 2020 ENR Regional Best K-12 Education Project Award. An undertaking which extended well beyond the depth of a new building – as it needed to also incorporate over 100 years of history tied into its campus – the new facility spans 270,000 square feet and houses the King Open School, Cambridge Street Upper School, King Open Preschool, King Open Extended Day, Community School, Cambridge Public Schools Administration and Valente Library.
Partnership approach
This new educational and community complex integrates public schools and the community within a densely-populated neighborhood, making space a critical element of the project. Although the footprint of the new buildings is larger than the original buildings, by housing an underground parking garage, the project was able to create and preserve an acre of green space and two acres of open space. In addition to providing a state-of-the-art learning facility, other site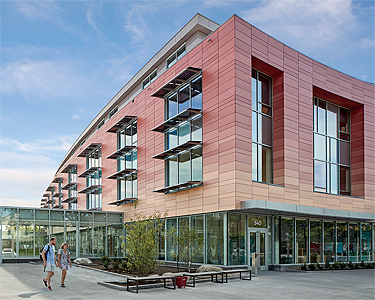 amenities include the Gold Star Pool, two gyms, two basketball courts, the Charles G. Rossie Bocce Court, five playgrounds, an outdoor splash pad, Cambridge Street Plaza, Valente Reading Garden, a learning courtyard/outdoor classroom, and a 380-seat auditorium.
What also sets this project apart is the fact that it represents the first school within the state of Massachusetts to produce zero net carbon emissions by consuming no fossil fuels on-site, and having a highly efficient design to minimize energy demand. It incorporates the City's most significant solar array – 74,000 square feet of photovoltaic panels covering the entire roof, as well as parts of the exterior walls and sunshades over the windows – and going forward will be targeting LEED Platinum and Triple Net Zero credentials.
"King Open was a tremendous success not only for the project team, but for the community, the staff, and students," Brian enthuses. "King Open meets and exceeds the goals of the City of Cambridge with Net Zero initiatives, including geothermal heating/cooling, photovoltaic energy, and utilizes high-performance building materials. It is one of the most energy-efficient buildings in the country, and it truly is a state-of-the-art structure that W.T. Rich is extremely proud of."
Key to the success of the King Open/Cambridge Street Upper Schools and Community Complex project was the concept of partnership. All active participants in the project, including W.T. Rich and the City of Cambridge, worked in close harmony from day one, and were supported in these efforts by an expert team of engineers and other stakeholders. The cornerstone of the team's performance on the project was a conscious effort by everyone involved to communicate transparently, collaborate proactively, and work in partnership to make and implement decisions that were in the best interest of the project. This approach provided several benefits, including the avoidance of bottlenecks that are typically caused by slow or ineffective decision-making in the face of project challenges or issues. Each member of the team was well-informed and was able to put the needs of the project ahead of any company or individual agendas.
The King Open/Cambridge Street Upper Schools and Community Complex project was a complex undertaking with important neighborhood considerations. It required the delivery of a school and community center that embodied the City's 'Innovation Agenda' regarding updating its public school system with high-quality, state-of-the art, aesthetically pleasing and Net Zero academic buildings that welcome the community as a whole. These goals fostered a deep sense of teamwork and partnership throughout the project.
Team performance
The King Open project team created an atmosphere that promoted cooperation and accountability from all parties involved. Shared best practices for proactive construction mitigation and excellent communication with the local community were utilized on this project, while the construction team was on site 100 percent of the time throughout the project. This strong, on-site presence not only allowed the team to be highly responsive to the needs of the project, but also deepened the depth and quality of the relationships between all parties.
At the end of the day, however, the true test of outstanding team performance is determined when seeing how that team performs in the face of substantial challenges and obstacles. The King Open project faced an array of significant challenges, yet the team persevered through all of these to create an impressive and high-performing school building and community complex center.
Trust and collaboration
As alluded to previously, W.T. Rich also possesses significant experience when it comes to performing historic renovation work on many of Boston's historic landmarks, as well as others throughout Massachusetts. Examples of the company's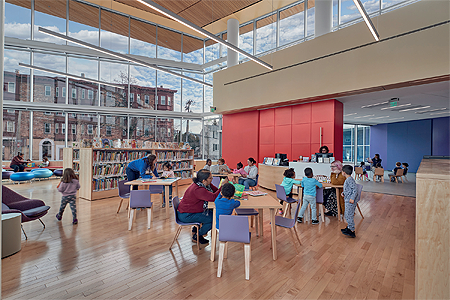 work can be seen today on buildings such as the Boston Public Library's McKim Building, Salem Probate and Family Court, and the Thomas Crane Public Library. Indeed, several such projects have received recognition in the form of awards recognizing W.T. Rich's skill and dedication to ensuring historical accuracy and top quality craftsmanship.
"Here at W.T. Rich, we love a challenge and historic restorations are, in my opinion, one of the most enjoyable and rewarding for our firm, in that we are tasked with taking something that is worn out, or simply unusable, and transforming it into something new," Brian adds. "Removing exterior walls, shoring, bracing, highly detailed structural framing systems within an existing building, collaboration of MEP systems, and high-end finishes are our specialty, and we consider it an incredible privilege to be involved in such important undertakings. Perhaps the most memorable historic restoration project that I was proud to be a part of was the aforementioned Boston Public Library, McKim Building. Completing a total renovation of the existing courtyard and plaster arcade ceilings to their original state was incredible."
As a true family business, W.T. Rich also understands the importance of its people and its culture. According to Brian, in the case of the former, the key to maintaining a highly motivated and successful team is trust. "When we hire anyone, we make a point of explaining how we are trusting each other to perform at our best every single day," he says. "A culture of trust and collaboration is how we become successful together, and if you do not have these simple traits, we are not going to succeed in the long-run. Our clients see our levels of collaboration and our spirit while working with each other, and that is something that we believe that everyone wants to be a part of."
Corporate culture wise, W.T. Rich has also made it a point of significance to embrace a number of green strategies that it applies to its operations. "Green Building and Net Zero Goals are extremely important to us," Brian continues. "We ask all of our project management and field staff to become LEED Green Associates at the very least. This requirement educates our staff to become aware of the technologies around Green Building, aids us in leading our clients, and is what the design team expects from its Construction Manager."
Like every business active in 2020, W.T. Rich has found itself operating in the midst of the global Covid-19 pandemic. However, whilst these are undoubtedly highly challenging times, Brian is able to point to several positive developments that have benefitted the firm. "Honestly, I think this unfortunate situation has made us better in the long term, specifically when it comes to things such as having more sanitation equipment, advanced cleaning processes and more stringent general housekeeping practices," he points out. "As far as the market is concerned, we believe at this time that construction is moving in a positive direction, but that it is too soon to know for sure what the longer-term financial impact on the country as a whole will be."
Looking to the next three-to-five years, Brian has a good idea as to what the firm needs to do to remain successful. "W.T. Rich will continue to work in a strategic manner, whilst operating with 'A Team' staffers, making sure that our clients are thrilled with the delivery of our projects. Above all else, we believe that we must ensure that we retain an industry-leading, positive and collaborative staff mindset. With this approach ingrained in our culture, outstanding project results and full client satisfaction are sure to follow."
W.T. Rich Company
www.wtrich.com
Services: Construction company