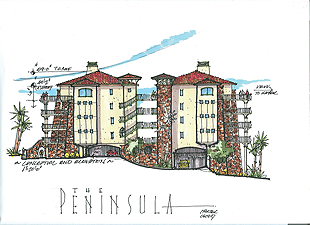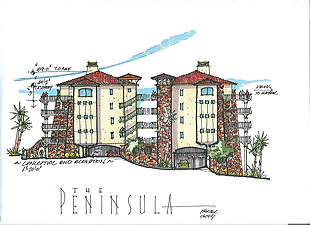 The project will be funded by third party debt and equity sources and will be fabricated at SG Echo, the company's manufacturing plant, in Durant, Oklahoma. Upon completion, the net profit on the sale of the condo units is estimated to be in excess of $20 million. Units will be built modularly and will target young professionals, millennials, and those looking for waterfront living.
"We love the Austin market, and our site on the Travis River will provide exceptional apartments and lifestyles, in a city many see as the next Silicon Valley," Paul Galvin, Chairman and CEO noted.
Comfort for passengers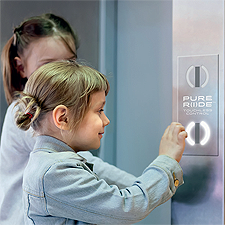 The Elevator and Escalator Division of Mitsubishi Electric US, Inc., headquartered in Cypress, California, has unveiled PureRide™ Vertical Transportation Solutions. The PureRide™ suite of solutions helps customers improve the usability and convenience of elevators and escalators as society moves toward creating a more comfortable, resilient, and user-friendly transportation environment.
Included in PureRide™ Vertical Transportation Solutions is the PureRide™ Touchless Control System, a simple, no-touch display that allows users to call an elevator from the lobby and designate a destination floor in the car by simply placing their hand or finger over a sensor. The panels feature an LED 'halo' that centralizes the sensor's target and provides users feedback regarding their hand position. The halo illuminates to indicate to the passenger that the call has been registered.
The PureRide™ suite also includes the Touch Free Smartphone Elevator Call System— a smartphone application that works with destination dispatch systems and buildings' access control systems to allow passengers to summon a car from their phone while inside the building. The application displays both the assigned elevator as well as its current status. It also sends an alert to the passenger as the car approaches, resulting in less crowded waiting areas and improved rider comfort.
$1 billion acquisition
Autodesk, Inc. has signed a definitive agreement to acquire Portland, Oregon-based Innovyze, Inc., a global leader in water infrastructure software, for $1 billion net of cash subject to working capital and tax closing adjustments. The acquisition positions Autodesk as a technology leader in end-to-end water infrastructure solutions from design to operations, accelerates Autodesk's digital twin strategy, and creates a clearer path to a more sustainable and digitised water industry.
"We can achieve a more sustainable planet, but we can't do it without responsibly managing our use of water and securing its future," said Andrew Anagnost, Autodesk president and CEO. "An estimated $1.9 trillion is required to address global water infrastructure needs by 2030, and by fundamentally changing the way systems are designed, constructed, and operated, we are best positioned to overcome this challenge and realize the better world we've imagined."
Boston development
BioMed Realty has acquired an existing 162,000 square foot office building and adjacent 7.5 acre site at Assembly Square in Somerville, Massachusetts. The Assembly Square campus will be developed in phases and represents a total of 1.3 million square feet of best-in-class, purpose-built innovation space for research, technology, and life science tenants.
"Our vision for the Assembly Square location is to create a premier innovation campus where science and technology intersects," said Sal Zinno, Vice President with BioMed Realty. "With close proximity to downtown Boston, the airport, a major interstate highway, public transit and adjacent amenities including restaurants, entertainment and new retail, it's an ideal location and size for a large life science company to establish a prominent headquarters."
Top flight projects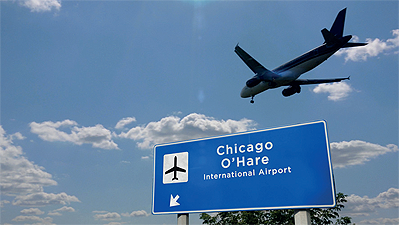 The U.S. Department of Transportation has announced three grants for infrastructure projects through the Federal Aviation Administration (FAA) FY2021 Airport Improvement Program. The grants, the first of approximately $3.2 billion in funding available through this program annually, will provide a total of $76 million to Chicago O'Hare International, Dallas-Fort Worth International and Fort Lauderdale/Hollywood International Airports.
"Modernizing our nation's infrastructure is a top priority for President Biden's economic agenda, and the Airport Improvement Program allows airports nationwide to upgrade and improve the safety of their facilities," said U.S. Secretary of Transportation Pete Buttigieg. "These improvements – at some of our nation's busiest airports – will serve our communities and the traveling public as we start to build our country back better."
"Each airport project provides a benefit to the National Airspace System through safety and capacity enhancement," added FAA Administrator Steve Dickson. "As a former airline pilot, I can attest first hand that the traveling public are best served when the system handles demand without unnecessary delays."
Sustainability goals achieved

Multinational construction consultancy firm, Linesight, has completed and launched two data center projects with leading North American provider, NTT Global Data Centers Americas, Inc. Linesight provided cost management services on the two projects, located in Hillsboro, Oregon and Chicago, Illinois. Both projects represent groundbreaking work to meet ambitious sustainability goals, with renewable energy packages being offered to clients to support their own green initiatives. The Hillsboro location is also the only data center to be certified at level three by Cleaner Air Oregon.
"NTT continues to innovate with designs that deliver up to 100 per cent availability with highly flexible power configurations to meet the ever-evolving, in-demand needs of this industry. This makes them a really exciting partner for Linesight to work with on their many groundbreaking projects," said Alan Dowling, Commercial Manager at Linesight.
Ground-breaking solution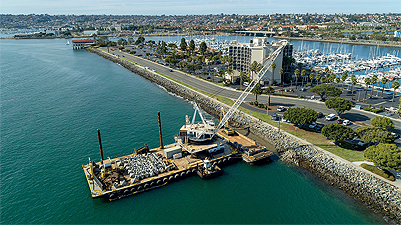 The Port of San Diego and ECOncrete®, an eco-engineering company, have launched a three-year pilot project on Harbor Island to demonstrate an innovative new design of ECOncrete's award-winning interlocking COASTALOCK Tide Pool Armor. Approved by the Board of Port Commissioners last year, the pilot project is part of the Port's unique Blue Economy Incubator, a launching pad for sustainable aquaculture and Port-related blue technology ventures that provides early-stage entrepreneurs with key assets and support services focused on pilot project facilitation.
Harbor Island is currently protected from storm flooding and erosion by a riprap rock mound, offering very limited habitat value. As part of the pilot project at the Port, the first COASTALOCK installation anywhere in the world will secure Harbor Island's shoreline with 72 interlocking armor units to provide environmentally sensitive edge protection. Requiring minimal maintenance, the interlocking armor provides structural, ecological and community engagement benefits, including the promotion of marine organisms and restoration of local ecosystems. Every six months after installation, ECOncrete will evaluate the viability of the tide pool units as an ecological armoring replacement to traditional riprap.
ECOncrete has developed a variety of technologies for the eco-engineering of urban, coastal and marine infrastructure, providing high-performance, environmentally sensitive concrete solutions for ever-growing climate change threats such as rising sea-levels and superstorms.
"ECOncrete is excited to launch the first installation of COASTALOCK here in the Port of San Diego. This Blue Economy pilot is proving that the coastal and marine construction industry can achieve two goals at once: any concrete infrastructure going into the water can perform structurally and be good for ecosystems," said Dr. Shimrit Perkol-Finkel, Co-founder and CEO, ECOncrete. "COASTALOCK is a fully load bearing, durable solution that changes the form and function of our developed coastlines – making them stronger, able to store carbon, while rejuvenating the precious coastal ecosystems, and inviting the local community to engage with their waterfront."