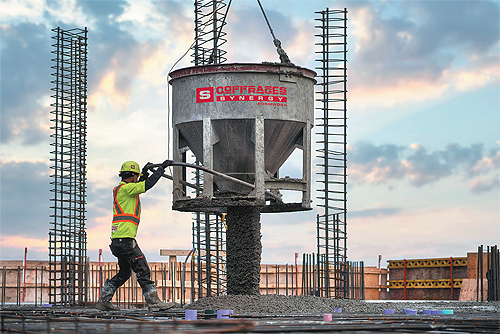 Coffrages Synergy Formwork
In fine form
Led by visionary President and CEO Isabelle Côte, Coffrages Synergy Formwork has become an award-winning construction firm with a proud culture and remarkable track record of success
Offering the most complete, leading-edge solutions in the formwork industry, Coffrages Synergy Formwork is a construction firm powered by people. Founded in Quebec, Canada, in 2000, the company grew quickly thanks to the dedication of its workforce, so that today, it operates as the largest formwork construction business in eastern Canada. Now, with 1200 employees furthering the company's reputation across Ottawa, Montreal and Quebec each day,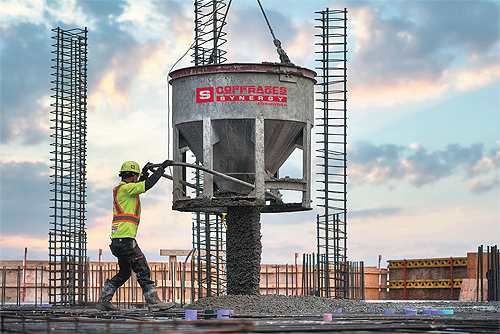 President and CEO Isabelle Côte attributes the ongoing success to the growing Coffrages Synergy Family.
"The achievements of this company are a direct result of our focus on employees," Isabelle declares. "We focus on their wellbeing, ensure they have high-end equipment and enable them with the best technologies to carry out their day-to-day work.
"Formwork is a really hard part of the construction business, so we make sure our teams are well-trained because an employee that knows what they are doing will not only give us better quality, but be safer and happier in their work. We want all our employees to be happy and enjoy what they do. Synergy is like a big family. It's important that our people feel part of something bigger. That's been a key part of our success over the last two decades."
With more than 6,500 projects to its name across the commercial and institutional, industrial, and civil sectors, Synergy's personalized formwork solutions have helped the company build a reputation as one of Canada's leading construction firms. Operating from two million square feet of land, including a 24-hour, 50,000 square foot prefabrication plant, the company is capable of working on multiple major-scale formwork projects and can supply material for up to 70 sites daily. Focusing on large developments requiring extensive equipment – one current project utilizes eleven tower cranes – Synergy's illustrious project history includes work at Aeroport International Pierre-Elliott Trudeau, Marriott Courtyard Brossard, and Nouvelle Maison Radio-Canada.
"Specializing in high-rise buildings, we are currently in three different areas for formwork projects, but we are also looking at new segments in Canada," Isabelle explains. "Upcoming diversification will see us work more and more as a general contractor with public industry entities, such as businesses, schools, hospitals and construction organizations. This will be an important avenue for the business in the next few years."
People first
Always in high demand, Synergy is set to continue work on a number of exciting projects in 2021, including a long-term development for Hospital Complex Enfant-Jésus in Québec City, which involves the construction of a critical care building. Other recent projects have seen the firm construct projects in Maestria in Montreal, where it has built two towers – one 58 stories tall and the other 61 stories tall – connected by the highest suspended skybridge ever built in Quebec as part of a residential project, as well The Columbia in Hull, which is a 20-story building made up of 226 units.
As evidenced by these developments, Synergy's popularity continues in 2021 – a fact that has not gone unnoticed by the wider industry. For example, at the end of 2020, the company was twice honored at the annual Mercuriades Awards, taking home one award for its Training and Workforce and one award for the firm's Exceptional Women. As a trailblazer herself, Isabelle believes that Synergy's commitment to putting employees first – and the support the firm offers women in particular – remains a key industry differentiator.
"Sometimes, at male-led businesses, the focus is more on financial results, but at Synergy we are having great results because we put people first and I think that tends to be a more female way of thinking," Isabelle proclaims. "We've hired a lot of women over the years. Our Human Resources Vice President is a woman, as is our Estimation Director, and we have many female project managers and women onsite.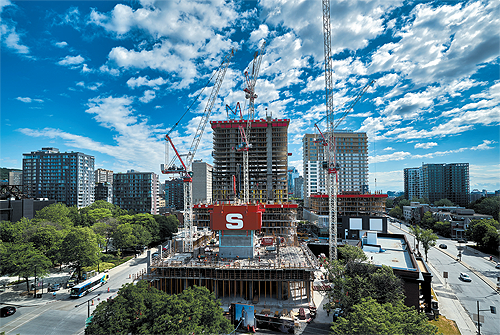 "Today, Synergy employs way more than the average number of women for a construction company in Canada, but the reasoning behind that is not political, rather, we have always just wanted to be an open organization and focus on hiring people that can help us as a business – whether they are male or female. That open mindedness gives a balance to the company; it helps to bring new ideas into construction and presents us with new perspectives.
"As a female leader in the construction world, I believe it is now my duty to provoke these changes, not only in this business, but across the whole sector," Isabelle adds. "In general, I think that things are starting to change. As the construction industry becomes more open-minded, opportunities for women are growing, which helps to benefit the sector as a whole."
Heritage & standing
Powerful and deeply pervasive, the company culture Isabelle has established at Synergy is built upon five pillars of success: Health and Safety, Quality, Partnership, Team Spirit and Efficiency. Known as the 'Synergy DNA', these principles make for a workforce that values the importance of community – both inside and outside the workplace.
"Our corporate culture is based on human values. We achieve our goals as a team and that is the strength of the company," Isabelle says. "Synergy believes that the key to success lies in the desire to give the best of oneself, which ensures a continuously higher level of efficiency. Our members are professionals in the field who possess the same values and objectives that make up our DNA. The Synergy family continues to convey a positive message to community organizations by participating in events of all kinds to help them carry out their projects.
"At the core of it, our employees are people who care and who give their time generously to the benefit causes, mainly related to youth. Synergy also raises funds annually for the benefit of the Cancer Research Society and the Multiple Sclerosis Society of Canada. Our company is largely socially involved and can also count on the support of a large network of partners and generous contributors."
One example of Synergy's commitment to social involvement and community initiatives is its participation in the Toucher le Sommet challenge, an annual ten-week process aimed at promoting perseverance among young people aged 12 to 24 facing various social or academic difficulties. Synergy are multi-year attendees at the event, which usually includes several gatherings and activities, and culminates in participants climbing a mountain that reflects their journey. Similar causes that have received Synergy's support over the years include La Passerelle Project, mentoring initiatives with the Quebec Association of Construction Companies, and Les Elles de la Construction. Synergy is also a major partner of the 'Souper des bâtisseurs' to benefit Le 2159, an organization that works with at-risk youth to prevent and address homelessness, delinquency and sexual exploitation. The 2019 edition raised over $253,000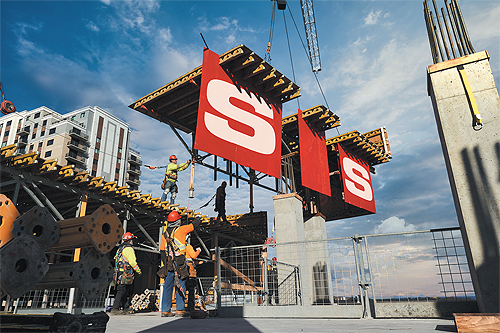 and despite the Covid-19 situation, Synergy and its partners were able to raise the sum of $175,000 in 2020.
Understandably, a sense of pride filters through the entire organization at Synergy. The company's heritage and standing in local society is such that, even when they are not on duty, many employees wear clothing bearing the company's logo.
"We have a big marketing team who takes care of branding at Synergy, which is really important as a way of showing the world who we are and what we are about," Isabelle reports. "Strong branding helps our workforce feel part of something bigger than just their daily tasks. Everybody on the job site dresses the same way, which facilitates teamwork, togetherness and belonging. It can be hard to find skilled employees in Canada right now, so the more attractive we can make the business, the better chance we have in bringing in great talent."
In line with its modern approach to business, Synergy employs a number of developers to help with the delivery of the Synergy App. Designed for use on smart phones, the app acts as a one-stop-shop for employee needs, providing staff with company updates, training videos, tips and tricks, messages from the CEO, as well as a host of similar activities.
"The Synergy App gives our people the opportunity to watch short, important videos whenever they want – on their lunch break, at night or over the weekend," Isabelle states. "We decided to design the app to be like a social media channel, so we regularly post things like birthdays and other occasions, plus, when employees watch videos, we credit them with Synergy points, which they can then use in our store for the purchase of new clothes for themselves, their kids or their partners, as well as umbrellas, home products and a variety of similar branded gear.
"As you can see, the app helps us stay connected across the organization," Isabelle continues. "Nowadays, people are on their phones all time and our employees are no different, so it's win-win situation for everyone. Instead of sending emails that never get seen, we can take messages directly to our team members in a method they prefer.
"The app proved particularly useful during the Covid-19 pandemic, when gathering all our people together in the same room for training or updates became impossible. It's very useful technology and we are confident that it will remain a vital resource for us in the future. The app is just another example of how we react and adapt to changing times, develop new strategies, put those strategies in place and then gain results."
With a backlog of more than two years of work in front of it, Synergy hopes to spend the next 24 months improving its service and firming up its long-term vision before it actively searches for new projects. Having always excelled on the client relations side of the business, Synergy's gratitude towards its customers has only been reaffirmed by the Covid-19 pandemic. Isabelle and her team are now looking forward to repaying the faith that Synergy customers placed in the business throughout the Covid crisis.
Lauded reputation
"We have the pleasure of working with people we really like and love," Isabelle asserts. "I am thinking about the clients, the suppliers, and everybody that gravitates towards Synergy. It's not just our employees that we want to keep happy, but everyone else we work with. Consequently, we focus a lot on the families of our employees and clients to make sure they are happy. Making sure that everyone who comes into contact with us is content is very important to us because it makes for a happy business in general. This is the main focus for us over the next year."
As a widely respected expert in its field, Synergy hopes to take its formwork capabilities to new regions and industries in the next three to five years, as well as adding to its work as a general contractor. Unsurprisingly, as a business with such a lauded reputation, demand for Synergy's services across the next decade will not be in short supply.
"There are a lot of new projects heading our way," Isabelle reveals. "We're well set up for positive years ahead, and with Covid-19 behind us, I think we have a lot to look forward to. We have a detailed, well-built strategy in place and it's going to help accelerate our success. There's a lot of demand out there and, importantly, we have a crew able to handle it. It still makes me so proud to see our people working together so perfectly as a whole and it's a great sign for our future. When I think about the next five years at Synergy, it makes me smile. It's going to be great."
Coffrages Synergy Formwork
www.coffragessynergy.ca/en/
Services: Construction firm specializing in formwork