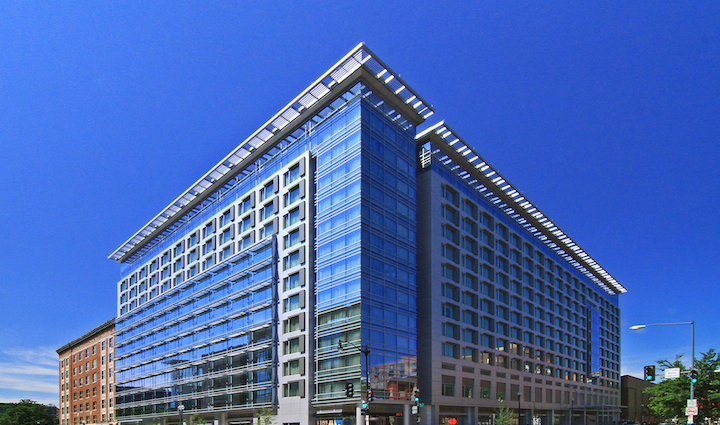 Hensel Phelps – Mid-Atlantic Region
Hensel Phelps aims to build long-term relationships with clients and trade partners.
When Hensel Phelps takes on a project, it takes a long-term view. "We're not just in it to build one job," Sarah Forrest declares. "We're in it for repeat business."
This philosophy has paid off for the construction, development and facilities service company. Today, "83 percent of the work across our company is for repeat clients," she reports.
Founder Hensel Phelps started his namesake company in 1937 and more than four decades later, it became an employee-owned firm. Forrest, who is the chief estimator for its Mid-Atlantic Region office in Tysons Corner, Va., says this has nurtured its long-term view towards business.
"It sets our corporate culture," she says, noting that this has had a positive impact on the way Hensel Phelps treats its own people as well as its trade partners. "We will make decisions based on long-term relationships."
Working Together
The Mid-Atlantic Region's project portfolio includes the Marriott Marquis Washington, DC. Built in 2014, the $373 million hotel spans 1.2 million square feet and features a 30,000-square-foot ballroom, a large interior atrium, and a below grade connection to a convention center.
"It's very unique for the Washington, D.C., market," she says, noting that it was the first top-down project that was built in the U.S. capital. Because the project was technically very complex, Hensel Phelps worked extensively with its trade partners.
"We had to invent new ways of doing things and work through constructability issues during construction," Forrest recalls. "This process built strong relationships we have been able to leverage on many projects going forward."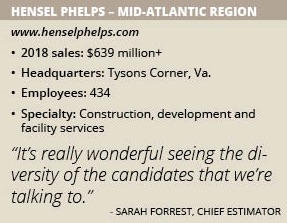 For example, Hensel Phelps worked closely with structural engineer Thornton Tomasetti and steel erector LPR on embedding three-inch thick steel plates in the project's slabs.
"We were all learning together to build the building in the most efficient and safest way possible," she recalls.
The final result brings her pride. "It's just amazing to me what we were able to do on this tiny little site, just by working together," Forrest says.
True Builders
When recruiting new employees, Hensel Phelps specializes in making them into true builders, Forrest says. "Many times, a large percent of the people we hire [are] directly out of college," she states.
The company will place those people in an entry level position on its jobsites. "When you work shoulder to shoulder with our craftsmen and women, you understand at the most basic level of how a project has been built," she says.
This is a different approach than some of Hensel Phelps' competitors take. "Some of our peers will bring people in at an assistant project manager level straight out of college," she says. "What you're missing is how the pieces and parts of that building go together."
Forrest herself started in the field at the company, which gave her an understanding of how labor budgets work, the importance of craftspeople, and the company's policies and procedures. When Hensel Phelps meets with clients, "They're sitting down with a well-rounded construction individual," she says.
"They've completed that education and have the real-world, hands-on experience," Forrest says. "We're taking these people that are going to be our executives and giving them that strong foundation."
Essential Players
Hensel Phelps strongly values its subcontractors who often perform up to 85 percent of the work on its projects. "Without strong trade partners, we cannot do the things every client takes as a given – meeting schedules, budgets and sending people home safely at the end of the day," Forrest says.
But the company carefully evaluates the trade partners utilized. "We are always looking for people who are going to work together with us as a team," she says. "We're also looking for companies that share our same desire to solve issues and manage risk."
Hensel Phelps also wants them to work with it on finding issues in projects before they become major problems. "We're always looking for trade partners who are willing to invest that time upfront," Forrest says.
Growing Diversity
Forrest is a longtime veteran of Hensel Phelps. She started as as an intern in 1996, before joining it full time at the end of the year. Over the years, she has seen an increase of the presence of women.
When she graduated from Kansas State University, there were only three women in her class. "Now, depending on the candidates who are applying at Hensel Phelps, we can definitely recruit 50 percent men and women," Forrest says.
"There are so many women who are available to hire," she continues, noting that Hensel Phelps holds outreach events at multiple universities and colleges. "It's really wonderful seeing the diversity of the candidates that we're talking to."
Forrest sees a strong future for Hensel Phelps, which recently gained a new president and CEO, Mike Choutka. Under his leadership, "I see us continuing on the same trajectory that we always have," she says.
Hensel Phelps also plans to increase its share of building operations and maintenance work. "These buildings are becoming more and more complex," she says. "It takes engineers to operate and maintain the building, [as well as] understand all of the systems that are working together."