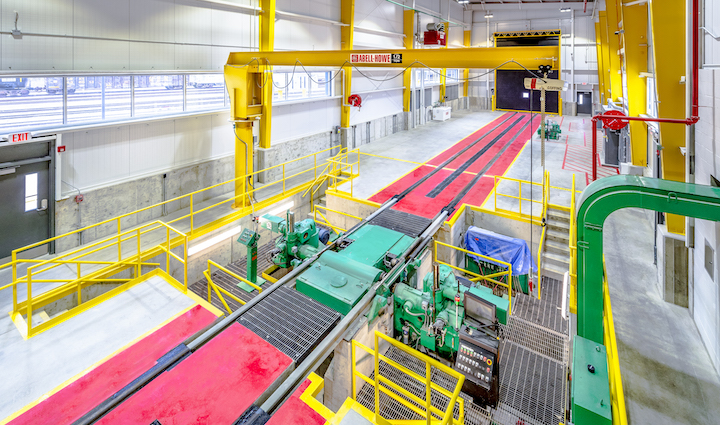 Dana B. Kenyon Company (DBK)
 Dana B. Kenyon Company is tackling new projects in the transportation and commercial markets.  
A national general contractor known for tackling challenging projects in both the private and public sectors, Dana B. Kenyon Company (DBK) has a number of new projects on the horizon.
The Jacksonville, Fla.-based company specializes in the industrial, commercial and transportation markets – including passenger and freight railroads, ports, automotive and aviation markets. It also has extensive experience in warehouse and distribution centers, maintenance facilities, financial institutions, memory care centers and healthcare facilities.
One of DBK's current projects is the renovation of a high-rise in downtown Jacksonville that will serve as the new headquarters for VyStar Credit Union – which will be known as VyStar Tower.
The current scope of the project consists of more than $16 million in renovations of the 23-story building and includes backup generators and fuel tanks in the neighboring parking garage. VyStar will move roughly 900 VyStar employees to downtown by the end of this year.
"VyStar is one of our legacy clients," says Joseph Bajalia, COO/EVP at DBK. "We have been doing work with them for about 20 years, completing between one to three new branches per year."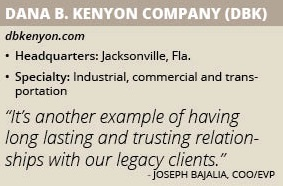 DBK started its partnership with VyStar in 2000, when it completed the credit union's Eagle Harbor and Arlington branches in Florida. The remodeling of the new headquarters will cover renovating roughly 200,000 square feet of space over 16 floors at the 358,278-square-foot tower. The project is one of two in downtown that DBK is contracting with VyStar this year.
"I think they appreciate the value we bring into a project," Bajalia says. "We will have another tower project for them in Jacksonville that we will begin work on in a few months. It's another example of having long lasting and trusting relationships with our legacy clients."
The other VyStar project, at 100 West Bay St., will consist of rehabbing an existing building – from the windows to the roof and everything in between. Construction on the 200,000-square-foot build-out is scheduled to start this summer, with a projected completion date in late 2020.
"We're still in the planning stages," Bajalia says. "We've only started with investigations and selective demolition. We're providing value added pre-construction services to help influence the design to be sure we meet the budget and finish the project on time."
The new building will house roughly 70,000 square feet of office space that will accommodate about 200 VyStar employees and retail space on the first floor.
Bread and Butter 
Although DBK is known for its work in the commercial arena, a large chunk of the company's services are dedicated to the public and private transportation facilities market.
"One of our primary markets has been rail facilities," Bajalia says. "We also have many legacy clients in that market."
One example is a CSX Locomotive Shop Expansion project that the company is currently tackling in Cincinnati, Ohio. DBK recently completed the first phase of the two-phase design/build project that includes renovations to the existing shop and a 25,400-square-foot addition.
The project, which started in May of last year, is nearly complete. "We had to maintain shop operations to perform repairs in that facility and keep it operational while we performed all the construction and we had to fast track this project," Bajalia says.
"We had a limited amount of time to get it designed, permitted and constructed," he continues. "Our vision is to develop and foster sustainable partnerships in growing industries where we are the preferred expert advisor to our clients. On this project, we demonstrated our ability to integrate all the specialized process equipment that goes into one of these shops and integrate it seamlessly without any conflict with the structure."
DBK also recently completed another rail project operated by the Florida Department of Transportation in Orlando. The SunRail Phase 2 Southern Expansion project consisted of building four new passenger rail stations, parking, bus loops and other site and landscaping work. On this project, DBK was a specialty subcontractor for one of its repeat client partners – Middlesex/Herzog Joint Venture (MSHJV).
SunRail's Southern Expansion included new stations at Meadow Woods in Orange County, the Tupperware Station, downtown Kissimmee Station and the Poinciana Station in Osceola County. Aside from building the new stations and platforms, the project also included double tracking most of the corridor and improving grade crossings. The two-year design/build project was completed in last year.
Intermodal Rail/Port Facilities
DBK recently completed an award-winning intermodal facility project in Florida and finished a similar one in Texas.
The Jaxport Intermodal Container Transfer Facility in Jacksonville, Fla., was a design/build project – a near dock, international shipping facility serving multiple shipping lines. The facility provides existing and future customers with enhanced intermodal connections, including direct access to CSX-owned rail lines and the U.S. Interstate System.
Plans called for the relocation of City of Jacksonville Dames Point Road, relocation and addition of CSX-owned tracks and the construction of a seven-track rail yard utilizing two wide-span diesel rubber tire gantry cranes with cast-in-place concrete crane ways.
"We had to design the facility for both train traffic and vehicular traffic," Bajalia says. "We had to plan and coordinate the movement and secure access of trains with trucks and other vehicles coming into the facility."
The new 40-acre Jaxport terminal allows for the direct transfer of containers between vessels and trains, speeds up the shipment process and reduce the number of trucks on the road. The rail that connects to CSX's main line allows for two unit trains each day (one inbound and one outbound) carrying up to 200 containers each.
Two truck lanes allow vehicles to transport containers to and from the adjacent shipping terminals. The U.S. Department of Transportation awarded Jaxport a $10 million grant toward the development of the facility and the State of Florida Department of Transportation allocated $20 million to fund the project.
The project won the ABC First Coast Chapter's Project of the Year Award from the Associated Builders and Contractors. It was awarded based on technical challenges and contribution to the people and community of North Florida which allows Jaxport to be more competitive in becoming a regional gateway for cargo destined for cities like, Atlanta, Memphis and Chicago.
DBK's other intermodal facility project was the Terminal Link Texas Empty Container Yard at Bayport in Houston, Texas. It's a new container yard for empty containers at the Port of Houston's Bayport Terminal, completed last year.
The project consisted of building the 25-acre empty container yard inside the Bayport Container Terminal. The project is part of a public-private partnership between Terminal Link Texas (TLT) and Port Houston.
The new container yard increased TLT's overall stacking capacity by as much as 80 percent. It also allows for increased container freight station activities and improved maintenance and repair operations, according to a press release.
Future Vision
Founded 1983, DBK prides itself on offering delivery methods that are tailored to meet its clients' needs –  including design-build, construction management and general contracting.
"At DBK, we are personally dedicated to delivering construction solutions that enable our clients to serve their customers and positively impact people and the community," Bajalia says. "The company's approach and services have proven to add considerable value during the early planning phases by integrating owners, designers and the construction team."
The company's website states that this approach has led to win-win solutions for its clients, which give it a high percentage of repeat business in its preferred markets.
"In the transportation facilities sector, I think we are considered top in our field," Bajalia says. "That includes site development and track and vertical construction. But we also have a legacy in health care with hospital renovations and senior living facilities."
In the future, DBK vision includes further focus on its identified niche markets in the transportation market and among its legacy clients throughout the U.S. – especially in Florida.
"The Jacksonville construction industry is coming back fast and furious," Bajalia says. "We have focused more on public sector work during the recession, but now we expect to get a lot more private industry work."
In transportation, that means more maintenance facilities, locomotive facilities rail car shops and passenger stations. In healthcare sector, that includes hospital renovations, memory care and medical office buildings. In other commercial sectors, that means distribution and warehouse facilities and financial facilities for its legacy clients and partners.