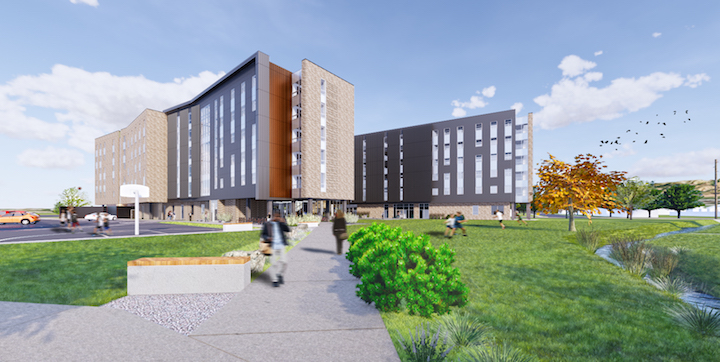 Jackson Contractor Group is building new student housing for Montana State University. 
A prominent general contractor based in Montana, Jackson Contractor Group is tackling a major construction project at Montana State University.
The firm – which specializes in general contracting, construction management and design/build services – is building a new $43 million student dormitory and parking lot for freshman.
The multi-phase project broke ground in spring of last year and is targeted for completion in fall 2020. The first phase, which is already complete, consisted of expanding the existing Bison Lot and building a new Antelope Lot with 407 spaces. The additional parking, along with spaces at the new residence hall, will net 133 additional spaces.
Phase two calls for building a new six-story, 150,000-square-foot dormitory residence hall that will house 510 beds. Aside from student housing units, the building will also feature a reception area with a fireplace, lounge area, community kitchen, laundry facilities and a multi-purpose conference room that will play host to a variety of summer programs and activities.
"Montana State has experienced phenomenal growth over the past few years so this will allow it to keep up with that growth," says Josh Troyer, superintendent at Jackson Contractor Group. "I think the design team has done a really great job of coming up with an innovative building that is going to last a long time and serve the students very well."
The building is being fashioned from post-tensioned concrete that is made by casting concrete that contains ducts through which tendons can be threaded.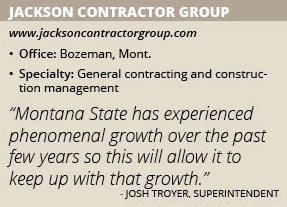 Instead of erecting beams, the post-tension cables are stretched through concrete slabs. This technique is generally common in high-rise structures and not really common in the Montana market – which presented a few challenges and required some research.
"Because it's a post-tension structure, there's a lot of mechanical coordination that needed to be contained within the slab," says Matthew Szczepanski, project manager at Jackson Contractor Group. "And we are on a pretty tight schedule."
This is not the first project that Jackson Contractor Group has completed for Montana State University. Aside from a few other smaller projects, it had previously built a resident hall for the university.
The company has also completed a few projects for the University of Montana in Missoula, including the Washington Grizzly Champion Center.
A Growing Company
Founded in 2000, the company was established by Doug Jackson who started it in a small warehouse with the loyal support of his family and dog, Maggie. But from the beginning, part of Doug Jackson's philosophy has been to recruit and retain construction professionals who want to practice their craft and grow with the company and its clients.
Today, Jackson Contractor Group has grown to become a prominent regional general contractor throughout a seven-state region including Montana, Washington, Oregon, Idaho, Wyoming, South Dakota and North Dakota.
To accommodate its growth, the company has opened three division offices. It has two offices in Montana: Miles City which opened in 2012 and Bozeman in 2013. In 2016, it opened another office in Walla Walla, Wash.
Jackson Contractor Group prides itself on being able to build projects of all shapes and sizes and in a variety of markets.
"The Montana market is pretty special," Troyer says. "You have to be in every sector. We do a lot of commercial but we do projects across every market. That includes civil, high-end residential, custom builds, multi-family developments, bridges and senior living facilities."
According to the company's website, it has worked on many fast-track design/build projects and delivered them faster and more efficiently.
"We've successfully completed numerous projects when the selection process was lump sum/low bid," the website states. "Most often, Jackson works in collaboration with the client and design team – prior to the construction phase – to confirm our clients are receiving the highest quality project, at the lowest cost within their schedule."
Troyer and Szczepanski both say that the company is very similar in size to its competition but that its employees and leadership team come from large national companies with years of industry experience.
"We are smaller company that offers the same services that bigger companies have," Troyer says. "But you don't have the additional overhead and we're able to be flexible. We can cut through the red tape and bureaucracy that a lot of the bigger companies have. We're able to make things happen faster and the highest levels of company leadership are actively involved on every project."
Jackson Contractor Group also prides itself on embracing new technology and innovations that improve and enhance the construction delivery process. The company says that its systems offer opportunities to maximize safety and quality, while minimizing schedule and costs.
The company also incorporates sustainable construction practices into all of its projects. According to its website, the company has completed 16 Leadership in Environmental and Energy Design (LEED) facilities; two of which are Platinum level; six are Gold level; two are Silver level and one certified. Three additional projects were built to LEED certification standards, but their owners chose not to register them with USGBC.