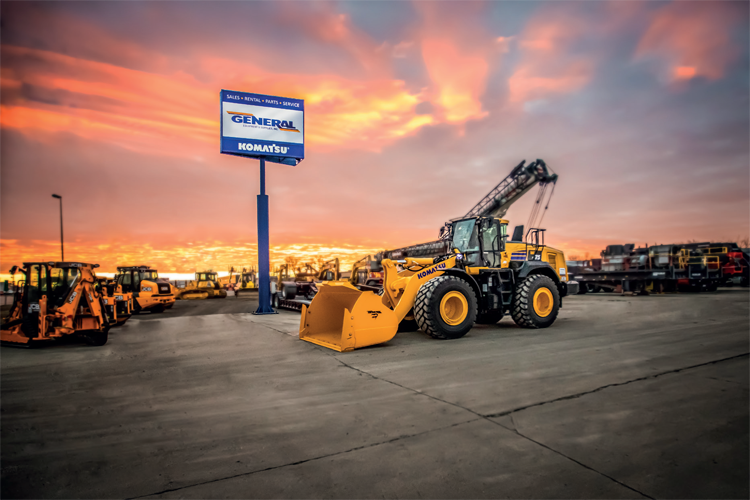 General Equipment & Supplies, Inc
Equipped to succeed
Working hard, being innovative and doing the right thing are just some of the core values that have propelled General Equipment & Supplies into being a leader in its field
Since it was established in 1984, General Equipment & Supplies has been on a mission to provide its customers within industries such as the construction, mining and oil exploration with the highest quality heavy construction and aggregate equipment available. Founded by four former employees of General Diesel and Equipment, the company has grown to the point where it now provides employment to more than 250 people across nine US locations, and two in Canada.
No stranger to the pages of Construction Today, the company was last spotlighted in the early months of 2020. Therefore, the first topic of conversation when speaking with President and CEO Jon Shilling in June 2021 is how he and his business have found the last 15 months or so. "It is perhaps an understatement to say it has been an incredibly strange period of time," he begins, referring of course to the fact that the last year and more have been defined globally by the Covid-19 pandemic.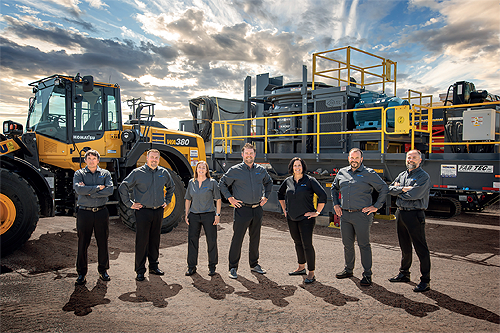 "We had actually just finished up attending the CONEXPO 2020 trade show in Las Vegas when things started to shut down in the US back in March 2020," Jon continues. "From there, we very quickly had to get as best an understanding as possible of how Covid-19 would impact us, and what rules we would need to follow across our various locations. We were considered an essential business, which allowed us to continue operating. As a precaution, we closed our front office right out of the gate for a few weeks, setting our people there up to work from home, and we made sure to get PPE and other important assets as fast as we could.
"We also devised detailed cleaning and maintenance programs for our sites and for our employees to follow, and I must say it was our people who really stepped up to the plate throughout the pandemic. Not once did I hear from anyone complaining about what we were asking them to do, and collectively they all made every effort imaginable to ensure that we were able to continue to take care of our customers."
Speaking of General Equipment & Supplies' customers, the company also enacted several programs to provide them with additional support and peace-of-mind. "For starters, we immediately offered a 90-day deferment of payment with zero interest on all orders," Jon reveals. "We also dropped all of our mileage charges for all outside service calls that our technicians responded to. Aligned to this, we have offered even greater flexibility regarding the time our people arrive at other's sites and how long for, so as to minimize unnecessary contact, while at the same time maintaining strict cleaning and sanitizing routines."
Due to a combination of the company's aforementioned actions, as well as the fact that for the vast majority of its customers work continued throughout 2020 in one form or another, the last year as a whole was a generally steady one for General Equipment & Supplies. "Overall, the year went well from a financial perspective," Jon confirms. "While revenues were understandably down on previous years, our ability to manage our expenses and work efficiently meant that we were able to remain profitable at the end of the day."
Not a business to ever sit still, General Equipment & Supplies has also continued to expand its footprint. "One location where we are currently looking to grow is in Rapid City, South Dakota," Jon explains. "We have identified a new location on land that we intend to purchase in due course, before going through the various formalities needed to commence building and parking equipment there. We have also begun the process of hiring various support reps and technicians, as well as dedicated salespeople for that site.
"Meanwhile, we continue to expand upon our presence in Duluth, Minnesota. Up until now, we have just had a holding area for equipment at this location, but we are now carrying out the pre-construction work necessary to build a new branch location facility here, which we hope to have open by the Spring of 2022."
A further important recent development worth noting is that, in May 2021, it was announced that the company had agreed to represent the equipment lines of both CBI and Terex Ecotec in the states of North Dakota, South Dakota, Minnesota, and Iowa. "These two new lines mark important new additions to our product portfolio, giving us other product Teamareas from which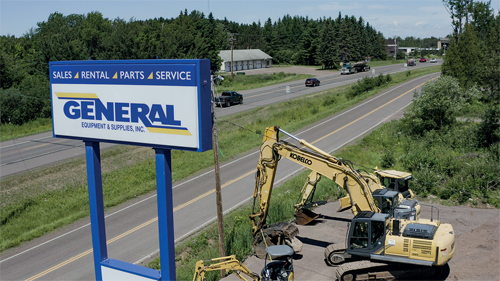 we can serve our customers, and do so in the manner that they have come to expect from General Equipment & Supplies," Jon enthuses. "Securing such agreements also ensures that our customers can rest assured that when they contact us that they will have access to the very best products available for the jobs that they are about to undertake. It also further cements General Equipment & Supplies status as a one-stop-shop turnkey solution for our customers."
Driving the success of the business behind the scenes, there is not only an entrepreneurial organizational system present, but also an imbedded company culture amongst its workforce. In the case of the former, ever since Jon took over the position of President in 2017, he has sought to apply the thinking of Gino Wickman, as detailed in his 2007 book Traction: Get a Grip on Your Business. "Traction is a practical book that promotes a unique management process that has proven to be extremely helpful and important to us in recent years," Jon states. "We have implemented a number of the ideas and teachings discussed within the book across the business. For instance, we have applied certain thinking to the way in which we run our meetings, and this has proven integral in making them more efficient, which in turn has meant that any issues that arise from them are resolved in a timely fashion."
Another significant area covered within the book centers on the ideas of core values and culture, and General Equipment & Supplies has appropriately also channelled significant efforts into this part of its operations, led by its Director of Workforce Development, Ann Pollert. "Ann has very much been what I like to refer to as our 'culture champion'," Jon says. "It is she who has taken responsibility for making sure that all of our employees, both existing and new, are fully on-board with the culture that we have strived to create here at General Equipment & Supplies. For new starters especially, it helps that they have an immediate understanding of the core values of the business and that they are able to buy into these quickly, so as to best determine if they are a good fit for us, and vice versa."
Ann goes on to add: "The importance of a strong company culture is something that we have always been aware of, and this is now boosted by every senior member of the team taking a more active role in making sure that General Equipment & Supplies is a company that people want to work for. This singular effort has definitely contributed to our success, and we will continue to involve and reward our people and their families as we grow in the months and years to come."
Reflecting on the year to date, Jon tells us that the first half of 2021 has been an extremely busy period of time for the company. While this is obviously a very good thing, it has also resulted in some supply chain challenges for the sector, with parts and equipment availability being the biggest obstacle to overcome. "Fortunately, being a pretty high stocking dealer with our fair share of inventory – especially on the aggregate side – we have been able to maintain our ability to have the right equipment available to our customers at the right time, in spite of higher than usual levels of demand."
Jon anticipates this pattern continuing through the second half of the year, while the industry as a whole shares a positive outlook for what 2022 has to hold as various markets correct themselves and rebound. For its part, General Equipment & Supplies is following what is a ten-year plan for achieving continued growth. This decade-long vision is in turn broken down further into three-year strategies, annual targets, and quarterly goals, which are constantly being evaluated and adapted where necessary.
"A big element of working towards achieving our ten-year plan is the ability to expand our existing inventory of products, especially in those areas where we see continued high demand," Jon declares. "As such, we will carry on putting all of our effort into growing our product offering across the board, which we believe will also help to further grow our customer base. Then, with said base, we must make certain that we take care of every single customer to the very best of our ability. Only by doing so can we continue to be their respective first choice to call upon for the aggregate or rolling stock construction equipment needs."
General Equipment & Supplies, Inc.
www.genequip.com
Products: Heavy construction and aggregate equipment