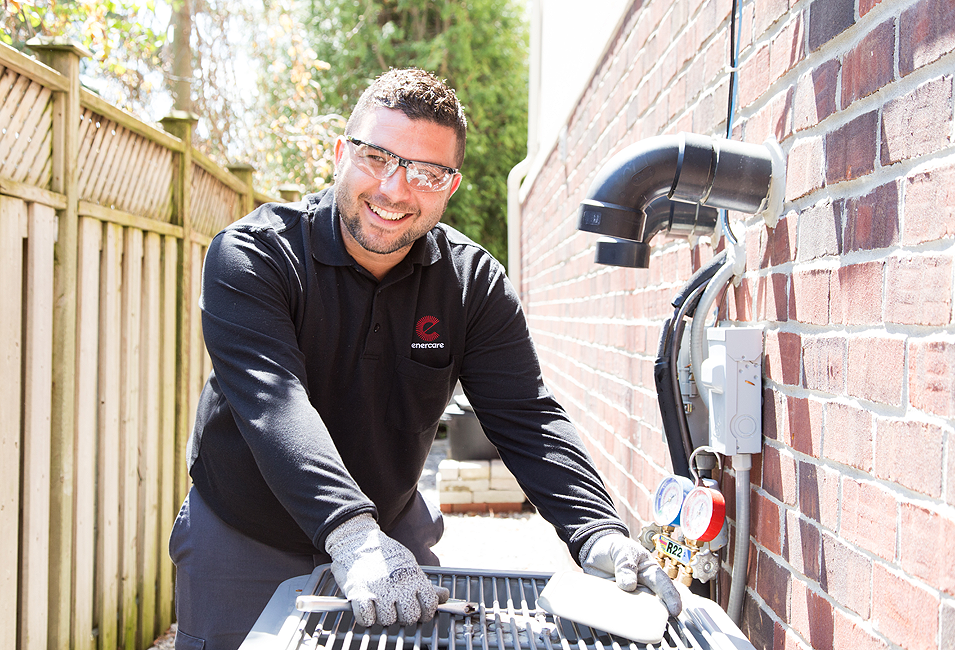 The builder's advantage
Enercare gives builders a smarter advantage with an innovative HVAC and water heater rental program that includes performance monitoring and smart technology.
How to cut costs and win customers with subscription-based home services
The housing market has undergone profound and rapid changes in recent years. Buyers are younger, home technologies are advancing and converging, and the impacts of the Covid-19 pandemic continue to be felt — especially when it comes to the availability and price of materials. As consumers embrace subscription-based services for everything from video streaming to music, builders have an opportunity to offer the same, delivering differentiated builds with smart HVAC services and cutting their capital costs at the same time.
The shift in buyer demographics has changed what consumers expect in a new home, according to Enercare Builder Division Vice President June Thomson. "Younger homebuyers expect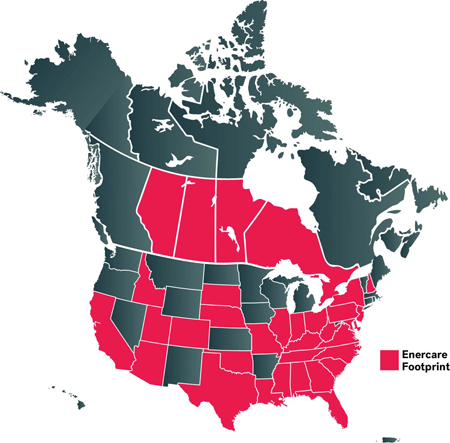 smart features and more technologically advanced equipment that can work together. It's what they're used to. If you can offer that as a builder, you're already ahead."
The features in question can range from energy efficient appliances and home systems to smart doorbells, light switches and power outlets. If there's a way to offer convenience and more control over a home, homebuyers will be all over it, Thomson says.
Energy-efficient homes aren't purely a consumer nice-to-have. In many jurisdictions, they're being mandated by new building codes. That puts many builders in the position of having to comply — and faced with questions about how to absorb the costs.
Why the subscription model appeals
Builders have always had to strike a balance between features and costs, but Covid-19 has made that more complicated. By disrupting supply chains all over the world, the pandemic has hit builders with higher expenses almost across the board. The price of lumber has jumped so much it can add $30,000 in material costs alone to a new build. Adding smart features on top of that increases the total bill.
Too high an increase and the price of a new home could make it unattainable for new buyers, especially in markets where housing prices are unprecedentedly high — and given Canadian banking regulators' new, more stringent financial 'stress test' for buyers seeking mortgages.
"With the new mortgage qualification requirements, a family who might have had $651,000 to work with before June 1, 2021, will now only qualify for $618,000," says Tim Myers, Director of Business Development and Relations. "They have less to work with, so builders have to figure out how to give them more value for less money. Our Enercare Smarter AdvantageTM program is basically tailor-made to help builders do that."
The Smarter Advantage offering helps builders attract buyers and control capital costs at the same time. It's an HVAC and water heater rental program with performance monitoring and smart technology built in. In some cases, Smarter Advantage can save the builder as much as $20,000 per build, helping keep the overall cost of the home down while giving buyers the features they want.
More features, lower costs
With Smarter Advantage, builders get the benefit of Enercare's expertise in mechanical system design, rental equipment installation, building code compliance and meeting consumers' energy-efficiency expectations, without having to buy the equipment outright. Homebuyers take on the rental agreement with Enercare when they move in and get the advantages of performance-built equipment, 24/7 HVAC performance monitoring for signs of trouble, and repair and maintenance coverage for the life of the equipment. The monitoring component allows homeowners to catch problems early — before they become severe — and gives instant access to solutions at the same time.
Smart technologies have operational benefits for builders as well — for instance, by allowing for fine-tuned humidity controls that help preserve hardwood floors and reduce after-sales repair calls.
"The program is a great sales tool because the homebuyer gets three years of free, smart home functionality and 24/7 HVAC performance monitoring," Myers explains. "That's three years of enjoying smart features at no cost, peace of mind knowing that their equipment is being looked after, and even sometimes getting a break on insurance thanks to things like water leak detection monitoring."
Streamlined and integrated for homeowner ease
While homebuyers can go out to building supply and home technology retailers and cobble together smart monitoring and control solutions themselves, the do-it-yourself approach can result in a large number of individual, specialized apps to learn, use and manage.
With Smarter Advantage, multiple pieces of smart home equipment are professionally installed and connected, controllable through a single, integrated application.
"Homeowners don't need to figure out complicated procedures or worry about integrating devices," says Myers. "We take care of all of that."

The solution can include everything from smart thermostats to water leak detectors — all linked to a central hub that gathers and routes the data from each piece of equipment. Homeowners can monitor the health of their HVAC system, adjust the temperature, get warnings about potential water leaks and more through one smartphone interface.
Enercare has seen growing interest among builders in the Smarter Advantage solution, many of whom say they see it as a competitive advantage in a fierce housing market. Some have told Enercare they've had 90 percent of their customers accept the smarter home service offerings — testament to the program's consumer appeal. One builder in southwestern Ontario was able to outfit more than 200 low-rise units and townhomes plus a pair of condo buildings with five pieces of smart HVAC/water equipment and saved millions in capital costs while appealing to the smart homebuyer market.
It all comes down to relationships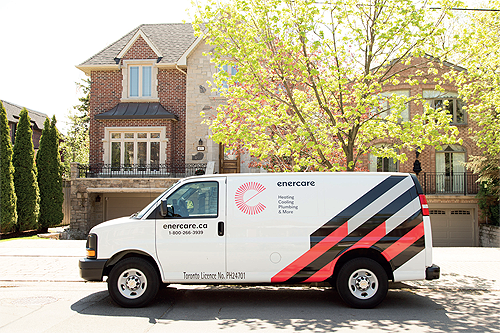 Enercare has been cultivating mutually beneficial relationships with builders across Canada for decades, with several territory managers maintaining relationships for more than 40 years. Enercare's Builder Division works with developers of single family homes, low-rise and mid-to high-rise multi-residential apartment building on the full range of HVAC systems and water heaters.
Having Enercare onside amounts to more than just a business partnership, says Thomson. "We've got a culture built on customer service and expertise, and an experienced team with the right supports. We treat our customers like we treat our family. We want every builder and homeowner to be happy and fulfilled. We're committed to providing the best day-to-day service, ensuring that our expertise reflects well on the builders who trust us with their homes."
With a team that brings some 250 years of combined technical experience in home systems, Enercare has extensive knowledge to help builders tailor their smart home offerings to what their local buyers want and need.
"Staying on the cutting edge can add up to significant capital costs," Thomson says. "Flexible programs like Smarter Advantage are our way of making it as easy and affordable for builders to compete — with smarter homes at a smarter price."
Enercare got its start in the mid-1800s as the Consumers' Gas Company of Toronto, established to light the city's street lamps. Fast forward to the mid-2010s, the company went through a period of acquisition to round out its offerings as a leading provider of HVAC repair, maintenance, new equipment sales and related residential and commercial services. Enercare's Builder Division is one of the largest home services providers in the residential new construction market in Ontario, and also serves Western Canada and parts of the United States. Overall, Enercare has 1.9 million customers across North America.
Enercare
www.enercare.ca
Services: Home services provider