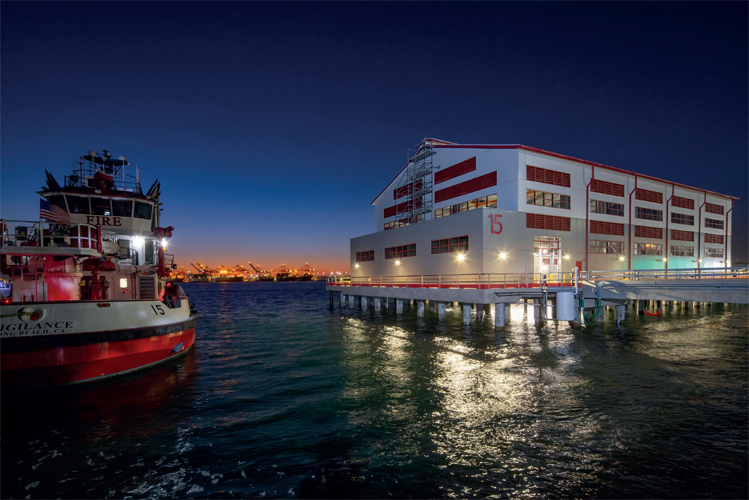 Construction centurions
With more than 100 years of experience behind it, Pinner Construction is leading the way to better building in Southern California
Since its founding in 1919, Pinner Construction has experienced sustained growth by providing quality services to the Southern California construction industry. Working across a number of key sectors – including education, life sciences and the civil sector – the company's design-build, construction management and best value construction services have led to the delivery of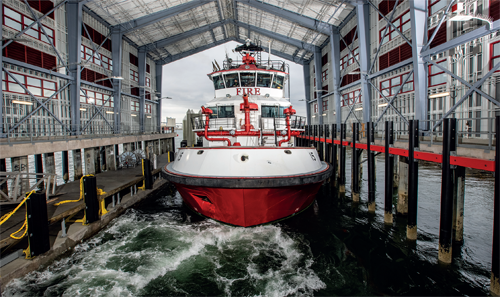 some of the region's most celebrated projects.
"We're fortunate to have achieved sustained success in serving and supporting clients in one of the most competitive regions in the country," declares Justin Davis, Pinner's President of Business Development. "Maintaining our success and fulfilling greater goals challenges the Pinner team to be dynamic and find new ways to differentiate ourselves. However, at our core, we're a team that values trust, partnership and collaboration. As we embark on our 102nd year, staying true to those values will continue to serve as our foundation for future success. Attention to detail and transparent communication, as well as always having the customer relationship in mind, are hallmarks of what we do and how we do it."
Earlier in 2021, Pinner completed its most recent major development – the Port of Long Beach Fireboat Station 15 project. Consisting of a 20,000-square-foot landside fire station and a 11,200-square-foot boat bay, the $40 million project is the first of its kind for the Port of Long Beach. Critically, thanks to Pinner's ability to personalize its work, the facility was specifically designed and constructed to last more than 50 years in the harsh harbor climate. A unique project in many ways, Fireboat Station 15 required all the company's expertise to complete it safely and on time.
"Working in construction is naturally accompanied by significant inherent risk, however, our responsibilities get even more precarious when constructing a 40-foot steel structure over water," Justin says, in reference to Fireboat Station 15. "As far as safety challenges go, our project had them all – from hydrographic surveying, to installing piles into the seafloor, to an interior temporary scaffolded platform extending out over the ocean.
"Our approach to ensuring the safety of our personnel, the public and marine life involved on-site planning and oversight by our management team, which included a full-time safety representative. We created a positive site-specific safety culture and process that was implemented by all team members throughout. Finally, we complied with the very unique requirements for waterway safety, vessel traffic coordination and the protection of marine life set forth by the USACE, USCG, Port of Long Beach and other regulatory agencies."
Pinner's diligence paid off. Not only did the Fireboat Station 15 project earn USGBC LEED Gold status, but it won the construction firm a contract for the $31.6 million Port of Long Beach Fireboat Station 20 project.
"We'd like to extend a big thank you to all our client, design and subcontracting partners on the successful completion of Fireboat Station 15 and we look forward to getting started on Fireboat Station 20," Justin reports. "The new project will involve the construction of a two-story fire station building, fireboat bay enclosure, floating dock, positioning and fender piles, retaining walls, emergency generator and additional site improvements. For this development, we are proud to, once again, be partnering with many small business enterprises and a workforce consisting of local community members and veterans."
Construction continues to be one of the fastest growing industries in Southern California and, as well as playing a key role in the sector's ongoing success, Pinner is determined to use its capabilities to serve local communities. An expert in providing high-performing critical infrastructure to the public, in April 2021, the company was honored to be selected for the construction of the $171.6 million San Pedro High School Comprehensive Modernization project.
"We are so excited to play a role in the economic recovery of Southern California by partnering with LAUSD, our subcontractors and the LPA design team on this shovel-ready project that will bring contract opportunities to local and small businesses, as well as jobs to local residents," Justin asserts.
"The endeavor to modernize San Pedro High School will bring new high-performance learning opportunities in state-of-the-art classrooms, culinary arts, science labs and specialized spaces for band, woodshop and many more programs. A new administrative wing, dining service and major modernization of historic buildings are also included. When completed, the campus will feature a new main entrance, outdoor learning spaces, new parking lots, tennis courts and sustainable landscaping.
"San Pedro has always been very near and dear to our hearts," Justin continues. "We take great pride in playing a large role in the development of this city through our completion of many public works projects."
In order to stay at the head of the market in Southern California, Pinner makes use of technological advancements in construction planning, coordination and delivery that have transformed the industry in recent years. Building Information Modeling, for example, is one such area of improvement, as Justin explains: "Pinner teams leading both project development and project delivery efforts have expanded our use of modeling to include more than just detailed system and element coordination. How we transparently and reliably communicate our information is a great way to influence efficiency in how we work.
"Through the use of laser scanning, we are now able to capture and integrate large amounts of existing condition data to better inform our designs, generate tighter estimates, and discover better logistic plans. Merging our construction schedules with coordinated, three-dimensional models improves our ability to illustrate how projects get delivered, and by identifying critical work and key relationships early, we avoid and mitigate schedule delay.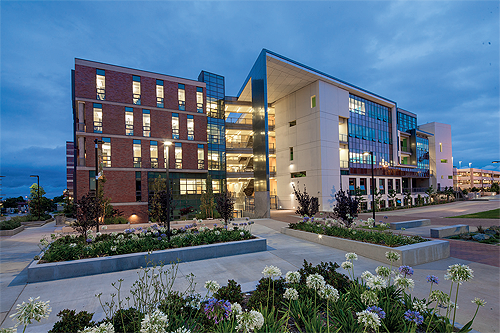 "The Covid-19 pandemic has required all industries to accelerate innovation with regard to processes and technologies," Justin adds. "It is important not to lose the momentum toward leveraging systems and technologies further developed over the past 14 months. Today, we are utilizing focus groups to ensure our team stays on track with regard to maximizing our efficiency, which also includes off-site fabrication practices and hybrid Last Planner System planning."
Strengthened by its technological proficiency, Pinner's work, as it has been for more than a century, is regularly recognized by partners, colleagues and industry professionals for its quality and innovation. In 2020 alone, the business ranked in the top 50 on various lists, including the LABJ Top Los Angeles County General Contractors, ENR Top Public Works Contractors, and the ENR Top Education Contractors.
"Humbling and fulfilling, the awards we have received are affirmations of the trust, support and commitment our teams and partners bestow on us," Justin remarks. "To celebrate those collective successes means a great deal to the entire Pinner team and emboldens our desire to achieve more.
"Our success stems from the strong foundation we have built over the many decades we have been in business: our people. Nothing we achieve is possible without the hard work, determination and sacrifice of the men and women who strive to do the right thing in everything they do. We are proud that our team is part of a larger family and feels they receive the support, guidance and rewards they deserve. We are on the right path and will never stop trying to provide the best possible experience."
As Justin suggests, people have played a vital role in establishing Pinner as a building staple in Southern California for more than 100 years. Named as one of the Orange County Business Journal (OCBJ)'s Best Places to Work in 2020 and 2021, the company attracts and retains some of the sector's most skilled and hard-working employees. The secret, Justin believes, lies in Pinner's well-established culture of care.
"When our employees were surveyed about our company culture, some of the most common words they used were: hard-working, collaborative, motivating and flexible," he reveals. "We attract people who want to be part of a team. Continuous improvement and what we do for each other keeps us connected and focused on delivering and having fun.
"As a means of ensuring that all our employees remain fully engaged, happy, and further their careers, we will continue to offer industry-leading benefits, training and opportunities for advancement. Our goal now, as a company, is to grow together by becoming more effective and efficient, and partnering on exciting and critical projects desired by our community."
Not wholly reserved for those within the organization, Pinner's culture benefits people across Los Angeles and Orange County – areas in which the company has donated to more than 15 different not-for-profit organizations over the last 12 months. Listed as one of the OCBJ's Companies That Care in 2020, Pinner is determined to continue making a positive difference to Southern California communities through both philanthropic initiatives and environmental leadership.
"As a builder in California, we are already constructing to a very environmentally friendly building code," Justin asserts, "however, all Pinner projects go beyond the code prerequisites with regard to energy efficiency, fossil fuel consumption, use of recycled materials, healthy building strategies, indoor air quality, and elimination of light pollution.
"The performance of our sustainability efforts is often measured through the LEED building certification process by the USGBC. Historically, our firm exceeds our clients' expectations with regard to the desired level of sustainability, and just recently, we achieved the highest rating – LEED Platinum – and were honored to be recognized for constructing the USGBC Project of the Year."
Benefiting from strong leadership throughout the Covid-19 pandemic, Pinner now hopes to accelerate its growth as government restrictions are relaxed and vaccination programs are rolled out across the globe. Excited to be an indispensable part of Southern California's rejuvenation, the company will continue to invest in its people, providing teams with the right training, the best tools, and high-quality internal infrastructure.
"We have achieved great success as a premier builder of educational and public facilities for the past 102 years, and that will not change going forward," Justin proclaims. "We aim to responsibly grow our firm by adding the right talent and building new relationships in markets that could benefit from our culture and core values. Most importantly, we will rely on the foundation established by those before us to continuously improve – delivering iconic projects and cherishing the accomplishments with the people we hold dear."
Pinner Construction
www.pinnerconstruction.com
Services: Design-build, design-bid-build, construction management and best value construction services