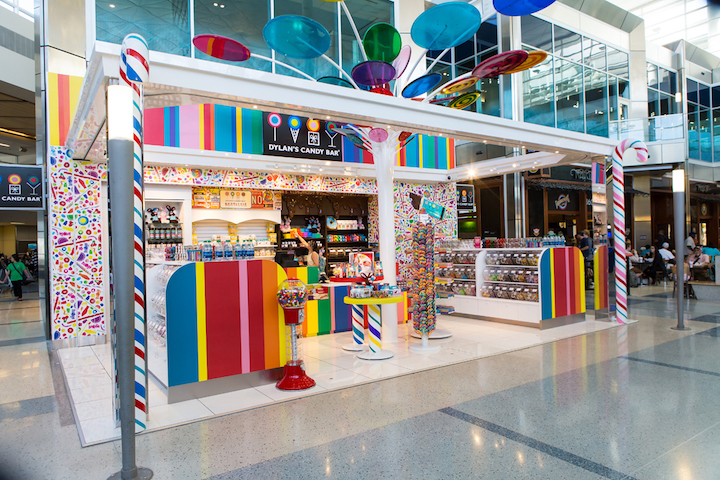 DFW International Airport Concessions Program
DFW International Airport is enhancing its concessions program as it renovates terminals.
Featuring one of the largest concession programs in North America, Dallas/Fort Worth International Airport is continually enhancing its 252,000 square feet of concession space.
Occupying five terminals – three of which have undergone a $2 billion renovation in the past two years – the airport's concession areas offer 72 dining concepts, 60 shopping concepts and 41 services concepts. They are operated through lease agreements between the airport and roughly 60 different private companies. "We constantly survey the customers to understand their preferences and tailor our food and beverage, retail and services to surprise and delight them," says Zenola Campbell, vice president of concessions.
The busy airport, which saw roughly 69 million passengers last year and expects more than 72 million this year, has plans to develop a sixth passenger terminal by 2025, according to a press release issued by DFW Airport and American Airlines in May.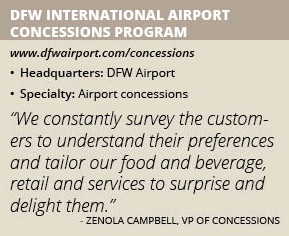 The release states that DFW Airport plans to invest between $3 to $3.5 billion for the construction of new Terminal F and improvements to Terminal C, where American Airlines already operates.DFW Airport info box
Aside from its size and the number of passengers it serves, the airport is known for its concessions program. It has won a number of awards over the years. That includes the 2018 Best Airport for Size and Region for customer satisfaction from the Airports Council International (in the more than 40 million passengers category).
"We really try to match the needs of our passengers with the kind of concepts that we bring in," Campbell says. "Based on the demographics of our passengers, we look to bring in experiences and food options to match."
Recently Renovated
DFW International already renovated three of its five existing terminals – Terminal A, Terminal B and Terminal E. In addition, it is nearly 90 percent complete with its international Terminal D concessions renewal plan.
With those renovations also came enhancements to the airport's concession program. "We wanted to refresh the concepts and bring in brands and options that the customer will be excited about," Campbell says.
Enhancements include a variety of new food and retail offerings. Terminal C is now home to a new Maggiano's Little Italy restaurant which features a classic Italian-American menu peppered with homemade pastas, signature salads, prime steaks, fresh fish, specialty desserts and a large selection of wines.
Another new addition to Terminal C is Pappadeaux Seafood Kitchen, which is known for its Louisiana-style dishes and seasonal creations featuring fresh fish. Pappadeaux is also in Terminal A. Shake Shack, Chick-fil-A, Chili's and a Pizza Hut with an adjoining full bar are other new additions to Terminal C.
Unique Offerings
When considering new tenants for its airport, DFW International seeks to find both well-known establishments that are popular with the general public like Applebee's, Wolfgang Puck's Italian Kitchen and Bar Louie, as well as some unique concepts.
For example, Terminal D is a new home for the Flying Saucer Draught Emporium, which is locally famous for offering a wide variety of imported and domestic quality craft beers, a full pub menu, entertainment and a UFO club.
"We try to maximize the space as much as we could and infuse entertainment with it," Campbell adds.
Other new and unique additions to Terminal D include Brewed and Shinsei. Brewed serves coffee drinks, craft brews and pub-style fare from a stylishly spacious cafe with a patio and fire pit. Shinsei is an acclaimed sushi bar and pan-Asian kitchen serving modern and innovative sushi like Hawaiian sashimi with hibiscus vinegar as well as hot dishes like fried rice, garlic pork pot stickers and Vietnamese shaken beef.
Aside from food concepts, Terminal D is also home to North America's largest duty-free shop that sells an assortment of fragrances, fine jewelry, high-end watches, leather goods and more. The duty-free shop, which occupies more than 17,300 square feet, features a mezzanine level that houses a lounge where visitors can enjoy samples of alcoholic beverages and occasionally chocolate.
"And we offer a variety of high-end shopping," Campbell says. "That includes Michael Kors, Coach, Kate Spade, Montblanc, Hugo Boss, Longchamp and Tumi.
Another unique concept – which is the first of its kind at an airport – is Gameway. Located in Terminal B and E, Gameway is the first airport entertainment lounge where visitors can lounge around in leather chairs while playing Xbox One with the newest games, 4K TV, noise-cancelling headphones.
"It's an innovative new concept that allows you to play video games while waiting for your flight," Campbell says. "Both of our locations opened last year and they have been very well received by our travelers."
New Grab program
Aside from dining and shopping, DFW Airport also works hard to offer its travelers the latest in modern technology. Three years ago, it rolled out its Grab program, a leading platform that connects travelers to airport restaurants.
It's a new and smarter way for travelers to pre-order their meals to avoid waiting. First, travelers download DFW Airport mobile app. Once they open it, they will see a list
of dining options available at the airport terminals. Participating establishments are marked with a green icon.
"About 60 to 70 percent of our restaurants are involved in the program," Campbell says. "You can get anything from Chick-fil-A to Maggiano's. Once you get close to the terminal, you can place your order 10- or 15-minute timeframe. They order and pay through the app and then can pick it up."
Customers are notified when their meal is ready via text. Turn-by-turn directions are also available to guide them to the restaurant they selected. "Grab is really starting to catch on," Campbell says. "And in Terminal C, we are testing an order and delivery program."
In addition, DFW Airport passengers can enjoy a multitude of amenities, including free high-speed Wi-Fi, enhanced cellular coverage, 31 ATMs, multiple free charging stations and eight premium lounges.