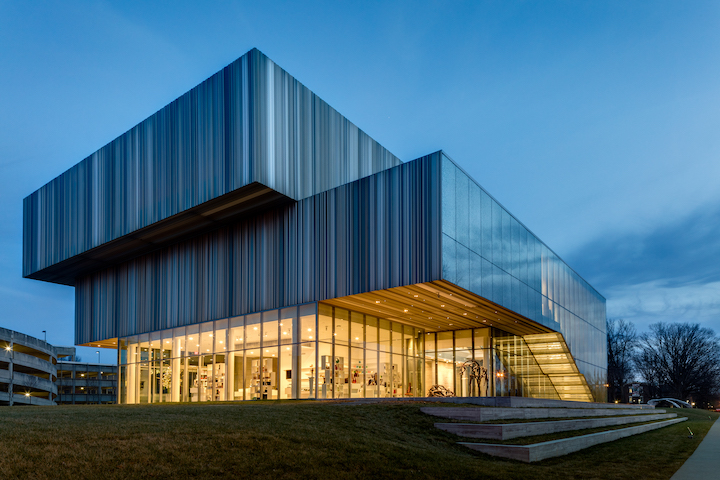 wHY is dedicated to designing unique spaces that are of value to diverse communities.
Having been instrumental in the creation of landmarks such as the Asian Art Museum in San Francisco, Ross Pavilion and Gardens in Scotland, the Speed Art Museum in Louisville, and the Harvard Art Museums in Cambridge, Massachusetts, wHY's projects demonstrate how this interdisciplinary design practice strives to bring culturally inspired works of architecture to communities around the world. By eschewing the traditional reliance on visually striking exteriors, wHY manages to provide its clients with something much deeper and longer lasting.
"As a firm, we definitely consider ourselves as young and different, and at the same time, our clients view us as a world-class leader in contemporary design," explains Andrija Stojic, who is wHY's New York office director. "We work with many big cultural institutions around the world, and we are dedicated to creating world-class buildings and experiences. We like to call projects 'playgrounds,' because they provide flexible new zones of activity for different users. Museums, for example, can host many different activities that have different goals, and our design strategies can help them become dynamic hubs of activity and events; this helps them engage the next generation of patrons."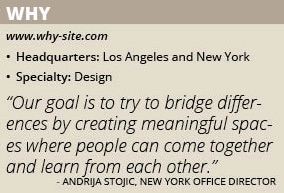 With offices in Los Angeles and New York, wHY is led by founder and Creative Director Kulapat Yantrasast. The team includes architects, landscape designers, makers and strategic thinkers who work in five independent and interconnected workshops: ideas, museums, buildings, grounds, and objects. Stojic notes the practice's dedication to diversity helps to drive what it delivers to clients.
"Our projects are diverse and unique because our staff are diverse and curious. We also engage outside collaborators, who each contribute with different ideas," Stojic says. "Clients don't come to us to give them a box. They may not know exactly what they are looking for, but they know the feel they want and who needs to use the building. Our engagement with them helps us to come up with a certain outcome. Our biggest value lies in our unique design process."
'Meaningful Spaces'
The Ross Pavilion and Gardens in Edinburgh was wHY's first major park design and first project in Europe. After an international competition, wHY was selected to lead an interdisciplinary team to design an integrated landmark pavilion, visitor center with café, outdoor performance spaces and improvements to the surrounding West Princes Street Gardens. wHY created a landscape master plan that transforms the gardens to connect people, the city and nature. The visitor center is embedded into a steep embankment in the park, and the pavilion was designed for indoor and outdoor performances, while also being integrated with the landscape via a green roof.
"This was an architectural and landscape collaboration that includes an outdoor concert venue," Stojic says. "We won the competition, and we did not propose to create a space-ship-like object in the park. Instead, we thought the landscape should drive the architecture, and we thought about how to connect the city with the gardens using the different programs they needed to contain. It also was important to consider the local climate and influences because a building has to belong to a place."
For the Asian Art Museum in San Francisco, all of wHY's workshops worked with museum staff and numerous city agencies to renovate, expand and redesign a historic public library from the 1890's into a model museum for the 21st century. The museum's collection of ancient and contemporary art from the Eastern hemisphere is currently earning renewed appreciation and value throughout the United States. However, its display and presentation of that collection, was being undermined by the lack of large, open, and contiguous exhibition. To improve the museum's capabilities, wHY designed a new 13,000-square-foot pavilion to sit on top of an existing street-level service wing. This new column free gallery space allows the museum to host an unrivaled range of rotating galleries and shows. The pavilion's exterior also creates a new façade and public face for this historic institution, one that's inspired by the original Beaux Arts architecture.
Above the pavilion sits a new outdoor art terrace with a contemporary sculpture gallery. The outdoor venue is another flexible space that allows the museum to showcase oversized works of art and host outdoor gatherings, movie screenings and dance performances. Custom benches double as art platforms or small stages, and a café offers movable tables and chairs for a variety of events. wHY notes the terrace is a link between the gallery wings and enables for more fluid movement throughout the museum, while also adding to the diverse spaces of Civic Center and acts as a gathering space.
All of wHY's workshops contributed to the renovation and expansion of the new Speed Art Museum in Louisville. Being Kentucky's oldest and largest art museum, wHY utilized its "Acupuncture Architecture" approach, which means making "careful and precise interventions at multiple points in order to heal the whole." The team modernized the original museum's grand stair while opening the building along its longitudinal axis, allowing natural light and views to penetrate the ground floor.
On the north side of the original building, wHY designed a 60,000-square-foot addition, formed by three stacked and shifted volumes, which are sheathed in fritted glass and folded aluminum panels. This doubles the museum's overall size and nearly triples the amount of exhibition space.
"We want to impact people by creating meaningful spaces," Stojic says. "We want to make people happy and we also want our spaces to get used. Empathy and understanding of each other is our future, and our goal is to try to bridge differences by creating inspiring spaces where people can come together and learn from each other.
"We want to continue to create meaningful playgrounds," he adds. "We try to work with our clients to see what their needs are and how those needs can get developed and shaped into spaces. That is the only way for architecture to be meaningful. Architecture needs to be both responsive to societal needs and make space for societal growth."