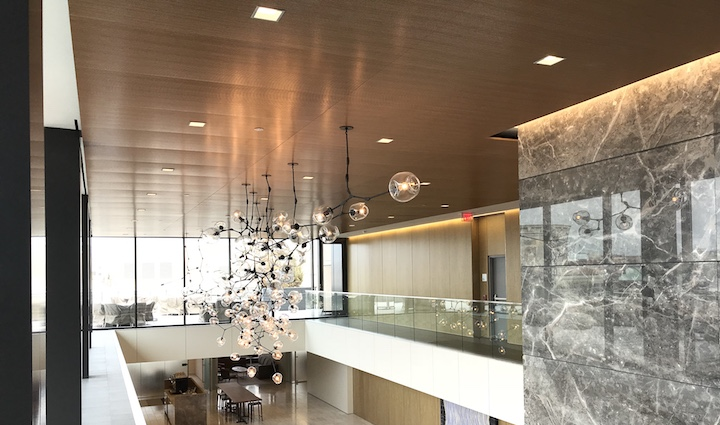 Capitol Drywall combines classic communication and the latest technology to stay competitive.
Karl Celtnieks got his start in the trades at an age when most of us are still learning to read. His dad, who was a carpenter and builder, decided that second grade was old enough to tag along to work with him in the summer. It wasn't exactly an ideal summer vacation but Celtnieks remembers those days well. "I would dig footers and do all the grunt work," he says. "It instilled a strong work ethic in me."
After high school, Celtnieks went to work for two drywall contractors and ended up meeting his future business partner, Dan Plante. Plante was an estimator and project manager while Celtnieks was in the field, framing and hanging drywall. They became friends and decided to forge out on their own.
That was in 1996. Over the years they created new divisions including Selective Demolition in 2002, Selective Hauling in 2004, Selective Wrecking & Abatement in 2009 and Potomac Surfaces in 2017.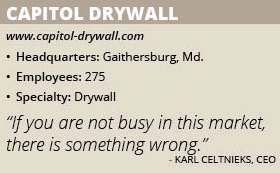 Plante and Celtnieks' first drywall jobs were on the small side, usually ranging around the $50,000 mark. They were successful though, and found their hard working and honest reputation continued to earn them more work.
In April 2008, Plante died in a motorcycle accident. Celtnieks went from managing the field to taking over the entire operation.
Today, Capitol Drywall creates and installs drywall systems, handles thermal and acoustic insulation, rough carpentry, door and hardware insulation and acoustical ceilings. The company mostly works for larger general contractors in Washington D.C., Maryland and the northern portion of Virginia. The average job ranges from $750,000 to $2 million the company performs many smaller jobs as well as large base building and tenant fit-outs in the $10 million range. In addition, Capitol Drywall has worked on data centers, apartments, condominiums, retail and other structures. "It has been extremely busy for us the last three to four years," Celtnieks says.
There is also a lot of competition compared to when he first started. "We would do a $30,000 or $40,000 project and there weren't a lot of other people really looking at it," he says. "Now, there are three, four or five bids on all project sizes. There are that many contractors – everybody is busy. If you are not busy in this market, there is something wrong."
Competitive Strategies
Capitol Drywall has not veered from the characteristics that made it successful early on. Celtnieks and his team engage in clear and direct communication. "This day and age, it's easier to send e-mails and texts than to pick up the phone and call someone," Celtnieks says. "But that takes the whole personal side out of it. It is very important to me to call people back and do what we say we are going to do. Whether it's what they want to hear or not what they want to hear, we have to communicate. It will only help us in the long run."
Celtnieks has learned about give and take, especially with regular customers. If there is a gray area on a job that is necessary but isn't in their scope, Celtnieks says they'll perform the work and submit the ticket. Then he adds "at the end of the job, [the client] wants to negotiate. If we have done our job and built a solid trusting relationship then that helps both sides when we sit down at that table. We always find a way to make it work."
Over the years, Capitol Drywall has incorporated technology to work more efficiently. About four years ago, the company invested in a biometric time clock system, where employees clock-in with a fingerprint and it networks with their accounting software. Celtnieks explains, "We used to turn in paper time sheets and it took the superintendents two hours on Monday to check them and then took the office manager two days to process everything," he says. "Since the biometric clock system, that has been reduced to four hours total. It also tracks it down to the second. If you work 40 hours and 2 minutes, then the 2 minutes overtime are paid."
Capitol Drywall also purchased a PanelMax Machine that allows the company to prefabricate specialized drywall panel shapes and ceiling tiles in-house.  "I don't think we save money in time and labor because of the extra manpower it requires, plus delivering the finished shapes and things like that," Celtnieks says. "Where it really helps us is by delivering a nearly perfect product, so we have a smaller punch list. The quality is amazing. We did one job with a bulkhead cantilevered out and a 1.5-inch profile on it. There was four miles of it on the job site. If we had done it [through a supply house], we would have been dealing with many pieces rather than one piece and we would see a bit of [unevenness]."
High-End Drywall
Safety on the job site is a priority for Capitol Drywall. The company has a safety director and three safety officers that visit job sites regularly to check ladders and scaffolding, make sure workers are wearing hard hats, safety glasses, gloves and outriggers and following procedures. Capitol Drywall recently implemented a rewards program. "If a safety officer sees someone doing something right, they get a medallion," Celtnieks says. "If they collect four medallions, they can turn it in for a $100 bonus."
The chief challenge facing Capitol Drywall is recruiting quality workers. "It's a constant battle," Celtnieks says. "We can't find enough people to work and then they are not qualified. We try to train them but even after training they still need to have that desire to work hard."
To help find new employees, Capitol Drywall participates in job fairs in high schools. "We are trying to recruit the younger generation and get them into the construction industry and let them know they can prosper," Celtnieks says. "It's tough getting that across to today's generation. I think we get a bad rap. Tradesmen make money – it's not just a job, it's a rewarding career."
Another challenge is regulation. "Some of the new laws in some jurisdictions pertain to how we use subcontractors," Celtnieks says. "The law states that if a subcontractor doesn't pay his employees properly, they can come after the general contractor for wages owed to the subcontractor."
Celtnieks is particularly pleased with a 600,000-square-foot project in an 11-story building constructed for a law firm in Washington D.C. The project was done in phases over 30 months.
"It was high-end," Celtnieks recalls. "We used a lot of drywall shapes on that project. All the office walls were glass and we made thousands of drywall caps [between glass and ceiling]. We did light-gauge framing on the roof for a rooftop patio. It turned out nice. They recommended us for another job in northern Virginia for the same law firm."
Overall, business has been steady since recovering from the recession of 2008. "I think we're going to be busy for the next one-and-a-half years," he says. "We're booking work now for 2020 and looking at work for 2021. If you would have told me in 1996 that our company would be performing such large jobs and doing as much work as we do now, I would not have believed it. I just went to work every day."
And 23 years later, that's exactly what Celtnieks continues to do.