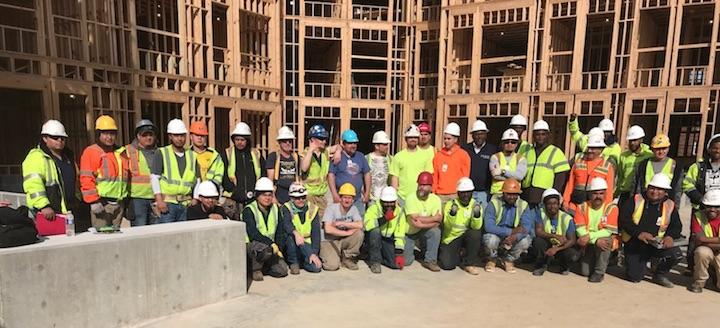 Cresent Construction aims to go national as it takes on projects – without the help of subcontractors.
Many builders rely on subcontractors to do the majority of the work on a project, but Cresent Construction LLC takes pride in being able do these tasks all on its own. "When you're dealing with us, you're dealing with those that are able to get the work done," owner and President John E. Seard Jr. declares.
Based in Washington, D.C., Cresent has the ability to take on the role of a developer, construction manager and general contractor, as well as provide design/build services. A longtime veteran of the construction industry, Seard notes that the company started operations in 2017.
"I'm a third-generation contractor," he says, explaining that he learned the business from his grandfather and father before Cresent was launched as the spinoff of another firm. "Cresent got started to seize opportunities that were presented to us through working with other companies."
The minority-owned contractor also was formed with the goal of providing tier-one services for multiple trades. "If you remember back 30 to 40 years ago, a builder was a company that was actually responsible for building everything," he recalls. "There was little to no subbing of work.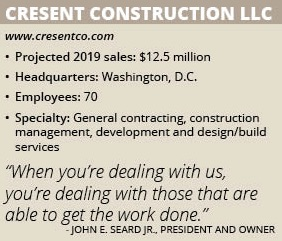 "That's what Cresent Construction is built on now: doing everything in-house," Seard says, noting that this approach fits in well with the current trends in the public and private sector, which are geared towards individuals doing and taking responsibility for the work.
It also provides potential clients with a more cost-effective solution "versus building in profit over a second- or third-tier contractor," he says. "Everyone is looking to have more for less. This not only gives us the ability to be very competitive, but it also gives us the ability to give what others are not – baseline accountability for performing the work."
Changing the Paradigm
Today, Cresent Construction serves clients on the East Coast, but has no plans to limit itself to that region. Currently, "We are looking at taking on projects in the Midwest," Seard says. "Our desire is to become a national company."
But the firm still has more growing to do first. "We are an emerging force," he says, adding that Cresent is still a modestly sized business. But it is one that is changing the paradigm of what a minority contractor can perform on a larger scale.
"Historically, the industry has unfortunately labeled minority contractors as one-trade subs that are not necessarily capable of handling such large tasks," he explains. "What we are doing successfully is we are demonstrating as contractors and subcontractors that the quality of an organization is in the skill set of its employees and individuals at the helm."
In addition to himself, Cresent employs associates with extensive industry expertise. "On average, our employees have over 10 years' experience," he says, but notes that the company is open to hiring those without a construction background. "We want individuals to know that we believe in them and we can teach them what they need to be experts."
Cresent has focused on hiring locally through this initiative. "[We're] making sure that we — as part of our local structure – are finding young individuals that are interested in being in the business," he says, adding that the company is willing to utilize them, even if it is for a summer or part-time job or through an apprenticeship program.
"That allows them to gain the necessary skill sets," he continues, adding that this not only contributes to Cresent Construction's operations, but also the construction industry itself. "If there any individuals that want to start their own business, we try to help them by promoting them to help them build their own dream.
"That proves to us that we are more than just a company looking to beef up their own bottom line," he states. "[We] put in the resources to grow out our internal infrastructure and give back to the industry."
First of Its Kind
Cresent is currently at work on a capital improvement project that consists of a mixed-use building in Ward 8 of Washington, D.C. When finished, it will feature 195 living units, as well as a grocery store.
"It would be the first building of its kind inside the Ward," Seard says, noting that it has earned funding through the federal and district governments. "It's a project that brings a great deal of value to the community."
Cresent Construction, he notes, is serving as a subcontractor on the project, but it also is providing a wide range of services, including framing, drywall, electrical and painting. Because it has the core capabilities, "We were able to take on a large portion," he says, noting that the building will be finished in late December.
Built to Last
Sustainability is a major focus for Cresent Construction. In years' past, Seard notes, builders often constructed buildings and cities that have a gothic look and stood the test of time.
Cresent Construction not only strives to repeat those builders' previous successes, but also build structures that have long shelf lives and last multiple generations. This allows the company's work to be sustainable "from the standpoint of the business," he says.
"We also make sure we're utilizing products and materials that are going to allow for the building to not just exist for its occupants but to become an intricate part of the community," Seard says. "It has to live and breathe."
The firm also makes sure that its buildings go beyond what others provide, "whether they be solar panels on the roof or reflective glass," he says. "We are making sure that the owners and managers of buildings understand that these are the things that the building is going to have associated with it."
Great Strides
Seard takes pride in the work environment he has helped create at Cresent. "It is a very pleasant atmosphere," he says, noting that its employees are aware that they have a voice in how the company operates. "They understand that we respect them."
Their decisions also can impact how Cresent operates as a whole. "We're a very inclusive organization," he says, adding that his employees are centered around the same goal. "We're driven to have a group of employees that enjoy what they do not just as technicians, but as producers of a fine product."
He sees a strong future for Cresent, particularly with the current attitudes in the marketplace. "What we're seeing now is more and more companies are no longer looking for and desiring the lowest bidder," he says. "They're recognizing that there is greater value in experience."
They are also recognizing the value in hiring contractors who understand the value of hiring those who understand the business aspects of the industry. "We're making great strides," he says, noting that Cresent Construction also will see an increase in competition that borrows the company's model.
"There's going to be individuals, especially in larger companies that are going to try and redefine themselves, take our business model and try and build upon it," he predicts. "There are also going to be a number of companies that are going to look at bringing on in-house capabilities to do several things outside of what would be easy."