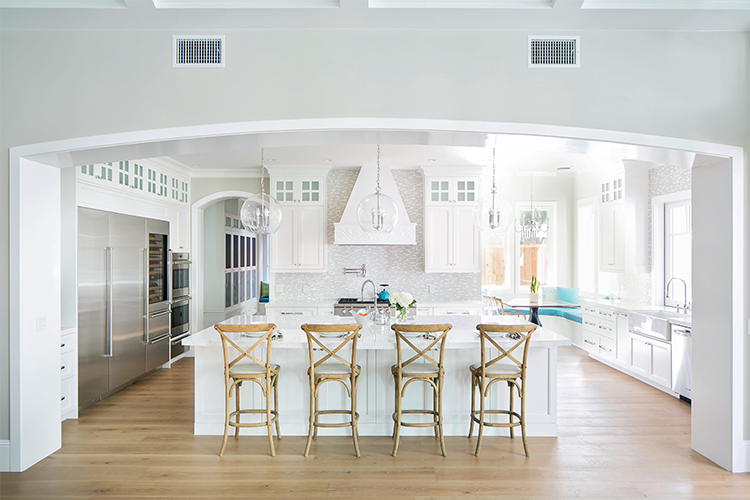 The custom home building industry offers sustainable and attractive homes in order to meet the demands of our customers. Over the last few years, close to 17 million new conventional houses have been added by the home building industry. About 1.8 million of them were built for single-family initiators alone in the year 2005. Since then, the industry has grown rapidly without a momentous downturn due to a fairly stable economy and low mortgage interest rates.
With calls for technology-integrated solutions and environmentally-friendly design, today's homes seem to be following suit. Current architectural design is shifting to accommodate our technology-driven, busy culture with more conveniences and tools. Floor plans are also changing to accommodate the shifting patterns in people's lives; however, many designers and architects are also drawing upon classic building techniques and ancient materials. Here are some of the main trends we've noticed in the custom home building space.
Smart technology
Perhaps the most notable building trend – that shows no sign of slowing down – is a technology-equipped house. There are an estimated 175 million smart homes in the world, and these homes are projected to grow at a CAGR of 25 percent from 2020 to 2025. Smart homes include features like motion sensors, automatic lighting and other smartphone-controlled technology. These tools make our lives faster, easier and safer, and have gotten more affordable in recent history.
Heated floors
A hot trend, this technology had previously been reserved for bathrooms, but is now being utilized in other spaces. So for example with cold Idaho winters, this is one feature in your house your visitors will greatly appreciate. So kick off your shoes and get comfortable in your cozy custom home.
Rethinking the kitchen
As we all spent more time at home last year, the kitchen has become even more important in our daily life. In fact, 87 percent of families prefer a kitchen that functions in various ways, such as school activities, working from home, entertaining, along with meal preparation and family dining. This can explain the rise in larger kitchen islands, open layouts, walk-in pantries, and upgraded appliances as must-haves.
Walk-in showers
Walk-in showers aren't a new concept; however, they have recently garnered a lot of attention from home owners and designers alike. Often equipped with dual shower heads, modern hardware and built-in shelving, walk-in showers are more convenient than the traditional tub/ shower combination. Additionally, massive overhead showerheads and natural lighting have been two of the top new trends for bathroom designs over the past few years and show no sign of slowing down.
Reclaimed wood
Using reclaimed wood as siding and flooring in homes gives your home a lived-in and rustic feel. Wood derived from deconstructed barns not only gives your house a beautiful aesthetic, but it also helps the environment through recycling. Additionally, reclaimed wood is much sturdier than manufactured wood due to the period of time the trees are let to grow before harvesting.
Open floor plans
New homeowners are now incorporating large, flowing floor plans into their home building designs. Previously, there were separate rooms for the living room, entertainment room and dining room; open floor plans group these rooms together, making the home feel large and spacious.
Accessible design
Forget the sunken living rooms, high cabinets and spiral staircases of the past. Current homes are easy to move around in, even if you or a family member has physical limitations. Homebuilders use the phrase 'universal design' to describe these houses because they are safe for people of all ages and abilities. Features like wide hallways blend harmoniously into the design so that they are as functional as they are beautiful.

James Lepak is President and owner of James David Custom Homes (JDCH). James David Custom Homes is a company of luxury custom home builders with 30+ years of experience and expertise. It is a company that sets high standards for custom home building excellence and customer experience. Build your new custom home in Orange County, CA or Coeur d' Alene, ID.
https://jamesdavidcustomhomes.com/contact-us