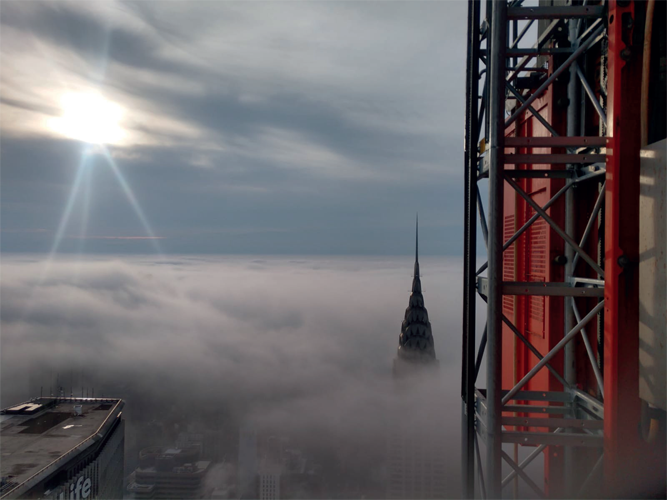 Universal Builders Supply (UBS)
The sky is the limit
Celebrating its 90th birthday in 2021, Universal Builders Supply (UBS) continues to be a pioneering at-height solutions provider, participating in some of the most prestigious and challenging projects in the world
Since 1931, Universal Builders Supply (UBS) has been a trusted and experienced supplier to the construction industry. Now one of the largest scaffolding, hoisting, access, safety, and protection companies in the United States, UBS was founded in New York City by Harold A. O'Callaghan Sr., and began life supplying welded wire fabric and wire mesh, with its most memorable job in its early years of existence being its involvement in the construction of the iconic Empire State Building.
Today – in what is its 90th year – the company is headed by President and Chief Operating Officer Chris Evans and third generation Chairman and Chief Executive Officer Kevin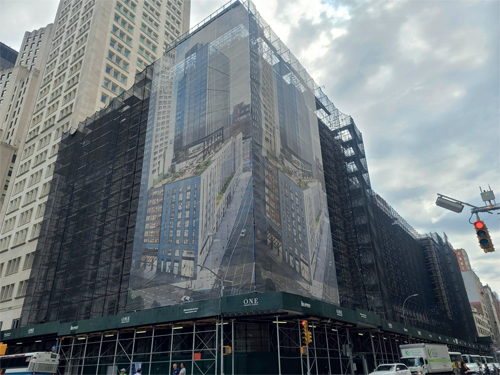 O'Callaghan. In the intervening decades, UBS has shifted and pivoted accordingly in order to establish itself a reputation for innovative engineering, design, and state-of-the-art inventories of high speed hoists, aluminium access equipment, and the latest patented access and protection systems. The result is a company that is proud to have participated in some of the most prestigious and challenging projects in the world.
"Originally founded as a building supply company UBS has evolved to become a turnkey solutions provider," explains UBS President, Chris Evans. "When it comes to our client's scaffolding, hoisting, access or protection challenges, we have the ability to conceptualize, design, fabricate, install, and maintain a system to fit their needs, making us a veritable one-stop-shop, if you will."
As Chris goes on to note, what helps set UBS apart from other players in its field is its adaptability, creativity and capacity. "As we are able to follow a project through from conception to completion, we have a lot of input when it comes to delivering advice on things such as value engineering, efficient design, lightweight structures, the means and methods of constructability, and other aspects of a job that can provide a client with significant value."
Where UBS especially likes to position itself in the market today is handling truly complex, challenging, engineering-heavy undertakings. This approach has led to it taking on all manner of notable projects, working on buildings such as the Washington Monument, Washington National Cathedral and The Capitol Building in the nation's capital, as well as St. Patrick's Cathedral, 3 World Trade Center, The Spiral, AOL Time Warner, and One Vanderbilt skyscrapers, and the Museum of Modern Art in New York.
UBS' involvement in such projects has – in no small part – come about thanks to its excellent track record for delivering innovate solutions to complex problems. "When it comes to innovation and product development, we have never really followed a 'build it and they will come' philosophy," Chris states. "What we do instead is, we look for a specific need that has to be fulfilled or an opportunity for something new, and we get to work on devising a product in-house that will fill said space. A lot of the time, we will readily work alongside our various partners, be it our clients, our suppliers or vendors, or specialists within our industry that we are close to and develop solutions that our engineers and fabricators bring to life. These are then tested and refined until they are ultimately put to successful use, and hopefully adopted widely by the industry in time."
Prime examples of UBS' pioneering developments include its Common Platform Solution, the UBS Cocoon, and the recently revealed Canopy Overhead Protection System (Canopy). In the case of the Common Platform Solution, the origins of this date back to UBS' involvement in the Battery Park project in New York City in the 1980's and a recognition that while hoists are necessary to lift materials and personnel as buildings rise, they can also hinder the timely completion of a project if they take up too much building frontage. The Common Platform solves this issue by allowing up to six cars to run off of one 15'x15' platform. This concept was further refined and improved upon in 2000 on the AOL-Time Warner Building, where increased service heights and runbacks necessitated the development of a higher capacity system.
"What the Common Platform Solution also does is it creates one central access point into the building," Chris points out. "So, instead of a scenario where you are having to leave out, say, 80 feet of window, curtain wall and building façade, you are leaving just enough to make the necessary connections and to provide a doorway into the building itself. This allows for the project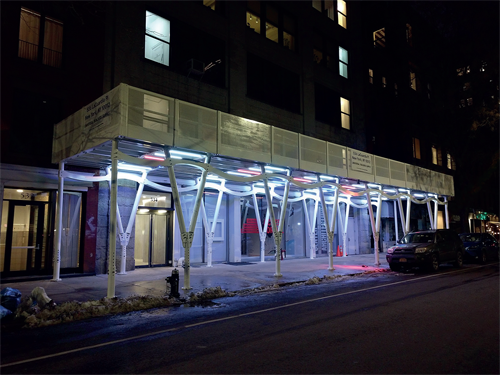 to be finished, fitted out, and completed weeks, if not months ahead of schedule. Such has been the success of the Common Platform Solution that it very much remains the cornerstone of UBS' business to this day."
Moving on to protection systems, the UBS Cocoon is a patented system introduced to the New York City market approximately 15 years ago, designed to protect the leading edge of floors under construction. Consisting of vertical panels, solid horizontal flaps, and a secondary safety net, the system is designed to provide fall protection and debris containment at the source instead of catching it after the fact. Connecting to the top two most recently constructed floors, the system extends approximately two-and-a-half additional floors, and is another example of UBS being at the leading edge of safety and protection innovation.
Indeed, UBS has been providing high-end, overhead pedestrian protection for decades now, and the next evolution of this comes in the form of the Canopy. "Traditionally, overhead protection has been very utilitarian," Chris states. "What Canopy does is revolutionize the typical sidewalk shed with a contemporary design that combines function with aesthetics, and the response that we have received to it has been fantastic! We rolled it out in December 2020, and less than year later we have several up across New York City, with many more projects to come as the system continues to gain momentum."
An ongoing mission for the company is to expand its presence throughout the United States, and one of the things making this aim a reality is the much-praised UBS Partnership Program. This unique service gives builders, owners and developers the ability to rent the company's state-of-the-art inventory of equipment, coupled with expert consulting and project support. Through its Partnership Program, UBS is capable of engineering and renting any Common Platform hoist, setback tower, scaffold or access solution needed.
"One of the things that the UBS Partnership Program allows us to do is supplement and/or complement existing relationships that clients may have elsewhere in North America," Chris reveals. "For example, say you have a building being developed on the West Coast, and you have a particular hoist contractor that you trust and like to work with, but they maybe lack the expertise or equipment that UBS has developed over the course of 90 years. What we can do through our program is partner up with both the developer and contractor and fill that engineering and equipment gap by providing a comprehensive solution to meet their needs. As a result of this, we now have a presence on projects across North America, in Boston, Nashville, Tampa, Washington, Vancouver, and Toronto. Meanwhile, scheduled for installation in the upcoming months are projects in New Orleans, Austin, and San Francisco, with others in development."
As UBS enters its tenth decade of operations, its immediate focus is to concentrate on reinforcing the strength of its core competencies, while continuing to expand the use of its innovative solutions and the reach of its UBS Partnership Program. UBS also has a firm foothold in the oil and gas industry, with UBS Canada, a full-service construction solutions based in Fort McMurray, Alberta, Canada and UBS Industrial Solutions, a safety and solutions provider based in Houston, Texas serving the Gulf Region and beyond.
So, while the future looks very bright for UBS, Chris is keen to add that its mission for the next three-to-five years is first and foremost to maintain control of its ambitions. "What we don't ever want to do is over promise and under deliver. We have to ensure that however successful we become, that all commitments that we make to our clients or partners we follow up on. What benefits us is that, while we are not afraid of any challenge, we take a measured, pragmatic approach to the work that we take on. We like to work with good companies that share our values, and we have every intention on retaining this philosophy as we grow our core group here in the North East as well as our partnerships across North America."
Chris admits that the bar for the long-term plan for UBS has been set high, but he and the company have every confidence of its ability to wow the industry, to improve upon its own capabilities, to become ever-more efficient, and most importantly of all, continue to provide a high-end service to its clients.
Universal Builders Supply (UBS)
www.ubs1.com
Services: Scaffolding, hoisting, protection and access solutions