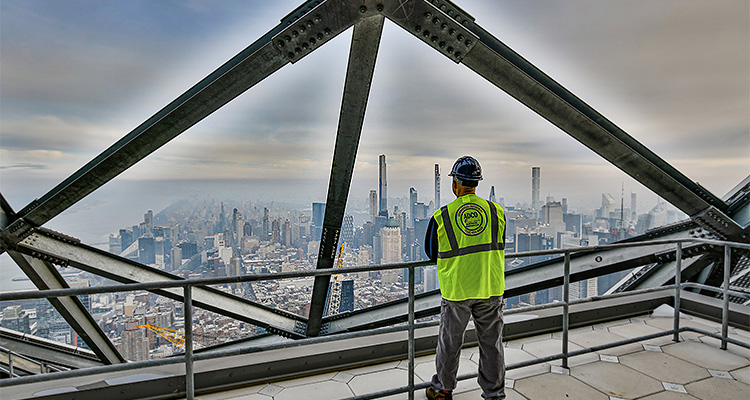 Building on tradition and pioneering the future with ADCO Electric 
Adco Electrical Corp (Adco), has over 45 years of experience and expertise, and works with some of the industry's top clients. In both design-assist and construction services, Adco works shoulder-to-shoulder with clients, driving cutting-edge advances in electrical and low voltage systems in various sectors, including healthcare and biotech facilities, airports and airline hubs, new arenas and stadiums, entertainment, and broadcast headquarters, as well as technology or social media workplaces. 
Gina Addeo, President and CEO since 2005, has fostered the company's reputation and consistent track record of client satisfaction, safety, stability, reliability, and success. Gina's focus as a leader is on the excellence of the work at every level. 
"Richard Addeo founded the company in 1977," Tom Delfino, Chief Operating Officer (COO) at Adco, begins. "His vision was to meet emerging client complexities in the electrical, communications, and low voltage-built environment. This continues to be the core competency of the company's standard operating procedure; to 'power the possible' for its clients. Richard continues to inspire our company's trajectory, even after passing in 2005."  
Shared ownership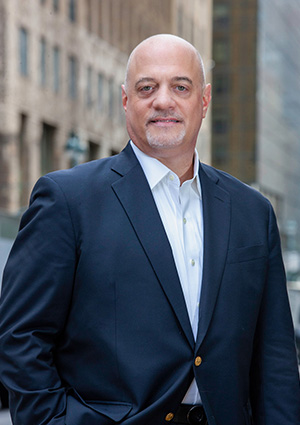 Today, under the dynamic leadership of Gina, the Founder's daughter, who assumed the role of President, the company remains true to its original vision, while embracing innovation and adapting to evolving market dynamics. With Gina at the helm, Adco proudly maintains its status as a Women Business Enterprise (WBE), with 51 percent ownership by Gina and her sister, embodying the spirit of female entrepreneurship and empowerment. The remaining 49 is employee-owned through an Employee Stock Ownership Plan (ESOP), fostering a sense of shared ownership and commitment among its dedicated team. Both Tom and Gina share their insight into the inner workings of Adco, as well as their strategy for continued growth. 
"Our long-term success is based on our performance of providing fair pricing, a talented workforce, specialized skill sets, and the ability to effectively tackle complex projects," says Tom. "Our core values – integrity, safety, accountability, and professionalism – are our backbone, and they have shaped our strong reputation for delivering projects on time and to extremely high standards, as well as providing exceptional customer service throughout. 
"I've had the privilege of working for Adco across two generations, having joined the business straight out of college in 1991 and starting my career as a junior estimator," Tom recalls. "I was then afforded the opportunity to move to project management, working for some of the industry's iconic executives on a number of large-scale projects." 
"Throughout his remarkable 30-year tenure with our company, Tom has epitomized dedication, perseverance, and an unwavering commitment to excellence. From humble beginnings to a position of tremendous leadership, his journey is a testament to the power of hard work, expertise, and a passion for our industry. His rise through the ranks is a shining example of the opportunities that lie within our organization for those who are willing to seize them. We are incredibly proud to have such a visionary leader shaping the future of our firm." says Gina Addeo, who also joins in on the conversation. 
"It was around this time that electrical construction became heavily regulated and more technically complex, but leading a team to a win is very satisfying and we did it time and again. Then, in 2008, I took on the role of Vice President of one of our offices, which turned out to be a great primer for my current position as CCO," Tom continues. 
Having occupied various roles within the electrical contracting industry, Tom sees his experience and deep understanding of each role as his leading strength. "It means I can balance empathy, problem solving, and wins for our clients," he explains. "On a company level, we have the depth and ability to navigate challenging market conditions while maintaining profitability and delivering value to our clients. 
"I'd say the most rewarding aspect of my job is delivering a first-class product both on time and within budget. You know you've accomplished exactly that when you have numerous repeat projects with clients and even begin to form longstanding relationships, some of which span my entire career.   
Team effort 
"There are 200 employees who have been with the company more than 20 years. Equally rewarding is investing in our employees to support their professional and personal development, which fosters an appetite for continuous learning and staying ahead of industry trends," Tom adds. "Part of my motivation is providing individuals with the opportunity, similar to the one I was given, to have a successful career within a successful company in a great industry," Tom emphasizes. 
He continues to say that he has been incredibly fortunate throughout his career to learn from some of the industry's best. "I certainly wouldn't be where I am today without the help of many people, whom I will always greatly respect and appreciate. 
"However, of course, nobody manages something alone; I am surrounded by an amazing executive management team who each excel at their individual role," he elaborates. "We are only as successful as our team, so I'm particularly passionate about creating a company culture that genuinely values its employees.  
"I do so by listening to the wants and needs of our people, making myself available to them by operating an open-door policy and relating to them on an individual, personal level. While our people are crucial players in our overall operations, they aren't just numbers or figures, but unique individuals that all bring different strengths and ideas to the table." 
Risk mitigation 
Turning to the company specifically, Tom says: "The construction market in New York City is arguably the toughest, most competitive region in the US. The pandemic has furthered its complexities, as it dramatically altered the landscape of the interior market. With many companies continuing to offer remote working, the demand for commercial office space has declined significantly. 
"Fortunately, we are evenly rooted across other business sectors, but these markets have been affected by supply chain shortages associated with large electrical equipment, particularly component parts. We've successfully managed to adapt to these challenges, however, by implementing numerous strategies and initiatives centered around mitigating risk and ensuring our continued success." 
Industry innovation 
The drive for innovation is of paramount importance to the company, with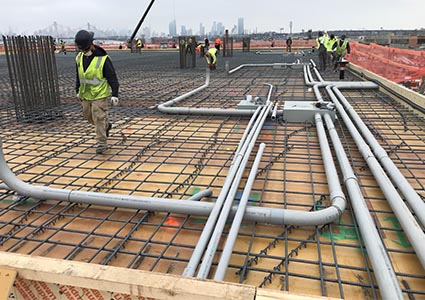 Adco leveraging data and analytics to enhance efficiency and safety across its operations. "By focusing on the intersection of people, process, and technology, we have improved our real-time visibility, proactively mitigating risks and driving a continued client-centric vision," Tom details.  
"Moving through 2023, it's an exciting time for the construction market with new sectors emerging from the development of various sustainable practices, especially those being advocated by the federal government and local municipalities.  
"Projects associated with renewables like fully electrical or carbon neutral buildings, are set to provide exciting potential projects and space for us to extend and deepen our portfolio of expert capabilities." 
When asked about the company's current priorities, Tom clearly defines: "Market and geographic diversification. We're expanding in the market of complex low voltage systems and solutions, which requires a specific degree of expertise. Healthcare is also an ever-growing sector, and the three airports consistently provide us with interesting projects.  
He elaborates: "We have landscape for various sustainable projects; data centers that are moving east, three brand-new, billion-dollar hospitals under construction, several casinos across the city, and a ten-year expansion plan at John F Kennedy International Airport. The key is to adapt and diversify to take advantage of these great opportunities to continue our success.  
"Further afield, I'd like to see us maintain our leading position in the electrical industry, supported by our adaptability, talented workforce, and advancements in technology. We are constantly evolving as a company with multiple investments in research and development. 
"Overall," he concludes. "We look forward to continuing to work with clients on exciting projects and maintaining our reputation as we continue delivering industry-best practices and technology."