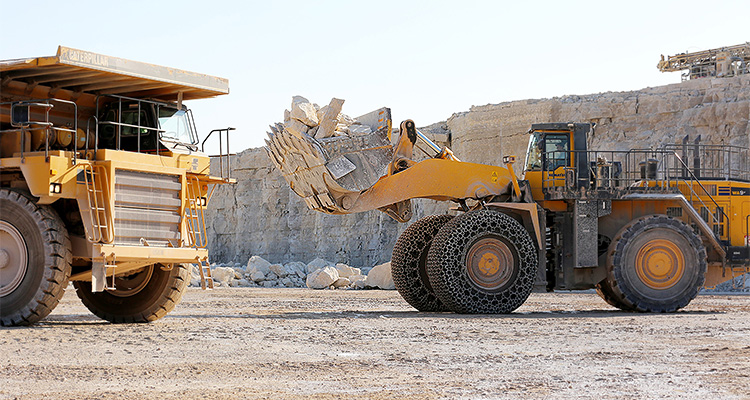 The team at Buzzi Unicem shares significant strides in its sustainability strategy 
Buzzi S.p.A is an Italian company, quoted on the Borsa Italiana, that produces cement, ready mix concrete, and construction aggregates. Massimo Toso, President & CEO Buzzi Unicem USA, has been with the business for 20 years: in his current role and based in the US for the past ten years, and prior to that, managing the Italian market.  
"We are an international company," he begins. "Present in 14 different countries, but mostly in Europe, Africa and South America, namely Mexico and Brazil. We operate 28 cement plants around the world. Of those 28, eight are in the US. As such, we have a strong US footprint. This market is very important for us, representing more than 60 percent of both our turnover and profit.  
"Around the world, we employ about 10,000 people; more than 2200 of whom are in the US, predominantly in the northeast, Midwest, and Texas. We are one of the country's biggest players, producing ten million tons of cement, equating to ten percent of the market share." 
A key differentiator for the organization is its progressive attitude and approach to sustainability. "We embraced our sustainability effort many years ago. In fact, we were the first cement producer to publish a sustainability report, which was almost 20 years ago now. Since then, we've been leading the field in our efforts, investing in those areas that can help us to reduce emissions and reach our overarching goal of becoming carbon neutral," Massimo explains.  
"We have established a roadmap that demonstrates our commitment to becoming carbon neutral by 2050. It's a huge effort for us. In the US alone, the plan forecasts more than a 300-million-dollar spend".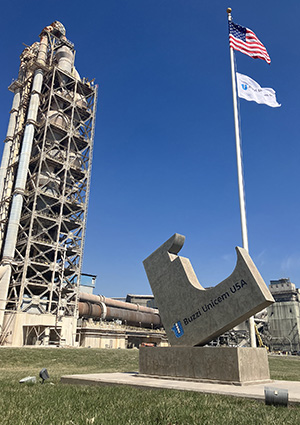 Scaling-up sustainability 
Indeed, efforts to scale up clean power in the cement industry are underway and evidenced by the organization's new solar power system in San Antonio, Texas. The Alamo Cement Company is wholly controlled by Buzzi and is advancing the company's commitment to reduce carbon emissions. 
"The 45-acre solar panel field, which is the equivalent of 35 football fields, is estimated to generate up to 15 percent of the plant's yearly energy consumption while reducing emissions and electricity costs," he enthuses.  
Buzzi is committed to furthering the cement industry's goal of decarbonizing. While this project was a major step in the right direction, the business continues to look for more opportunities to enhance sustainability in its operations, which is apparent in its efforts to produce low carbon cement. 
"US cement production is undergoing a transition and we started to make a low carbon variety called Portland-limestone cement (PLC) Type IL. This is formulated with a higher limestone content and manufactured with less embodied energy than ordinary Portland cement, which constitutes a 15 percent decrease when compared to traditional cement production. I'm very happy and proud to say that we now produce, 100 percent, IL low carbon cement." 
"The Alamo plant has been part of the Texan landscape for decades," continues Kirk Taylor, who has been with the group since 2004 and is responsible for cement sales. "Our industry is known for being heavily industrial. So, both clients and employees are welcoming the renewable power systems that the Buzzi family is always pushing to enhance sustainability in our operations. 
Ahead of the curve 
"When I started in the industry, sustainability wasn't even a topic. Now, it's of prime importance and is discussed at every meeting. The landscape is changing and we're changing with it. We're not a laggard, in most cases, we're on the leading edge. While there is a learning curve for everyone involved, this is positive progress and we're trying very hard to move forward at pace," Kirk explains. 
"Our industry consumes a considerable amount of energy, both in terms of electricity and fuel," continues Massimo. "As such, we have been trying to reduce our fossil fuel consumption. We're currently able to repurpose waste that would have been destined for landfill into fuel. We're also trying to increase our natural gas usage which boasts a lower carbon footprint. These are the two main areas in which we're making great strides, and indeed, we are leading in the US, in percentage terms, for fuel substitution. The US industry average is below 15 percent, and we are by far above 20." 
Kirk continues: "Water in the State of Texas is very inexpensive, and usage was not something that anyone would have cared about 20 years ago, not in any meaningful way, anyway. However, we track our usage and report on it on a monthly basis. In so doing, we are striving to minimize our overall consumption while maximizing what we do use."  
"Likewise, when we consider transport purchases, such as trucks, the energy efficiency of those trucks is important. We're willing to pay more for energy efficiency, and not primarily because of the pay back. The motivation is not financially driven, it's much more about environmental and social responsibility." 
Stakeholder commitment 
This collective desire to embrace new ways of working is testament to Buzzi's corporate culture. "When you are scattered in different parts of the world," continues Massimo, "you need to allow for differences in cultural histories and habits. That said, we do have common policies, for example, for safety, sustainability, and code of conduct. Our managers have these three common pillars to bolster the organization's progression and ensure we are moving in the same direction. At Buzzi, we are committed to promoting sustainability in all the countries in which we operate, which is a commonality that we are very proud to share." 
"The Alamo plant has been part of the Buzzi family since the 80s," elaborates Kirk. "The family spent a substantial amount of time here for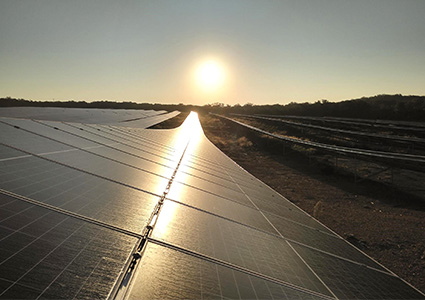 both education and work purposes. In fact, the Italian culture marries well with that of South Texas, and while we are a multinational, public company, we do feel like we work for that family. The business is not simply focused on its shareholders, it considers all stakeholders. The unemployment level in Texas is low, so, people have choices. Our positive company culture is reflected by the number of people who have dedicated their entire lives to working for the Buzzi family." 
Indeed, Jen Morgan, Training Development and Communications Coordinator has been brought into the organization to further support the Buzzi culture. "I've been in the role for almost a year," she shares, "but it's a brand-new role for the company. It has never had a dedicated training development person. So, I'm overseeing that aspect of the business. I'm also proud to be doing work on internal and external communication." 
Carbon reduction 
Looking to the future, the business intends to roll out several more projects designed to further its sustainability strategy. Massimo explains: "We're working on a few important projects that will be deployed in the coming years. We want to double our solar panel project in Texas and introduce wind turbines and renewable and green energy to one of our plants. We already broke ground on three other plants with the aim to start using alternative fuels. As you can imagine, it takes time to obtain the necessary permits and complete construction, but we are working towards a first milestone in 2030, followed by a second in 2050. So far, we are ahead of the plan. We always try to lead the pack in terms of innovation." 
Moreover, Buzzi partnered on a project called CLEANKER, which was funded by Horizon2020 and mobilized to address CO2 capture from cement production. The cement industry is a key-sector for the reduction of CO2 emissions. Given that calcium looping (CaL) is one of the most promising technologies for CO2 capture in cement plants, the core activity of the project was the design, construction and operation of a CaL demonstration system in the plant operated by Buzzi, sited in Vernasca, Italy. The project's objective was to set the basis for the industrial exploitation of the technology by EU companies in Europe and abroad, while guaranteeing that the clinker quality is not affected by the process."The project took two years and had a highly successful outcome; in that we now have another tool to capture CO2. It's no secret that cement plants produce CO2. To melt limestone, we need a lot of energy. While we cannot avoid producing CO2, this type of technology can capture and sequester it. There's evidently considerable investment required but it's no longer a pipedream. 
Progressive plans 
"I'm an engineer, and a very practical guy. We have a plan, and a roadmap, and we have already defined all the steps for the next five years. We are always prudent and typically strive to under promise but overachieve. We disclose our results every year, and thus far, our carbon reduction is clear to see, and operations are proceeding according to plan."  
"In recent years," asserts Kirk, "from the onslaught of the pandemic to the uncertainty of recession, our management has always stepped up. While I don't know what's ahead, we will adapt and overcome it. We don't make excuses; our board does not allow excuses, neither do our management nor customers. Our customers want a premium product, and we deliver it."  
"When it comes to these monumental efforts to reduce our emissions," concludes Kirk, "we'll ensure the job gets done. In another five years, we'll be talking about how we've overcome other difficulties, I'm sure, and be able to divulge a few of the other projects we're scheduling that we can't necessarily discuss just yet." Watch this space.