Turning today's home into tomorrow's 5G Future Home. By Jefferson Wang and Dr. Boris Maurer
Home is where the heart is. The old adage conveys a powerful truth that is increasingly relevant as the current connected or 'smart' home transforms into the Future Home. As digital transformation continues, global smart home revenue will reach $183bn in 2025 (Omdia Smart Home Devices and Services Forecast: 2020-25). Now there is a renewed focus on making technology easier to adopt and use in the home which can expand the definition of the word 'home'. Home is increasingly a place where we work, we educate our children, we entertain and even a place where we meet with our doctors virtually. And in the near future, feeling 'at home' can be anywhere.
In the era of fifth generation (5G) wireless networks and advanced technologies, feeling at home depends on the connectivity, information and quality of the user experiences provided by the digital services that surround us, whether we're stationary, nomadic or mobile. If, for example, such services become so seamless and ubiquitous that we can start watching a film on a screen in our home, then continue without hassle on the screens of the autonomous vehicle we boarded, we're likely to feel 'at home' regardless of whether we are between four walls or on four wheels.
The traditional notion of home as a static shelter could be expanded by the new consumer mindset of 'at home is everywhere'. Central to this will be the idea that anything that means home to us – from our desired room temperature and air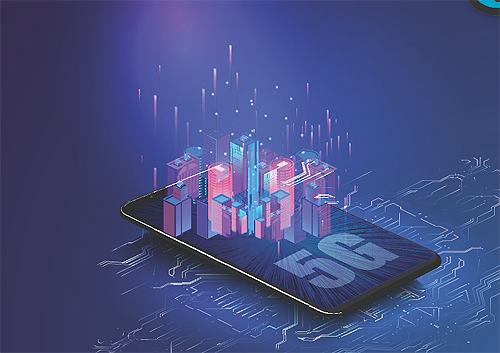 quality to our preferred entertainment and education suites, fitness and health devices, security features and refrigerator contents – will very soon be emulated via 5G connectivity, seamless and intelligent technology wherever we go: in an autonomous vehicle, at a holiday resort, on a leisure cruise, or even, with allowances for the needs of others, during a stopover at our in-laws.
5G has the potential to turn the world of ordinary objects into one of connected intelligent items – the frequently invoked Internet of Everything. The benefits to our lives are massive. Mobile and digital technology already enables us to stay in touch over enormous distances. It allows us to monitor the moments, moods and well-being of people far away, and we can co-work and even participate in relationship from almost anywhere in the world. What meant 'home' to us for centuries has already started to morph into a hyper-connected lifestyle filled with highly personalized services based on new technologies.
The Future Home: The hub for hyper-connected living
So, what can make the Future Home a reality? It is the growing number of enabling technologies maturing to a level of quality that will allow them to render the home intelligent, aware, able to understand, anticipate, predict and decide or provide relevant options. The foundation of these new technologies is 5G: near-real-time responsiveness (ultra-reliable low-latency), very fast speeds (enhanced mobile broadband), connecting almost all devices (massive Internet of Things or IoT) and network slicing. While 5G will be a primary Future Home driver, artificial intelligence (AI), edge computing and advanced data analytics are also important. The combination of these new technologies will enable the hyper-personalized user experience we envisage in the Future Home.
As a feeling of 'at home' will always be relevant to us, those technologies will turn the Future Home into the central enabling hub of digitalized lifestyles. In such Future Homes, we will have virtual doctor's appointments, learn with holograms of teachers and students, and have access to services via surfaces beyond the smartphone, tablet, laptop and TV.
Advanced home tech will also think ahead for us, doing things like checking for unexpected road construction to ensure you arrive on time. Days in advance, intelligent kitchens will have thought about your birthday party, asked the invited friends for dietary restrictions and, in response to their replies, stocked up automatically on just the right number of personalized snacks based on preferences.
Experience-rich home services: Still held back by low tech
User experiences in today's connected homes are still basic. Worse, their sluggish primitivism seems to be caused by a chicken or egg problem: without enough high-quality and experience-rich consumer services, there will be no appetite for more advanced home technology, but without demand, the business cases that could drive Future Home development will not be created.
Today's connected homes are held back by too many isolated point-to-point device solutions without overarching orchestration. They're a hassle to set up, in other words, and don't deliver the seamless interconnectivity and interoperability that could genuinely assist us, as in the example of the birthday party, in which the kitchen, calendar, ecommerce and address book work as one. This disjointedness impedes expansion of demand. For the Future Home market to take off, much more service quality and tech orchestration is needed.
Beyond the problems of fragmentation and inadequate orchestration, the arrival of the Future Home is held back by issues such as the high cost of connected devices and the shortcomings of the connectivity fragmentation in the home today with Wi-Fi, ZigBee, Z-Wave, Bluetooth and other standards. But 5G can change things, acting as a harmonizer and a kick-starter for highly commercial Future Home markets to make them easy to adopt and habit forming to use.
Essentially, the message for the industry and relevant business is: as unpromising as the connected home market might look today, this is about to change – drastically. With the right execution and partnerships, 5G can create a vast new world of opportunity in the Future Home, but also a great risk of leaving many behind.
Jefferson Wang and Dr. Boris Maurer are Accenture Communications, Media & Technology Industry Leaders and co-authors of 'The Future Home in the 5G Era – next generation strategies for hyper connected living' published by Kogan Page, priced £14.99. Accenture is a leading global professional services company, providing a broad range of services in strategy and consulting, interactive, technology and operations, with digital capabilities across all of these services. With 509,000 people serving clients in more than 120 countries, Accenture brings continuous innovation to help clients improve their performance and create lasting value across their enterprises.
www.accenture.com