More than just a business
Peed Equipment is a family company with a values-based culture that has helped the organization establish a reputation for customer service and sustainable practices
Originally based in Chandler, Arizona, Peed Equipment was formed with the purpose of rebuilding Caterpillar D9H bulldozers from the frame up. Giving the machines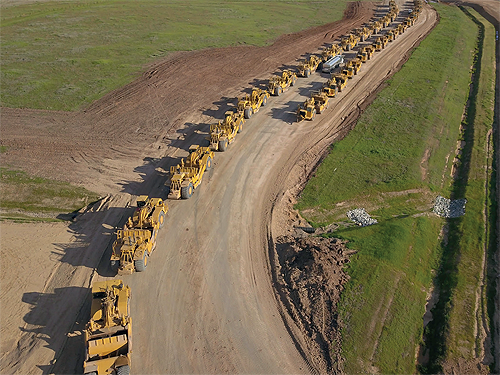 new life at a much lower cost than buying brand-new allowed the company's founder, Dennis M. Peed, to sell over 250 of these, overtime he started renting out some of the equipment he had purchased over the years and rebuild and before long he had a full rental fleet of his own.
Today, in 2020, Peed Equipment is located in Southern California and specializes in CAT heavy equipment rentals for the earthmoving and mining industries. Serving the United States, Canada, and Mexico, the company's fleet includes 657E/G scrapers, 651E scrapers, 637K scrapers, 777F/G haul trucks, 992G/K wheel loaders, 6015B excavators, D10T2 dozers, and much more. The business is now run by Dennis' youngest son, David, and the family connection remains an important part of everything Peed Equipment does.
"There's no corporate atmosphere at Peed Equipment Co.," Field Operations Manager Ken Rudenski declares. "Every employee is someone here. They can call us anytime they need something and one of us will pick up. We like having a small, family feeling to the business and we believe it encourages other people to come and be a part of it. In fact, most people that come to us looking for a job these days have been referred by a friend or family member that works with us and thinks the company is great. You're a valued employee here with a name and a face that we know."
Company legacy
By acknowledging the importance of each individual in the organization, Peed Equipment has developed a close-knit team built on transparency and mutual respect. New employees are inducted into this environment through an in-house training process that allows them to experience the company's culture first-hand, whilst gaining on-the-job experience alongside existing members of staff.
"We often like to hire younger, highly-motivated individuals, team them up with veterans, and let them work together on learning the best practices and tricks of the trade," Ken explains. "These are not only some of the industry's best operators and mechanics, but many of them are excellent teachers too. The process has proved to work incredibly well in educating our apprentices and younger guys whose knowledge and skills will play a key role in the continuation of the company's legacy."
Legacy is an important concept for many family businesses and Peed Equipment is no different. For Ken, ensuring the next generation of staff fully understand the company's founding values and culture is an important step in safeguarding the future of the organization. Customer service, for example, remains as important to the business today as it was in 1982, and the company's highest priority is still to provide clients with the equipment they need to get their jobs done quickly and efficiently.
"Our name and reputation is everything," Ken asserts. "The industry is small, and so good service must always be a priority. Our customers are mostly repeat clients that know they can count on us."
Of course, reliable, state-of-the-art equipment plays a defining role in the company's mission too. Currently, Peed Equipment has machines operating on projects across North America, from 657E/G scrapers working in a Florida phosphate mine, to 100 tonne 777F/G haul trucks transporting ore in Nevada.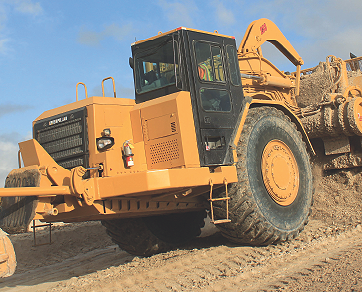 "Our machines don't just look good, they run well too," Ken proclaims. "As part of our commitment to customer service, we offer the lowest downtime and highest uptime on our machines. On most projects, we include an onsite mechanic with a fully stocked service truck and spare machine to ensure production is not lost if a problem does occur. On top of that, we have preventative maintenance programs that meet and sometimes exceed even Caterpillar's expectations, including regular oil sampling to catch potential issues before they happen."
Over the last few years, in a move that not only modernizes the company's machinery but also addresses its concerns for the environment, Peed Equipment has made significant investments into new vehicles and the repowering of its current fleet to meet and exceed air quality requirements. The company has also replaced nearly 100 per cent of its diesel engines with cleaner burning engines, and its entire rental fleet of 657 E/G's is now California Tier 3 and Tier 4 compliant.
"When California began offering its repowering program, Peed Equipment was one of the first to work with the state to start making our fleet much cleaner," Ken reveals. "Almost two decades later, we are still an industry leader in the transition to more environmentally friendly machinery."
Later this year, Peed Equipment plans to have several more of its 657 fleet converted to Tier 4, along with many more of its 777F haul trucks. Volunteering to go green has helped save fuel and lower costs, but the decision also shows the organization's awareness of its social responsibility and reflects its determination to have a wider positive impact.
"We are just a drop in the ocean, but we want to do our small part to help the environment and make it a cleaner world to live in for future generations to enjoy," Ken states. "We've invested millions now on Tier 4 machines including 637K scrapers, D9T dozers, 777G haul trucks, 992K wheel loaders, and 6015B excavators to name just a few. Going green is a challenge, but we like challenges. Projects in remote locations, rough terrain, double shifts, and stringent timelines are no problem for us. With the right people, knowledge and equipment you can overcome anything."
Peed Equipment
www.peedequipment.com
Speciality: Heavy equipment rentals